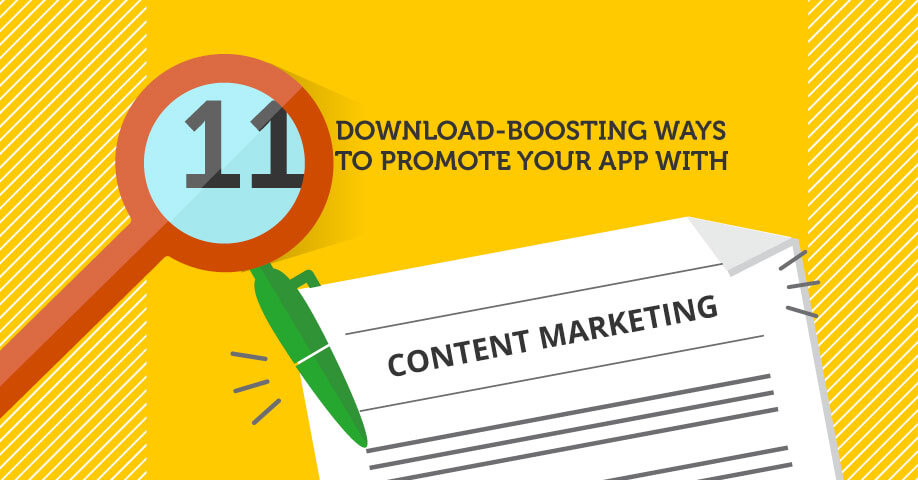 App marketing is getting harder. Granted, there are many new opportunities – emerging foreign markets and an expanding array of monetization methods are two examples – but there's also a lot of competition. In July 2015, there were reportedly 1,600,000 apps available to download in the Google App Store. That's a figure that's increasing by over 1000 a day. 
As this competition continues to grow, it's vital that developers find new methods of building buzz around their apps. Content marketing, though it's often side-lined, is one example. It can help develop long-term awareness, drive downloads and, importantly, help you grow the kind of communities that drive sales and publicity for further releases 
In this guide we'll cover all the steps involved in crafting a successful content marketing strategy. By the end of it you'll be equipped with a toolkit that very few developers possess. Let's jump in…
What do the Opportunities Look Like? A Data-Based Answer
"Hold on a second," you might be thinking, "Don't most people discover apps through app stores?"
Perhaps surprisingly, research conducted by Google and Ipsos MediaCT found that only 40% of mobile users search for apps in app stores. The remaining 60% use other channels. It also seems that content plays a big part. The same research found that 1 in 4 (that's 25%) of users found apps through traditional search.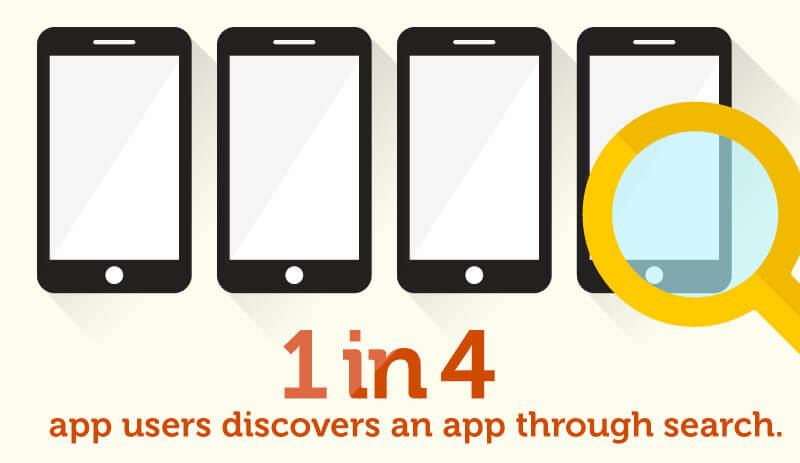 (data source : ThinkwithGoogle)
Social media is also worth a mention. Owaves, a visual planning app that allows users to see what percentage of their day they spend on different activities, achieved a 120% rise in daily use by implementing an effective content-based social media campaign.
They started a "share your O" competition, targeted at millennials, the aim of which was to encourage users to share their own content with their followers. The person with the most likes won a $100 gift card. 
You can see from the screenshot below that the user-generated content was highly-engaging.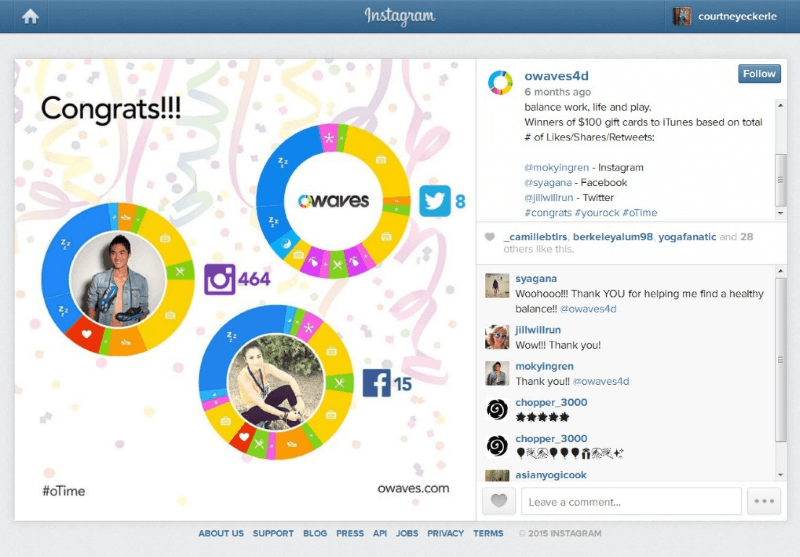 Finally, let's have a quick look at an example of outreach done well. Glint a puzzle-game app, managed to net over 1000 downloads on their launch day by reaching out to the right people. The coverage they received also led to lots of long-term interest beyond what they had anticipated. In particular, they managed to get a feature on AppAdvice. This was shortly followed by reviews on App Spy and Pocket Gamer. 

(source : Indiegamegirl)
These are just a handful of some of the successful examples of apps that have achieved enviable download and engagement stats with the help of content marketing. There's nothing special about them, they didn't have huge budgets or complicated marketing plans. They were simply able to reach out to the right people and utilize the right platforms. 
Before we jump into the actionable advice, let's quickly define the term "content marketing".
What is Content Marketing?
Simply put, content marketing is about placing yourself in the path of a consumer looking for a solution. Traditional marketing (which is also referred to as outbound or interruption marketing) finds a group of people and interrupts what they're doing. Television and billboard advertisements are good examples.
Content marketing on the other hand seeks to offer people a solution whilst at the same time promoting highly-targeted products.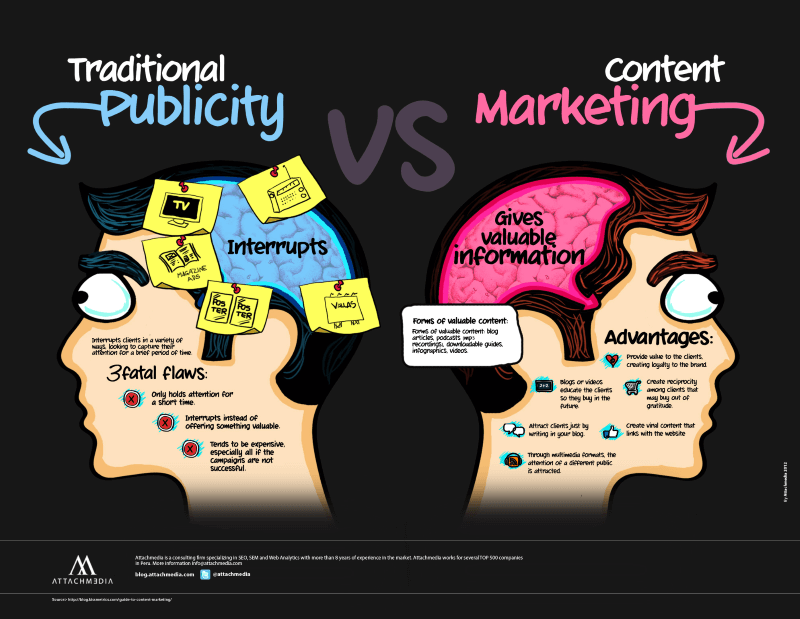 (Source : Attachmedia)
Suppose you wanted to book a cheap holiday to Thailand. You use Google to search for "cheap holidays in Thailand" and come across an article on the Trip Adviser blog. After reading it, there's an opportunity  to download their app. Would you prefer to have discovered it this way or by having it pushed in front of you in the form of an ad? For most people, it's probably the former. 
The reason that content marketing is so successful is because it offers valuable advice or entertainment for free and the opportunity to buy (or download) when trust and engagement is high. 
The excellent graph below, published by OutBrain, shows how content marketing might fit into an app's broader launch strategy. 
(Data source : Outbrain)
There are seven stages – research, ASO, blogging, media coverage, viral marketing, community building, and retargeting – each of which we're going to take a look at in this post. You can see that each corresponds with a phase of the launch where some form of content is required, including app store optimization, which will help your app's store page rank in search engines, and community building, which will require a steady stream of engaging content. 
Ok let's jump in…
1. Research Your Market
This is the most important part of any content marketing strategy. A well- developed customer profile, alongside a good understanding of industry blogs and promotional platforms, is invaluable to any marketer. 
There are various online tools that can help you achieve this. AppAnnie and Sensor Tower both offer app-specific demographic information and sites like Quora, Buzzsumo and any of the various app-related forums can also be useful places to pick up content ideas. Similarly, Google Keyword Planner can offer interesting insights into the kind of information that people are searching for. 

In particular, when building a profile, you will want to ask the following questions:
● Who is my customer? What is their demographic information? How old are they? Where do they live? What is their income level?
 
● What are their challenges? Do they have any major pain points? What problems do the apps they currently use solve? Are there any demographic-wide issues you could seek to solve?
 
● Where are they? What blogs and social media sites do they visit? Are they business execs on LinkedIn or teenagers on StumbleUpon?
 
● What kind of content do they like? Are they millennials with a taste for video content? Business execs who prefer in-depth data-driven guides? Office workers looking for a distraction in their lunch break?
2. Optimize Your App Store Page
Google introduced app indexing in April of 2015. This meant that in-app content with corresponding web pages would be ranked alongside traditional desktop and mobile-browser search results.
However, what has been less widely covered is the ranking of apps specifically, not their associated content. For certain terms, Google and Apple link to respective app store pages, encouraging searchers to download. The ranking factors for these results are page-specific, not determined by the content within the app.
By optimizing your app store page in the right way, you can open yourself to discovery through a range of appropriate keywords. Take a look at the example below: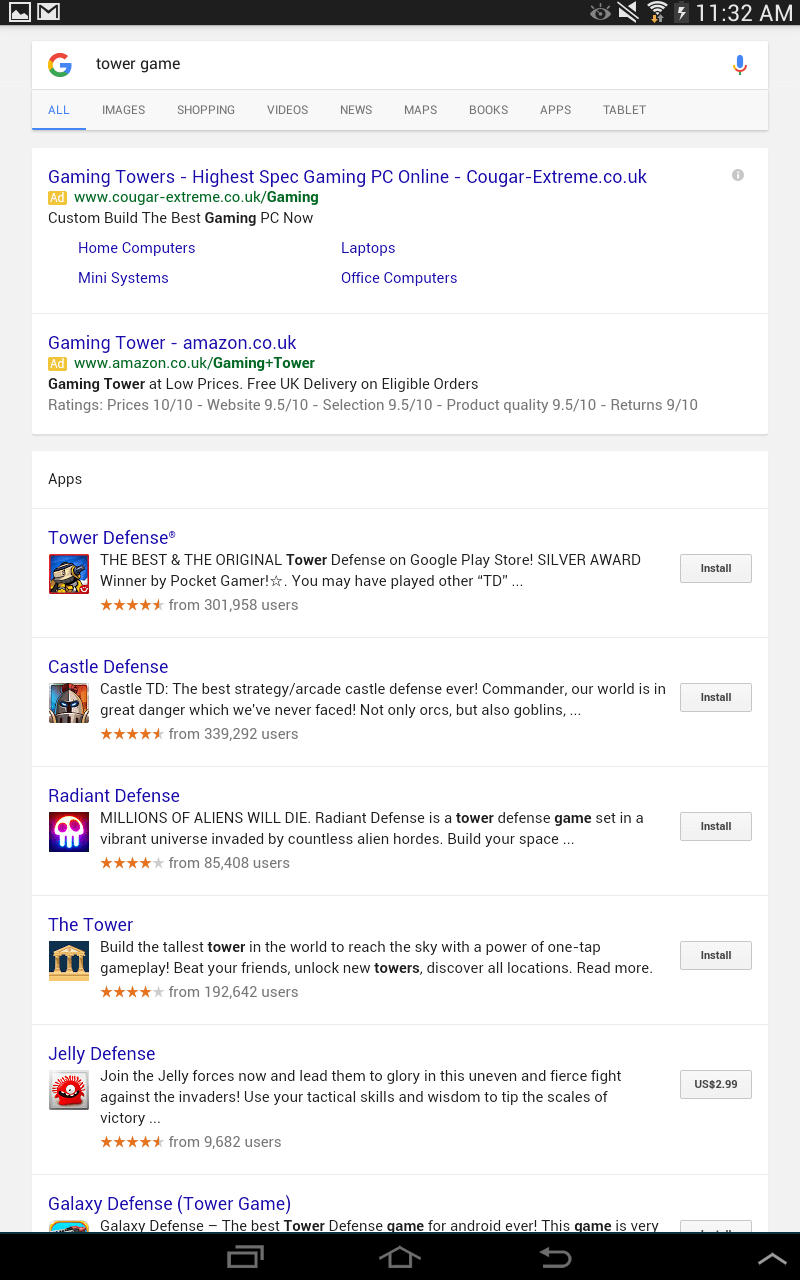 Make sure that you keep all of the following points in mind:
● Keyword difficulty – Select keywords that strike a good volume/difficulty balance.
 
● Description – Intersperse these keywords throughout your description in a readable manner.
 
● Logo – This will appear in the search results so make sure it looks enticing.
 
● Reviews – It looks like reviews are another ranking factor (they're displayed alongside the listing) so devote some attention to this area. Creating in-app incentives for your users to leave reviews is one good method.
 
● Name – This is the first thing that people will see. It should be as intriguing as your logo!
 
● Localization – Open yourself up to foreign-language search engines too. Here's an in-depth guide about minimum viable localization (MVL), a cheap way of testing foreign waters.
3. Start Your Own "Microsite"
"Microsites" – small websites that act as an advertisement for your app – serve several important purposes. You can direct potential users to it from third-party blogs or your paid advertisements, use is as a source of information for journalists and the media, and also optimize it for search engines if it's appropriate to do so.  They offer an opportunity to showcase the best parts of your app – screenshots, features, unique elements – that you can't on an app store page. 
Pure, an anonymous dating app, has a lovely minimalist microsite. It includes the app name, a tagline and a link to the App and Google Play stores.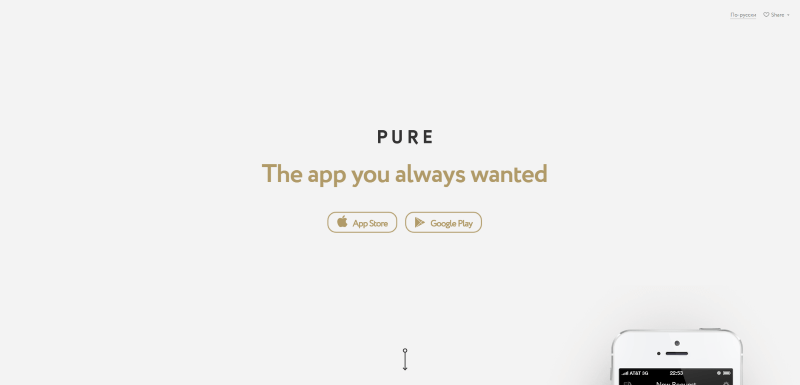 You can also use a microsite as a jumping-board for launching a blog or community. If you release a new app, you then have somewhere to promote it, hopefully to an existing audience. For more inspiration, check out this wonderful review of beautiful microsites. 
4. Reach Out to App Review Sites
Your outreach campaign will form the backbone of your content marketing strategy. Effectively compiling and reaching out to a receptive list of targets is easily the best way of getting your content in front of as many people as possible. One of the best places to start is with app review sites. Here's an extensive list of sites that you can contact. 
When putting together your outreach email, bear a few of the following points in mind:
● Keep it short and simple – Webmasters are inundated with requests for publicity so keep it short. The last thing they want to see on a Monday morning is a huge wall of text.
 
● Add some personality – You're a human being and they're a human being. There's no need to talk like a robot.
 
● Always use their name – There's nothing more annoying then an impersonal mass email.
 
A template might look something like this:
Hi [Insert name]
I wanted to get in touch and quickly say hello! I know you're probably inundated with emails so I'll keep it short.
My name's [Insert name] and I'm trying to get the word out about my new app, [Insert app name]. It's a puzzle game that brings together all the great features of the genre and adds a unique twist! We've had a great response so far and players seem to love it!
I would love to send you some more information if you would be interested in doing a review.
All the best,
[Insert Name]
There are a host of tools that you can use to manage your outreach campaign. BuzzStream, GroupHigh and SellHack are some good examples. 
5. Offer to be Interviewed by Developer Blogs
Here's an example from our very own SellMyApp blog! App marketing blogs are always hungry for a case study or personal success story. Get in touch with some of them an offer your story in exchange for some publicity.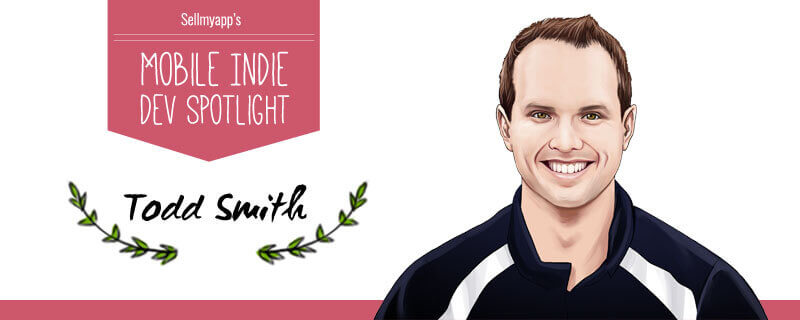 (Our mobile indiedev spotlight)
The other benefit of doing this is that it puts you and your app in front of a lot of people in the industry. These are people that have the power to promote your app, should they decide to, to big audiences. 
6. Pitch Special Offers
This is something to add to your outreach pitch for certain blogs. App stores now offer the opportunity to use promotional codes. This enables you to target specific bloggers with the chance to give a promo code or special offer to their readers. 
It's something that HotelTonight, in conjunction with their social media campaign, did to great effect. Take a look at the screenshot below. They went from 0 to 70,071 Facebook fans in around nine months.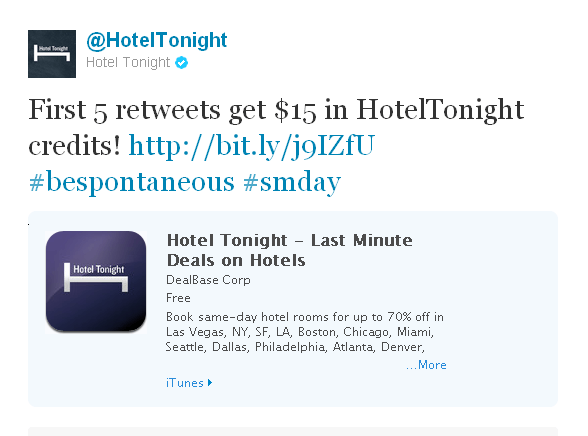 (Source : Marketingsherpa)
7. Market via Social Media 
This is a big one. If you have an app then you need to be taking advantage of social media. According to one source, "social media sites and blogs reach 8 out of 10 of all U.S. Internet users and account for 23% of all time spent online." Most of the big companies are doing it. Take the following excellent example from Evernote.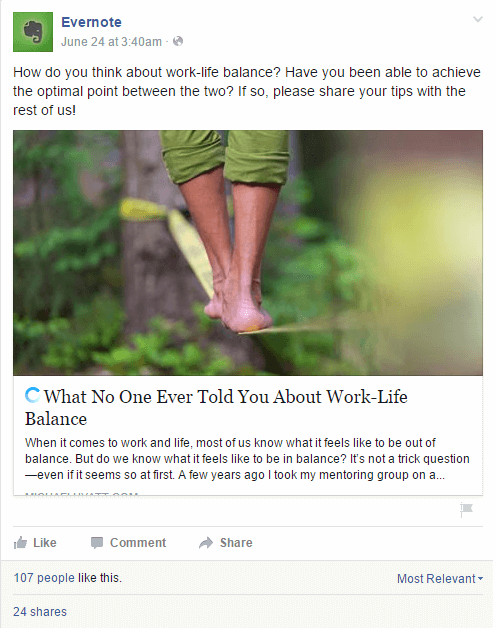 The graph below shows how the different channels stack up. The thing to remember is that people use social media to consume content. They're hungry for it and targeting can be focused to a pinpoint.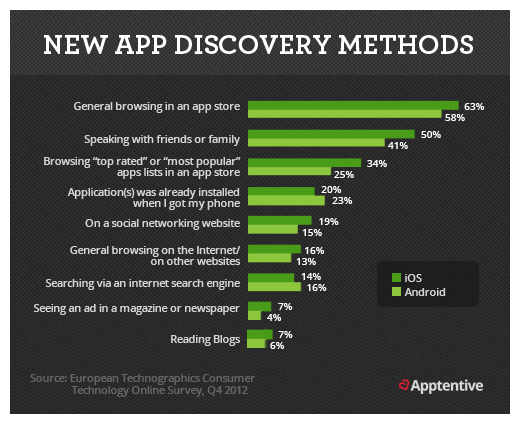 (source : apptentive)
Radio station KPRi saw a 56% increase in engagement on their app after running a social media campaign.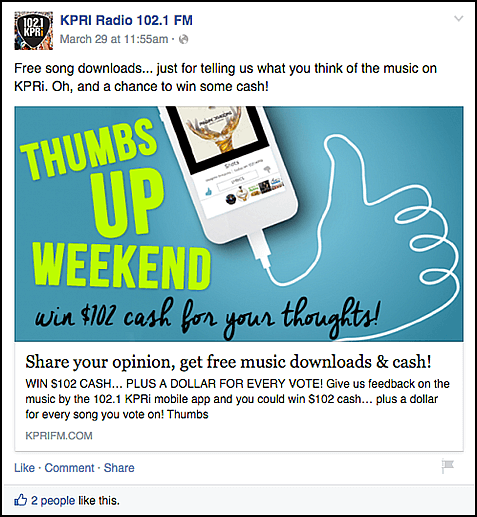 (Source : Marketing Sherpa)
Orderly, a food-order app, increased inbound leads by 100% by effectively promoting their blog's content (all of which included a call-to-action) across social media.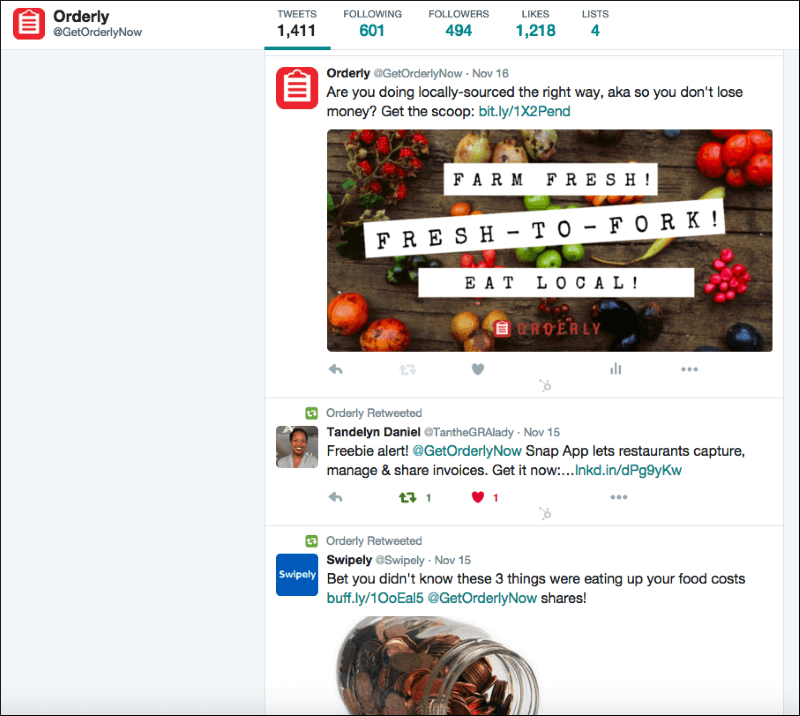 (Source : Marketing Sherpa)
There's a few key takeaways to bear in mind when designing you social media strategy in relation to content marketing. What you'll be doing is either publishing your articles on your blog then promoting them across social media or posting enticing content such as videos, contests and user-reviews of your app in the hope of building interest. The Owaves example at the start of this post is a good one. 
Try a few of these strategies to get started:
● Consider an initial paid "boost" – Your first few thousand followers can often be the most difficult to get. Consider investing a few hundred or thousand dollars to give yourself that initial boost.
 
● Reach out to those with big followings – This is one of the most underrated social media growth tactics ever. Get in touch with people in your industry who have big followings and offer to do a "swap" – where you promote their product to your following if they do the same for you.
 
● Run a giveaway – Giveaways are one of the most successful ways to attract new users.
 
● Promote other people's content – This will help you to build relationships and grow your following beyond the reach of your own content.
 
● Post regularly – Pick the best days and times to post.
 
8. (Secret Strategy) Promote Using StumbleUpon
This is something that  Jonathan Saragossi describes as one of his personal trade secrets. It involves using StumbleUpon's paid reach advertising to market your mini site. Saragossi says that you can easily reach a figure of 100 downloads a day and achieve a positive ROI. 
9. Create a "Big Media" Plan
This is an extension of a point already mentioned but is significant enough to warrant a separate one. Pitching your app to big media can yield incredible dividends. Mailbox, an industry-disrupting email app, achieved 300,000 signups before launch by reaching out to big media outlets. 
You should take a more personalized approach and make sure you target journalists directly. In an article in the Guardian, Stuart Dredge writes that, "Rosoff [an editor] said that he regularly gets between 300 and 400 emails a day, and gave some tips for startups writing emails to journalists. Good email introductions are those that say what existing company a startup is aiming to disrupt; news of funding from a respected VC, or simply a pithy line or two explaining why the journalist might be interested in a piece of news based on what else they've been writing about recently."
10. Build a Community
Direct your app's users to your site and include a call-to-action in any published content for inbound visitors to get involved in your community. It doesn't have to be a big affair – you don't need a large forum or a weekly webinar to be successful. Rather, you can achieve success with something as simple as an active blog or a Facebook group. You can then target your subscribers for new releases and feedback about your current apps. 
Glitch games do this exceptionally well by regularly posting updates about their new games and responding to every comment.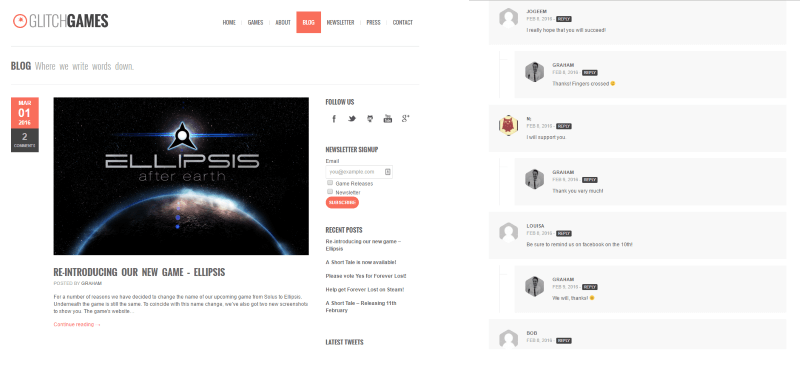 11. Remarket to Interested Users
According to a recent study by Localytics, 20% of apps are downloaded and used only once. This offers a big opportunity for developers to market new incentives through content channels (many will be subscribed to a mailing list or social media account) to re-engage old users.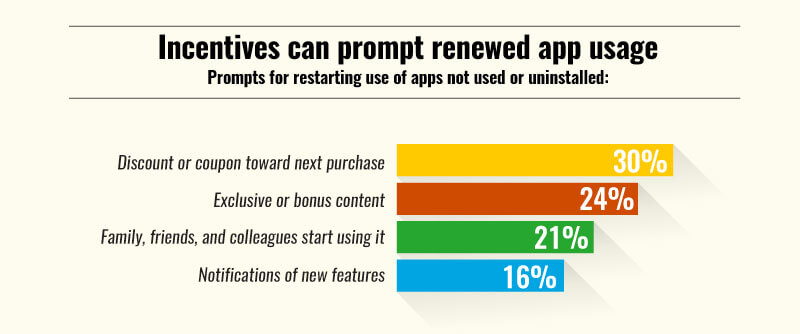 (Data source : Thinkwithgoogle)
Similarly, you can use Facebook ads to target people that have already visited your site or sites similar to yours. You can even target people who are connected to similar apps!
Bonus Tip: Sponsor a Blogger (or a Vlogger)!
We thought we'd include just one more! The guys behind Piano Tiles 2, in an effort to expand its reach, hooked up with internet personality PewDiePie. The game has been awarded Best of 2015 in 13 countries and managed to maintain rankings across all of the app stores. They must be doing something right!
Are there any potential sponsorship opportunities in your market?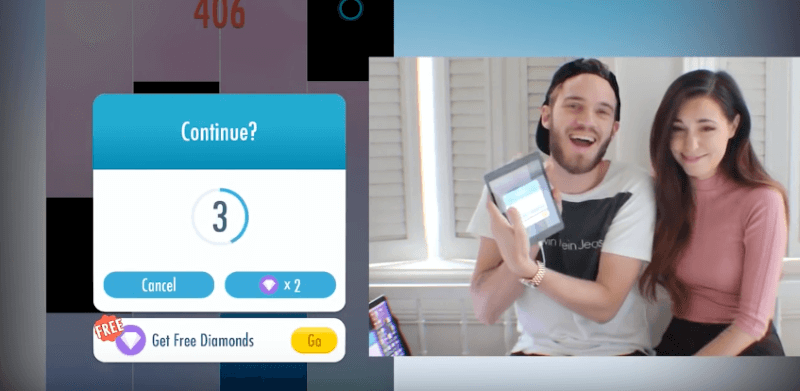 (Source : Appannie)
Conclusion
Content marketing, when it's done properly, can yield huge results for app developers and marketers. It can help to build long-term communities that can be used to market future releases, engage people beyond the reach of the app store and, vitally, build relationships with industry leaders and first adopters. 
As long as you have the right infrastructure in place – good targeting and outreach processes, a well-developed profile of your audience, and an understanding of the right social media platforms and blogs to utilize – then you shouldn't have any problem achieving content marketing bliss!