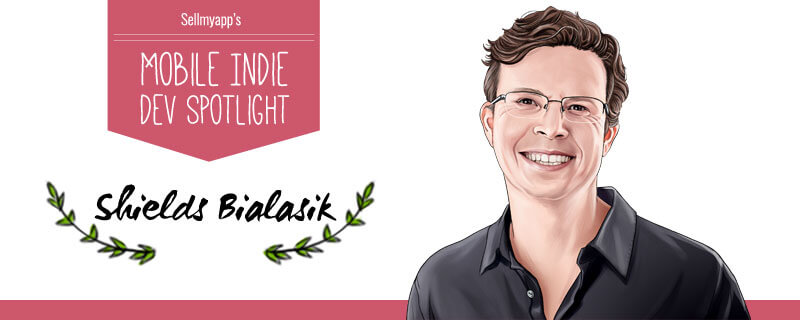 Shields brings us an amazing story about identifying the mobile market in time and transfusing his activity into a sustainable business. The city guide apps that shields created are used today by enterprise clients and he is bringing a most needed perspective onto the world of apps. Utilities that curate data from the surroundings and turn them into an accessible service.
It's Truly inspiring so read on!
Shields When did you join the mobile development industry?
For the past 14 years I have worked in the field of online city guide directory development. Then in 2006, right when social networks were really getting popular, I had an idea to create a social network that would generate content for print. This content was then printed in a hyperlocal newspaper I publish called LocalsGuide. It is 100% community-generated and direct-mailed to over 15,000 people every month.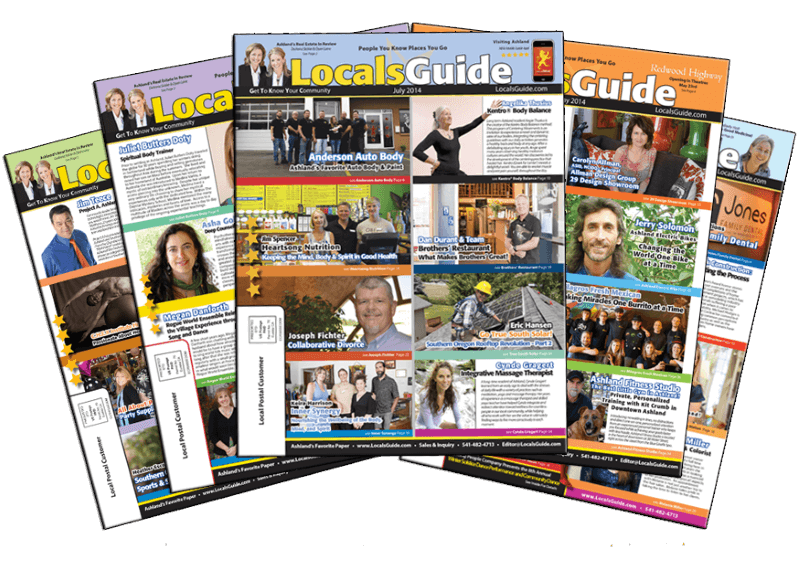 LocalsGuide printed version
The idea was a success, but I was stuck on the how the model could scale. Newspapers are a difficult business. There are challenges of costs, and the skills required are highly specialized. The model has grown significantly, but scaling into other communities still remained an issue.
I was on vacation in Hawaii with my family, and we were using our iPhones to find everything. I purchased all the available guides, and then it hit me. The way to grow the LocalsGuide hyperlocal media model would be through location-aware city guide apps. Guide apps that are really cool and covered things your normal Visitors' Guide would not.
Tell us more about the opportunity you saw and how you took advantage of it
Well the first thing I saw was that a lot of the guide and city apps that were out there were just poorly planned out. The ideas were great, but the implementations were poor. This gave me insight into the fact that many people making apps really have no experiences with software development, UI, marketing, or even content development. They had a good idea and created it, but it really was not about building a long-term business or revenue model. You can see these apps all around, as the market is currently cluttered with them.
So what did you do next?
Basically the night we got back to our home in Oregon, I went online and started searching for city guide source code. I ran across several pre-made templates, but they all were really weak, bad design mixed with poor implementation. The also lacked key functionality that a local guide app demands, like dynamic listing updates, location-aware results, offline and online services.
One of my skills has always been that I can find great people, both in skill and character. In a previous software project with another one of my companies, we created an online software system for analyzing blood results. We interviewed several developers and I eventually ended up finding the developer we hired in New Zealand.
This was a big project, so we had a nice budget and lots of contracts. Everything was done right. Our developer was very sharp, detail-oriented, and able to make daily steps forward while keeping the big picture in mind. So when it came to looking at app source code for building the Local City Guide, this was where I was coming from and how I approached it.
Once you found a developer, what were the next steps you took?
Eventually I ran across one city guide online. It was good, but what really caught my attention was when I started communicating with the app developer. He could understand exactly what I wanted, and had great ideas on how to make it better. This was key because building great apps takes great teams of creative and resourceful people.  I could tell he had great communication skills and could get the job done. Within 3 months, we launched our first LocalsGuide app, along with 7 lower-end city guide source code products and 1 enterprise city guide product!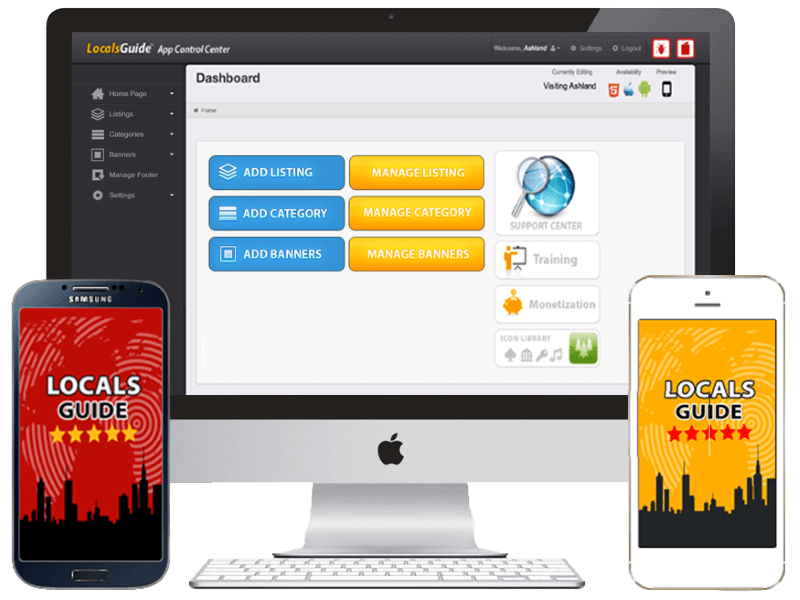 The first prototype of Localsguide
What was the biggest challenge you faced during the initial stages of development?
This is going to sound funny, but the biggest challenge I had was keeping up with the development team. We had a team of developers working full-time on iOS, Android and Html platforms. I would make all the plans and revisions during the day, sleep at night, and by the time I woke in the morning, the work was done… and done well. I would then have another 6 to 8 hours of planning to do for the next day's work.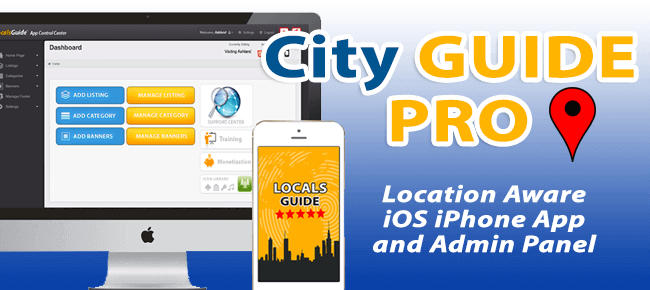 City guide pro iOS source code on sellmyapp
One important point to make here is that my developers have never said "NO, we cannot do what you are requesting." Instead they say "YES" and the work gets done. The moral of the story here is to first pick an excellent team to support your app. The second is that nowadays, anything is possible. Ten years ago… developers were more limited. So push forward with your ideas and don't be surprised how quickly they can get done. 
How have you gone about marketing and promoting your city guide apps?
Once we completed our suite of apps we immediately began to publish them on websites such as SellMyApp.com, and other marketplaces. We also then began writing blogs and creating training materials around how to create and develop your own city guide. Something to understand about our source code app product line is that it was primarily designed to give individuals an opportunity to get started with their own city guide. A business or individual engaging in more serious business endeavors is either going to upgrade or come on board with our enterprise-level services, and that is where the real money is. 

Tell us about the enterprise-level app model you have created with LocalsGuide
The LocalsGuide Enterprise City Guide App is completely built and targeted for large companies. These are companies who can afford to invest $15,000 USD to $25,000 USD per project and more. Once we have a business relationship with an enterprise client, we are not giving away our source code. Instead, we keep it in-house and continue to actively develop and improve it. We then manage the entire account for clients, including all customizations and upgrades. Larger businesses who can afford these types of services and are very happy to pay for them.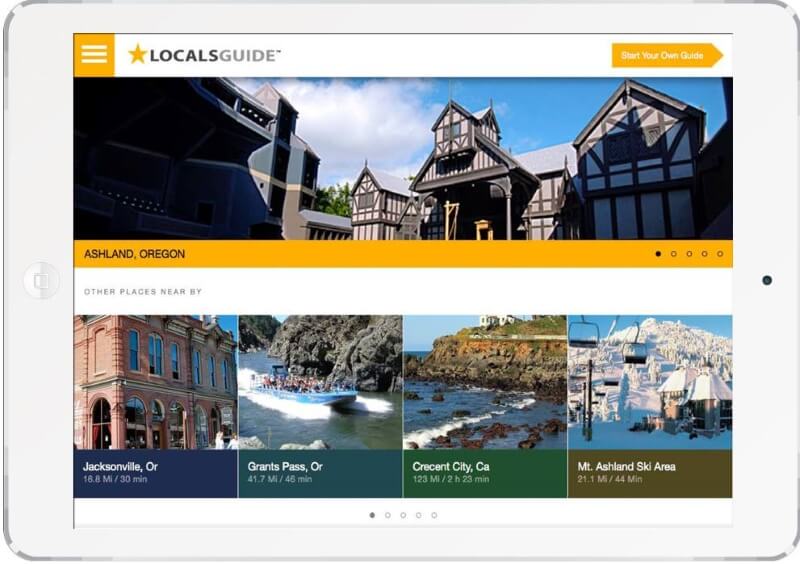 LocalsGuide Enterprise solution
When first deciding on the model I realized that many people around the world would want to build their own city guides, but that it is very difficult to succeed. Sure, you can create your city guide, but if you want to monetize it, grow it, and market it, you need to have help. Working with enterprise clients helps us accomplish two things. First, they are highly profitable. Enterprise projects scale much better, so rather than having to sell 25,000 apps for 99 cents each, you just sell one. These relationships can also last for years and you can build in long-term recurring license and support fees.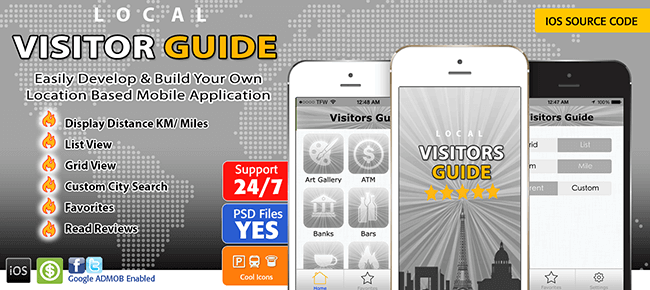 Local visitor guide source code on sellmyapp
Second, all development that gets done at the enterprise level gets shared in our hosted platform, which in turn benefits everyone who wants to build their own city guide but does not have the big budgets of enterprise. This is the part I like the most. Anyone can build their own amazing city guide and it will be top notch. Currently we are working on our early release of our hosted services and I encourage anyone wanting to learn more about creating their own city guide to sign up for our free 16 day e-course.
Tell us more about this and why you choose to invest your time in this segment of app development
My main goal is in building large-scale and long-term recurring revenue streams. Games are fun but are a temporary fascination and trend-driven. Creating utilitarian tools and data infrastructure is a better long-term investment of time and talent for me. I can only imagine a future when your car has its own search engine… or when airplanes have in-flight travel guides in the seats, and when niche information apps that seem small and insignificant from afar can provide an enormous wealth and information up close. Also, the prosperity these apps can generate for individuals, families and communities can be transformational.
Tell us about a recent success story with your app
Immediately after we launched the LocalsGuide Enterprise App we received an inquiry from a very large relocation company. This company handles all of the relocation for the employees of a large European automobile manufacturer, and they wanted to create their own city guide apps for employees relocating to the United States. We landed the job and put together a great product for them.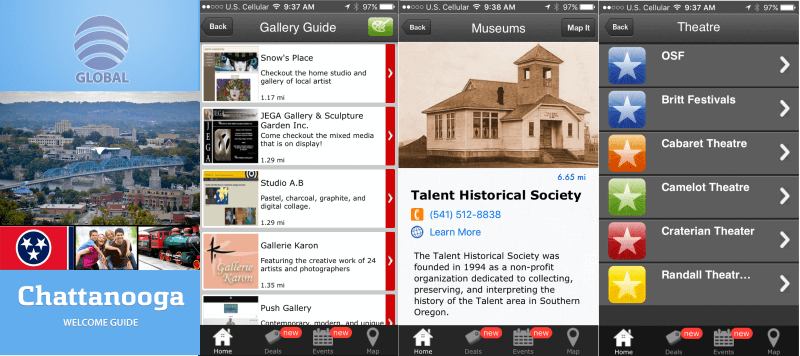 First success with an enterprise client
What is your best advice to people building apps?
Be prepared to work intensively. Make really good plans. Then fully commit to the project and get it done. There is no reason for your project to take months to complete unless it is extremely large in scale. Also, the better and more precise your planning is, the happier your developers will be.
Next, think about monetization. Selling a few apps is nice, but creating a recurring long-term revenue model is better. 
Please talk more about how app developers who are just getting started can fund their projects
Great question, and important for young developers to hear. The answer to this question is – keep your day job. Then, as you have extra time and extra money, invest it into your app project. Keep doing this until you succeed. I've always run my existing business while launching and running other business ventures. It keeps you sharp and on your toes, plus you need to be realistic. It also makes you creative and resourceful. 
Don't just think that throwing money at your project will make it a success. You need to put in the time to gain the experience, build the relationships, and lay the foundation for the long-term. Eventually one of your projects will rise to the top as the highest priority. This is the one that you give your full attention to. 
If you could travel back in time and talk to the "beginner you," which mistake would you warn yourself from?  
Ha, I was just thinking about this today. Everything always starts small, clunky and slow. You're going to work really hard and no one knows how long that will be. During this time the best thing to do is not give up. Just keep moving forward. Try to do one thing everyday to push yourself forward. Then watch and learn from others. Ask lots of questions and make lots of friends. Overnight success can be misleading. 
Having a great long-term life is a better goal.
Final thoughts
Shields took his business and transfused it to fit the mobile era. the choice paid off in the end rewarding him with a sustainable business model. His advice to you is to keep your daily job. I love it since it's true! success doesn't come overnight and only a long term thinking model can get you to meet your goals.
We would like to thank Shields for participating in this interview and sharing his story with us. it benefits the entire developer community.
Do you have any questions for Shields? post it in the comments below.