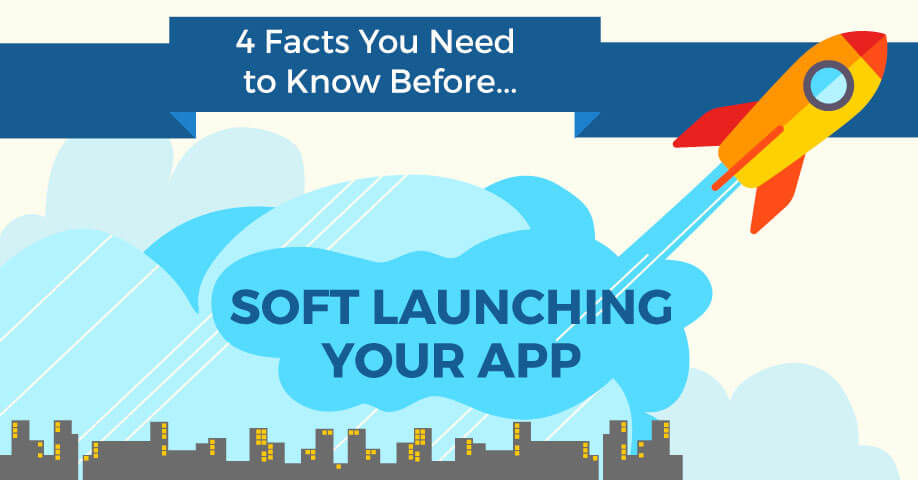 A soft launch is an effective method of testing and analyzing the market before launching an app at full capacity. It allows app developers to save money and time, develop a marketing strategy, and predict future profits. The mobile network GoWide shares 4 aspects app developers should consider before the soft launch stage, as well as tips on how to use this method efficiently.
1. Discoverability is Broken
There are 5.7 million developers who have created more than 3 million apps on the App Stores. Today, the competition on the mobile app market is so tough that any marketing activity requires substantial resources. Market saturation leads to a common situation where the App Store's search doesn't work as it should. It is described as "broken discoverability". 
You can't develop a good app and simply wait for users to come. You can't expect your app to get to the top charts without any promotion. Competition makes it hard for an app to get to the top charts, but it is even harder to stay there for an extended time.
Many middle-to-small app developers try to copy successful companies' strategies and spend enormous budgets on brand advertising and paid installs. As a result, they fritter away resources on meaningless competition. The most efficient strategy for them will be to define their niche audience and to concentrate efforts in the specific market segment. 
Let's take a look at the numbers. According to Vision mobile, the number of developers increases by 800,000 each year, creating a great amount of competition and pushing the traffic price higher.

On the other hand, market capacity also grows, both in terms of install volumes and monetization. There were 17.2 billion downloads worldwide in Q1 2016, which is 8% more than in previous quarter (Q4 2015). 

The absolute majority of these apps are designed to bring some profit. Statistics show that 15% of developers don't earn anything.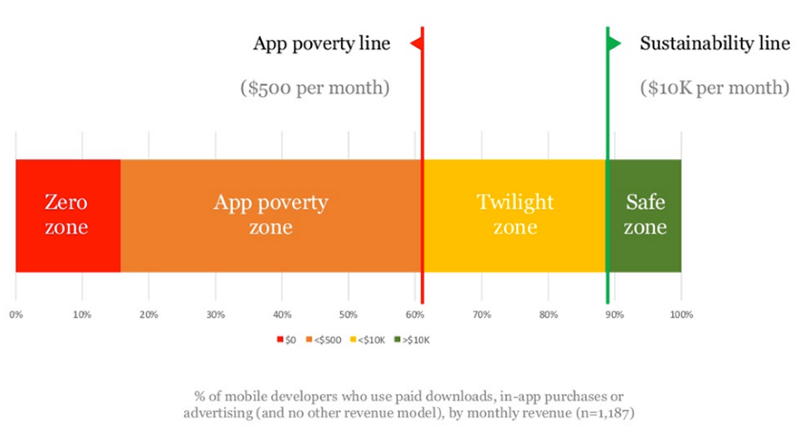 The orange "poverty" zone describes developers that earn less than $500 a month. 20% of developers who earn up to $10,000 is in the yellow "twilight" zone. But the real winners are the 10% of developers from the "safe" zone who earn more than $10,000 from their apps or games.
In order to succeed on the mobile app market, the developer should understand that his/her app is going to compete both in terms of product quality and investment volumes in marketing, PR and traffic. A well-planned app promotional strategy will save developers from hasty decisions and costly mistakes.
It can all be described with a simple formula:
LTV (life time value) > eCPI (cost per install)
This means that the cost of an acquired user shouldn't be higher than the expected profit from this user. Tracking systems allow us to analyze different traffic channels separately and calculate ROI for each of them. Through a soft launch, one can choose the better performing channels and create an effective promotion strategy to adapt.
2. The Basics of a Soft Launch
A soft launch is a launch of the app for some limited time on the particular market. For example, if you plan a full launch on English-speaking countries, you can test your app through a soft launch in New Zealand, where users have similar consumption habits and mentalities. A soft launch will show real statistics that will help to avoid big expenses in future. 
The main goals of a soft launch are:
• To gather stats and user behavioral data in order to make data-based decisions,
• To define app success factors and issues;
• To understand how users interact with the app and make data estimations.
App developers need to analyze a big number of downloads, dividing them into "cohorts". This will help to make decisions based on real data and avoid mistakes that can be very costly during a full-capacity launch. It is also important to see how users react to the app – both in a form of feedback and statistics data. This information could also be used to choose the most efficient promotional methods in future.
Time and traffic volume for a soft launch – The optimal timeframe for a soft launch is 2-3 months. This is enough to acquire an audience of a necessary scale, analyze it, and make conclusions. It's crucial to get around 2000 daily active users (DAU) in order to create audience cohorts and analyze them separately. If you have only 100 or 200 daily active users, this analysis won't give any valuable information. 
Soft launch essentials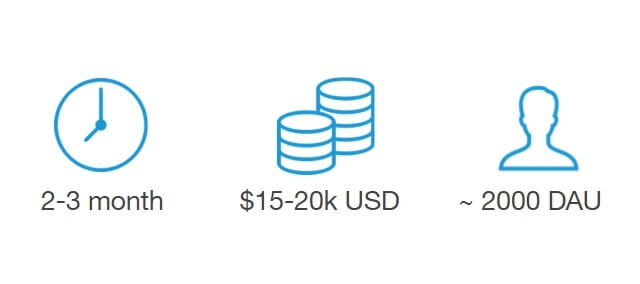 3. Soft Launch Analytics
Here is a spreadsheet with the metrics that app developers should track during a soft launch:
User acquisition
— New user acquisition cost
— Organic uplift  – the number of users that come from an organic search and word of mouth
User engagement and retention rate
— How users interact with an app?
— For how long do they stay in the app?
Monetization and virality
— How much time does it take to make an in-app purchase?
— Do users share the app in social media?
Economy
— Setting up and measuring in-app economy
Three metrics matter the most during a soft launch and form the basis for further analysis:
1. Daily active users (DAU)
The first number you should look at is your Daily Active Users. Again, it's remember to distinguish terms "Install" (a user who just downloaded an app)  and "Active user" (a user who is actively using an app). App developers should have a good understanding of who is an active user of her/his app. 
From this single number, a developer can drill down into groups such as:
• New users (acquisition),
• Returning users (retention),
• Amount they return (engagement),
• The amount they spend (monetization).
2. Retention rate on the first day, day 3, day 7 and day 28
Retention rate shows how many users use an app after they have installed it and opened for the first time. User base is being measured on first, third, seventh and 28th day. 
3. Average revenue per user and average revenue per paying user (ARPU and ARPPU)
If you monitor monetization, you should also measure how much profit each user cohort brings. Usually only 1% to 5% from all audience are paying users, which means that monetization analysis requires a bigger user base.
Source. Only 2.3% of F2P gamers actually make in-app purchases.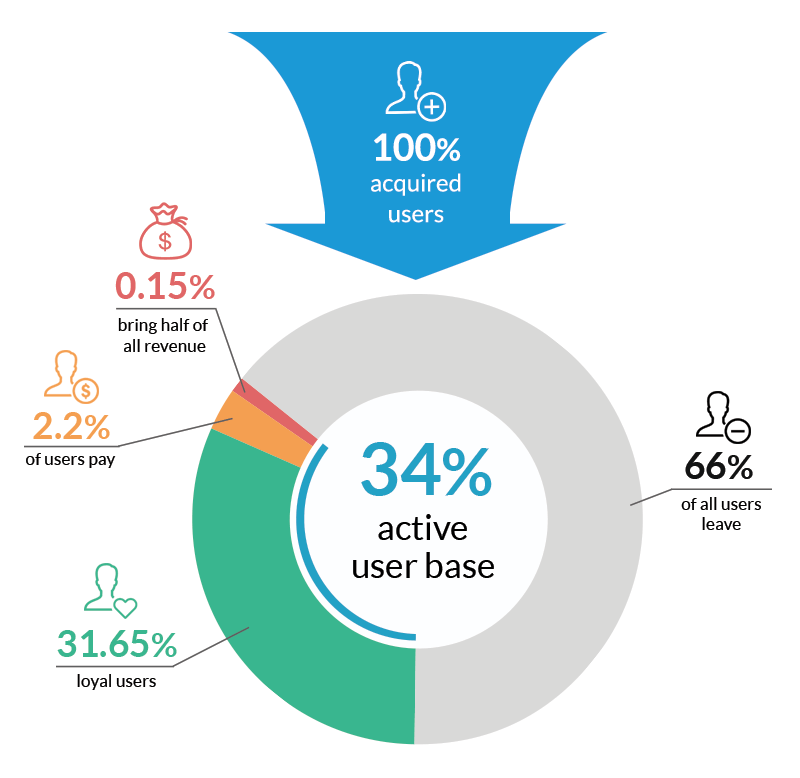 One more important aspect of a soft launch is user engagement. It's crucial to understand how users react to the onboarding process, if they use app's features, and if they become involved.
We have helped many developers who become trapped in a classic situation: "first, we launch the app, then we'll work on drawbacks". As a result, users find it hard to understand how their app works, and they can't go through the first screen, or they can't figure out the navigation. It's a common mistake because app developers work on their apps for long hours and things become obvious to them. If you want users to like your app, you need to think like a user who had just downloaded it and opened for the first time. 
Tracking systems allow us to measure the main indexes and the effectiveness of the chosen monetization model. This data can later be used for pitching potential investors and showing the perspective of the product.

Adjust, Appsflyer and Tune will help to measure how much users the app receives from each traffic channel and how each channel performs.
Google Analytics, Mixpanel, Game Analytics and Flurry help to analyze how users behave inside the app, what content or features engage them and at what point do they leave the app.
4. Final advice on a Soft Launch
1. Plan a soft launch a couple of months in advance
2. Focus on the app as a product, not as a brand
3. Research your niche market and category
Although a soft launch is a perfect way for app owner to test app performance, it isn't a universal path to success in a tough mobile ecosystem:
• Top apps spend millions of dollars on user acquisition
• You need to choose your niche and promotion methods carefully in order to compete with market leaders
• If your app is a "leaky bucket" that consumes resources and gives no results, no marketing budget can help.