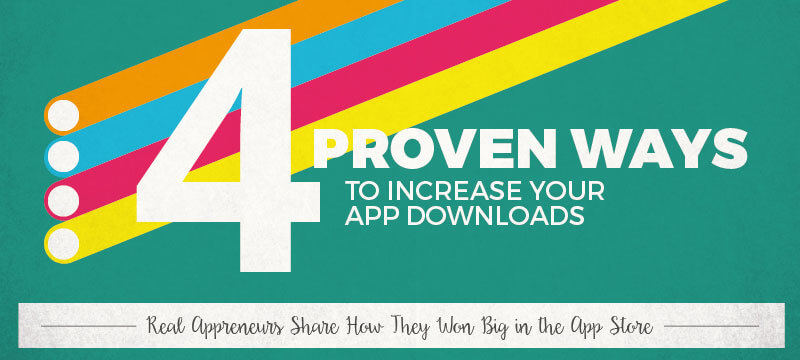 Real Appreneurs Share How They Won Big in the App Store 
The popularity of mobile apps has absolutely exploded in recent years. There are literally thousands of new apps in the marketplace every day. Many developers work incredibly hard to develop these apps – we're talking blood, sweat, and maybe even tears. 
Yet, the fact is that most apps fail to catch on with their intended audiences. While some apps fail due to poor design or lack of functionality, there tons of awesome apps that fail because people don't even know that they exist!
If your app is going to be successful, it has to be discoverable. So, how do you make sure that your app is noticed and downloaded in a crowded marketplace? 
According to vision mobile most mobile developers almost spend nothing on Marketing.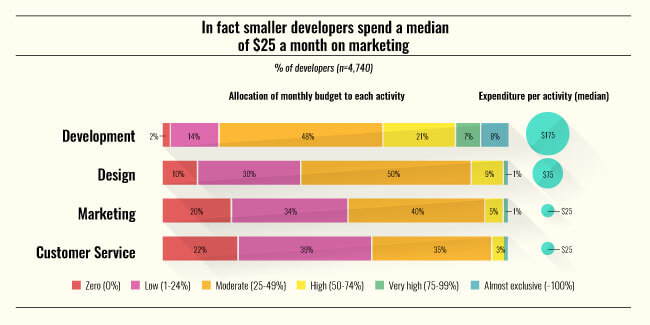 Ok so it's obvious that not all apps are born equal, at least not when it comes to marketing budget size. So what would be the best moves to invest your energy in? And it doesn't matter if you have a budget or not since any wrong move will waste your resources, be it money or time.
A quick Google search will show you that there are about a million possible ways to accomplish this goal – enough to make your head spin. But there are a four proven ways to increase app downloads, as shown by successful appreneurs who have actually done the work.
Make Your App Temporarily Free
Successful appreneurs have discovered that occasionally dropping the price to $0 is one of the best ways to increase app downloads. Not advertising or social media… just making your app free. Why does this technique work?
Everyone loves free apps! Many people get alerts about free apps via popular notification apps like Apps Gone Free. Some app blogs also have special crawlers that let them know about recent price drops. That means that your app could be mentioned on a major blog. The bottom line? When you decide to go free, more people will discover your app.
But the benefits of going free don't end there. Getting more downloads and reviews can help improve your app's ranking, which increases discoverability. This is especially true if your app reaches the top in a category or country. So, even when the price of your app increases, you may be able to drive more downloads than before. 
To show how it works, here are some real-word examples from successful appreneurs:
7-Minute Workout
| | |
| --- | --- |
| | Appreneur Stuart Hall hatched a plan to build an app and run experiments to evaluate the effectiveness of different techniques commonly used to boost downloads. He tried several methods, including social media marketing, content creation, translating app store descriptions, and design changes. One of his most successful experiments involved going free. |
 
To put it in Stuart's words, "the chart says it all."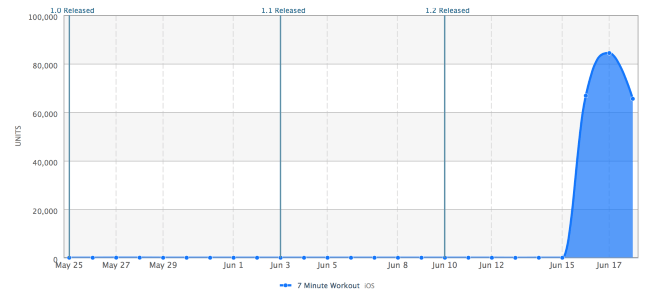 Source: Stuart Hall
Tiny Wings 
| | |
| --- | --- |
| | The data science team at Sensor Tower examined several apps that went free for the purpose of increasing downloads. One of the apps was the popular game Tiny Wings. During the month of July in 2013, the app went from $0.99 to $0 for a total of eight days. As you can see in the below chart, going free increased the number of downloads significantly.   |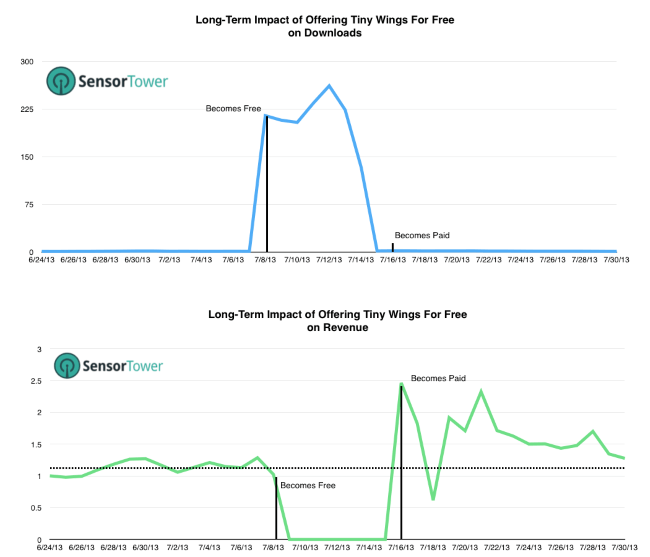 Source: Sensor Tower
(U.S. Only)Tiny Wings does not offer in-app purchases, so revenue obviously decreased during the free period. However, the move had a positive impact on revenue in the long-term, due to increased interest in the app throughout the following months when the price returned to $0.99.
Get Featured in the App Store
Every appreneur dreams of have an app featured in the app store. Just imagine getting your app in front of millions of people! You're almost guaranteed to get a huge increase in downloads. Let's look at what happened to a few successful appreneurs. 
Transit
| | |
| --- | --- |
| | Appreneur Sam Vermette was able to get more than 100,000 weekly active customers through his app Transit without any paid marketing. All he had to do was get his app featured in the Apple App Store. In an interview with Crew, Sam said that Transit has been featured several times, and that it has been the main source of growth for the app. |
Before being featured in the Apple App Store, Transit was averaging approximately 200 downloads per day. When Apple featured Transit in the Navigation category, the app was downloaded more than 18,000 times on the first day!

Source: Crew
After being featured for the first time, Transit was also featured in the What's Hot and the New & Noteworthy categories in more than 15 countries. According to Sam, this helped sustain Transit's growth in the long term.
Mr Jump
| | |
| --- | --- |
| | Mr Jump from 1Button started out as an obscure app. But soon after being featured in the Apple App Store, the super addictive game shot up to over a million downloads per day! According to co-founder Jeremie Francone, being featured in the Apple App Store is what really launched the game.  With so many downloads, 1Button was able to enjoy a significant amount of revenue from advertising and in-app purchases. |

In a Cult of Mac interview, Jeremie reported that Mr Jump made over $74,000 from advertising and over $5,000 from in-app purchases just days after being featured. Unfortunately, there's no one ridiculously easy trick to being featured in the Apple App Store… but you probably already knew that, right?
However, there are some things you can do to increase your chances of success. Getting positive reviews, good press coverage, and plenty of early signups will go a long way. Get Positive Press CoveragePeople download apps based on different factors, but one important factor is trust.
By getting positive media attention, you will increase awareness and start building trust with your audience. Let's look at a few real examples.
MoneyWiz
| | |
| --- | --- |
| | Iliva Yordanov wasn't getting much U.S. media attention with his personal-finance app called MoneyWiz. So, he decided to customize his app for foreign markets like Russia, Germany, Spain, France, and Italy. He contacted the press in those countries and was able to get plenty of coverage overseas. |
MoneyWiz soon became the #1 finance app in the Apple App Store in those countries. Now he was finally being noticed in the United States. MoneyWiz started climbing the charts in the U.S. market and it was eventually featured in the Apple App Store. As a result, MoneyWiz generated nearly $1 million in revenue. 
Bazaart
| | |
| --- | --- |
| | Gili Golander was trying to get press coverage and increase downloads for her photo collage editing app Bazaart. With her intensive PR launch campaign, she was featured on more than 50 blogs and news websites. |
Her PR campaign generated a significant amount of buzz on social media. People even wanted to know who her PR company was! But the most important thing was the results. Bazaart was able to go from 0 to 500,000 downloads with a very small budget.
Let's face it, knowing how to build an awesome app doesn't teach you anything about getting the media coverage you need. But the good news is that pretty much anyone can do it, you just have to be persistent. 
A direct, concise, and relevant pitch gives you the best chance of getting press coverage. As an appreneur, it's important to learn this skill because press coverage is one of the best ways to generate awareness and build credibility. 
Submit to Startup Networks
With startup networks, you can share your app and get valuable feedback from a community of developers and appreneurs.
Sharing your app can even result in new visitors, signups, and positive press coverage. For example, many developers have found success on sites like Product Hunt and Hacker News. Here is a real-world example. 
Prime
| | |
| --- | --- |
| | Tyler Hayes is the CEO of Prime, a mobile app that gives users an easy way to collect health records in one place. He posted a link to his app landing page on the popular startup network Product Hunt, which allowed him to generate over 900 unique visitors and get more than 50 signups. |
After sharing his post on Hacker News, Tyler was able to attract another 2,000 unique visitors to his landing page. The cherry on top was when Prime received positive press in an Entrepreneur article based on his success.
Final Thoughts
Increasing app downloads is not an easy task. But these successful appreneurs proved that it's possible. These 4 proven strategies were used to launch real businesses. With dedication and persistence, you can find similar success. If there are marketing initiatives that work well for your brand, think about adding them to your mobile app strategy. Always think about your audience and what works best for targeting them.
Do you have a killer strategy for increasing app downloads that has worked for your business? Let us know in the comments.