As a shrewd appreneur, eager to notch up your download stats, the prospect of entering foreign markets can be a little daunting. It's an exciting thought too, but daunting is the first word that springs to mind. 
Yet if you're like most developers, the potential opportunities are now too big to ignore. The number of worldwide app downloads continues to increase in real terms, with the pace of growth in developing markets eclipsing that of English-speaking ones.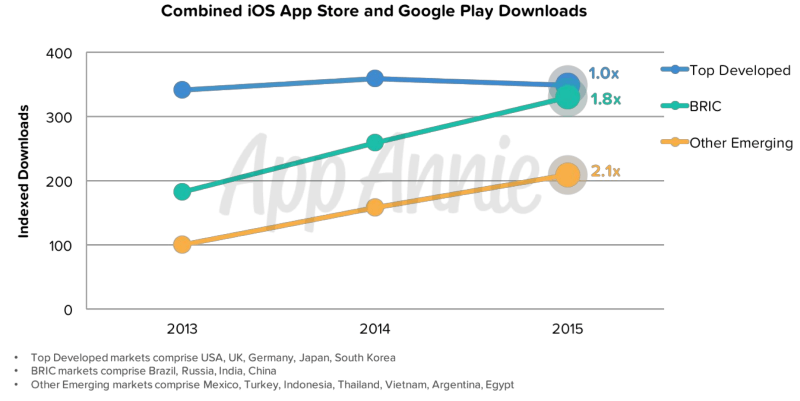 (Source: App Annie)
In their report on emerging markets, AppAnnie concluded that, "Brazil, Russia, India and China (BRIC) overshadowed the world's most developed app markets in download growth, rising 80% year over year."
Unique opportunities…
There are also unique marketing opportunities, such as the ability to set lower prices in certain countries, that you can take advantage of as part of a broader international strategy. So there's potential for an effect on you bottom line beyond mere extra downloads. 
Equally, different user habits may mean that English-speaking countries, especially the USA, are not even the best primary target market for your app.
Take a look at Sensor Tower's quirky little heat map that shows how many "fun" apps are being downloaded country-by-country compared to "serious" apps. If you're a games developer with a predilection for blowing up kittens, for instance, the implications should be obvious.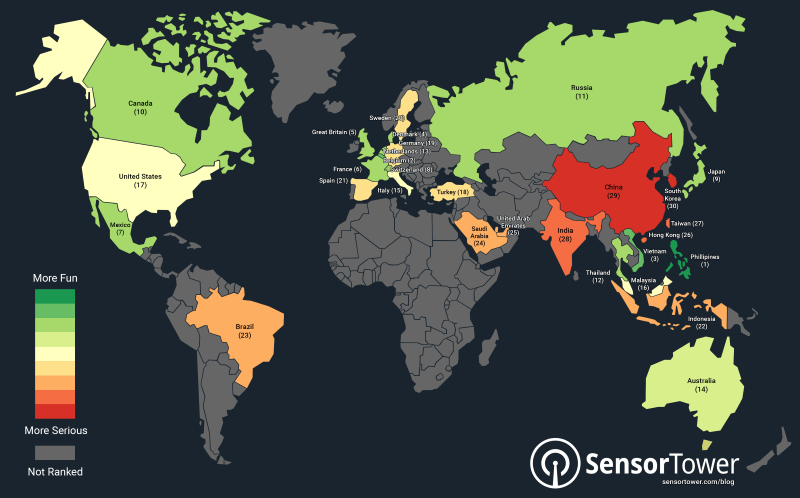 (Source: Sensor Tower)
So, all in all, it's a bit of a no-brainer. But where should you start? And, importantly, how can you test the viability of new potential markets without sacrificing your hard-earned money?
Testing the waters…
Fortunately, there's a simple way of dipping your toes into the water – effectively determining which markets, if any, are suitable for full-scale localization. And the wonderful thing about it? There's next to no risk involved…
MVP for Localization
You'll likely be familiar with the concept of a minimum viable product. If you're not then the basic notion is to develop some kind of offering, at the lowest possible expense, to gauge the thirst of a market for a fully developed product. 
This simple idea can be applied to localization in the form of MVL (minimum viable localization). In essence, the process involves adding foreign-language metadata to your app store profiles so that you're able to rank for foreign searches and appeal directly to users in their own language.
The real trick is in finding the right markets to enter, engaging the right translators, and then optimizing for the app store effectively. We'll cover all those points in a moment. First however, here are a few case studies to whet your appetite…
Harlem Shake Yourself – 767% increase in downloads
David Janner, developer of the hugely popular app Harlem Shake Yourself, attributes his success primarily to localization. He went from 3000 to 23,000 downloads over a period of just one month – that's an increase of 767%!

The amazing thing about his success is that he achieved this growth with only MVL strategies. Just by changing the titles and descriptions he went from catering to a 67.2% English-speaking market to a worldwide one.

(Source: Make App Magazine)
Honorbound – over 5 million downloads and 14 times more features on the App Store 
| | |
| --- | --- |
| | Juicebox Games, the creators Honorbound, have used effective localization to turn their game into one of the world's best-known. What's interesting about this case study is how quickly their download rankings skyrocketed. In the graph below, you can see their before their global release. |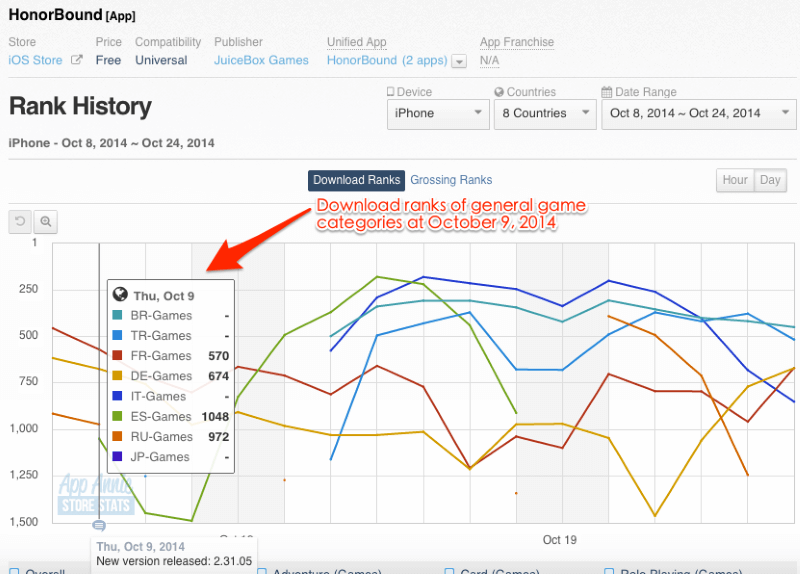 (Source: App Annie)
Two weeks later, downloads shot up in all of their target countries. Of particular note is Turkey, where they went from not even featuring to number 377.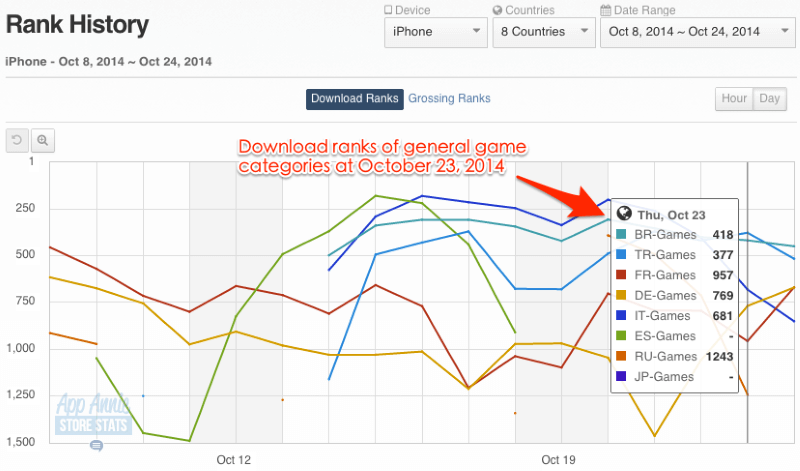 (Source: App Annie)
Familonet – 400% increase in users
Familonet is an interesting location app targeted at families. It enables members to stay up-to-date with the whereabouts of their loved ones and utilizes a subscription model.

The company that released it went from 100,000 subscribers to 500,000 in the space of a few short months by targeting twelve different languages – astonishing figures by any stretch of the imagination.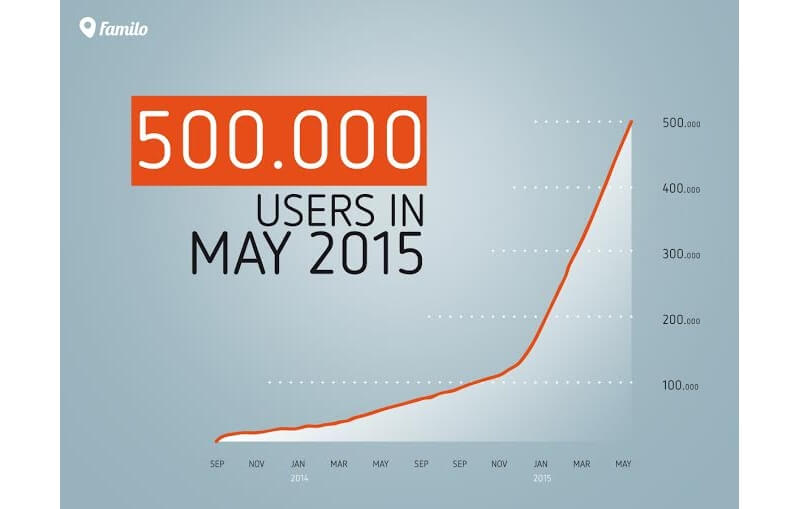 (Source: PhraseApp)
So, by now, I'm hoping you're sold on the potential benefits of tailoring your app for foreign users. Testing the markets could be one of the most important (not to mention profitable) things you do – if you need more examples then have a look at these five case studies of popular puzzle games.
So, let's get into the nitty gritty of how to do it. 
Wait a minute! If I am just a beginner with apps will localization still help me?
The quick answer is – most certainly YES. It's actually very simple. most people who are interested in reskinning apps and publishing on the app store don't spend much on localization. it's a big mistake because you lose your chances to rank for foreign languages and in turn improve your organic downloads significantly.
Take a look at two apps from our private experiments. one uses MVL for 12 languages while the other has only English set in place. we are also looking only on the first 11 days to make the point clear. Just to make it fully clear we performed ZERO marketing. everything you see is just the result of setting up MVL for languages and the organic result of the practice.
An app with MVL only for English 
This game gained a total of 6 downloads. averaging 1 install per day.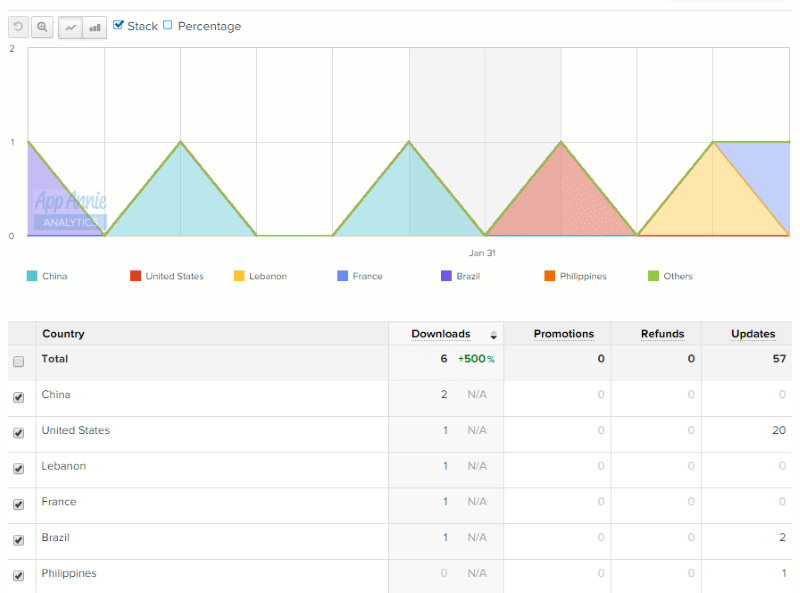 An app with MVL for 12 languages including English 
This app gained a staggering amount of 440 installs in the first 11 days. out of them 179 installs come from China. something that would never happen without proper MVL.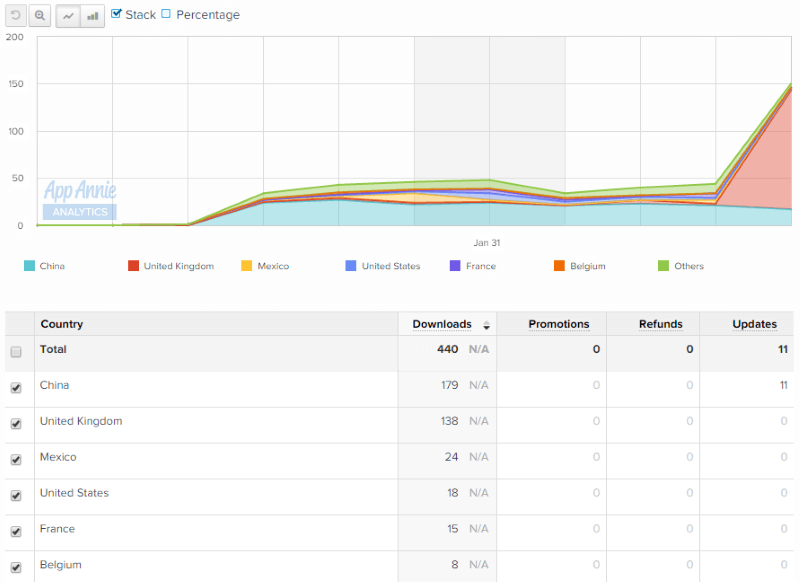 Which Countries Should I Target?
Here's our checklist for determining the best languages to target with  MVL. What's important to remember is that there's no set method. The best route to foreign markets will vary with individual apps – use the following pointers to craft your own unique strategy.
1. Understand international download and revenue date.
AppAnnie released some fairly conclusive data about which languages are best to target. What's interesting, however, is the disparity between the number of downloads worldwide and the spread of revenue. It's important to remember that decision-informing statistics need to be evaluated in the context of earnings, not just users or downloads. 
Consider, for instance, basic data on downloads by country…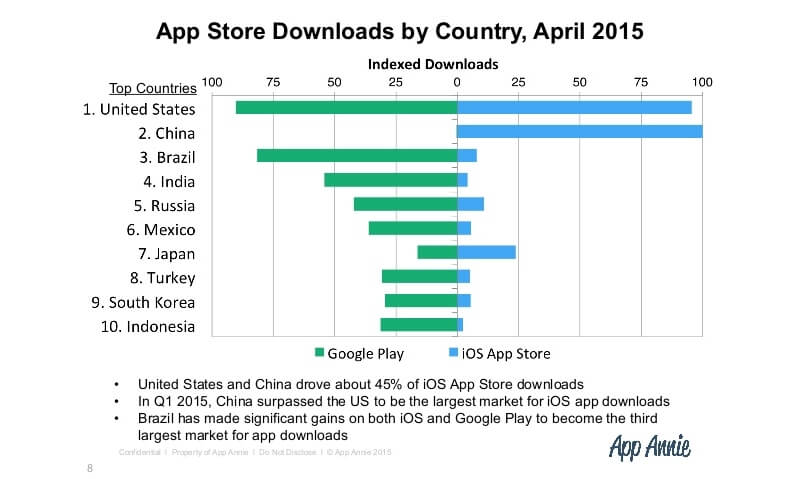 (Source: App Annie)
Now compare this data about worldwide downloads to data about worldwide revenue…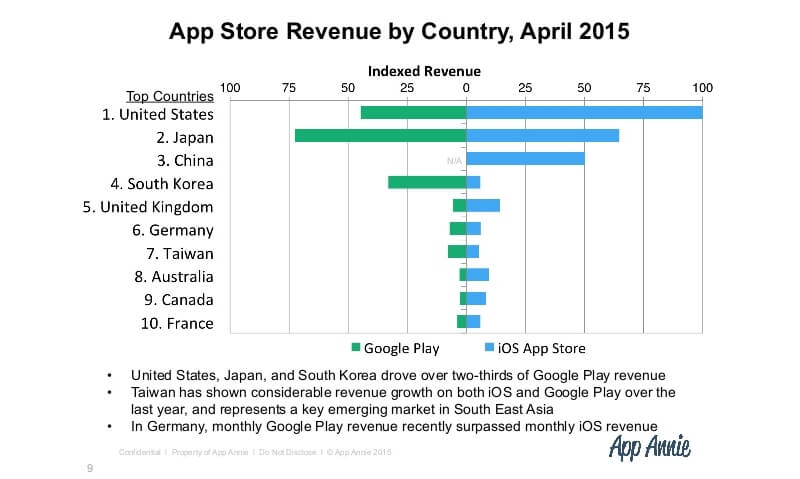 (Source: App Annie)
We can use both of these graphs to conclude that, on a general level, the following are the best languages to localise for: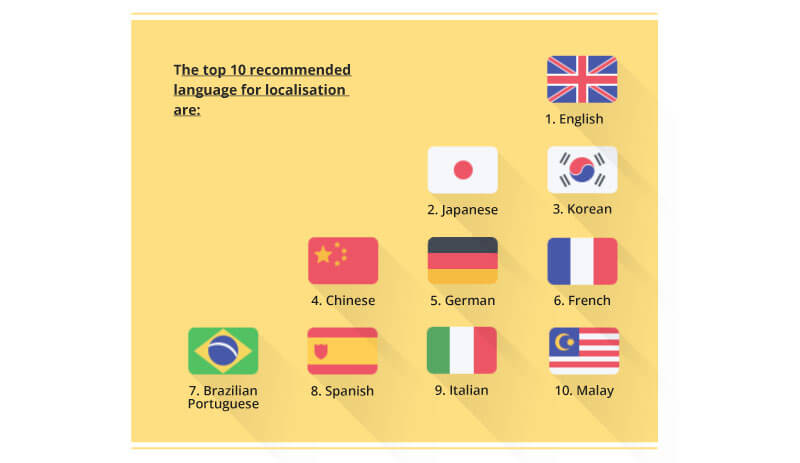 2. Look to your current users
All of the above data taken into consideration, it's still important to take a broad view – bringing other factors into the mix. One key question to ask is, "Where are my current foreign users coming from?" If your app is garnering users in Europe or Asia without any localisation then that's a pretty strong indicator you'll do well there. 
3. Discover which countries similar well-known apps are localizing for
You can use tools like Sensor Tower and AppAnnie to spy on your "indirect" competitors. Where are they successfully localising? The key word here is similar not identical. Obviously, the presence of big players can be a cause for concern, but it can also be a good indicator of general demand.
Imagine  that you're selling a casual dating app targeted at people with ginger hair (credit Sell My App if you run with the idea and it takes off). The fact that Tinder does very well in France, for instance, could be a good prompt to consider localizing there. As the French language also features on the list of top languages you've got a good basis for moving forward.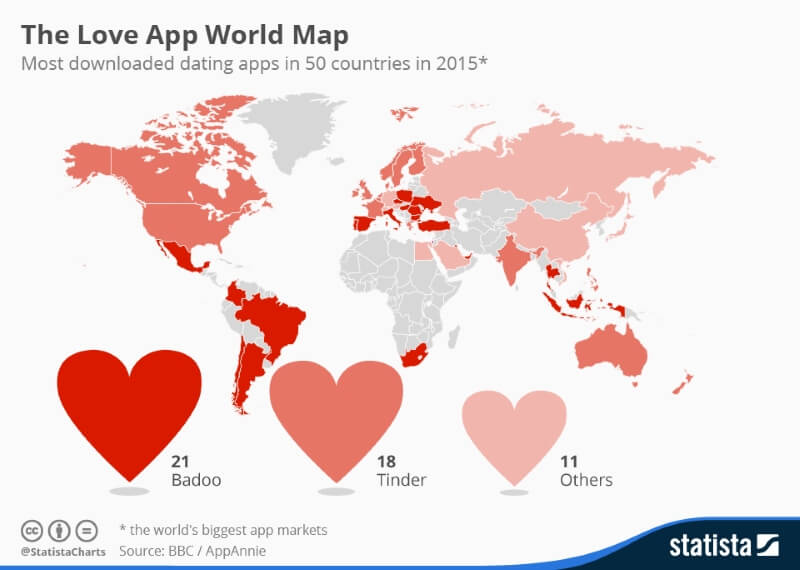 (Source: Statista)
4. Analyze the competition
Following on from the above step, you also want to track direct competition. Aforementioned tools like AppAnnie and Sensor Tower offer very easy ways to check up on those competing for the same distinct groups of people as you.

Take The Room for instance – one of the standout mid-core puzzle games in recent memory.

You can see from the information on the left that a good proportion of their users come from Germany (astute puzzle-solvers that those Deutsch are). Such information might indicate a somewhat saturated market for this particular category of game.
How to Translate Your App
What about your meta-data? The important thing to remember is that you want to spend as little time and money as possible on your translations. The aim is to spread your efforts as widely as possible, as cheaply as possible, to get some basic data about potential markets. Once you have this you can zoom in more closely on the best opportunities.
Finding a good translator
Don't skimp on this one! The last thing you want is a shoddy translation that does your app a huge injustice. You need somebody who understands the nuances and idioms of your chosen languages and who you can also provide with  examples of top apps that are similar to yours. Doing so means they can study them and get a feel for the kind of copy that works. 
Sites like UpWork, PeoplePerHour and Freelancer are great places to find people that you can work closely with. A good translation (of about four thousand characters) will usually cost you around $100.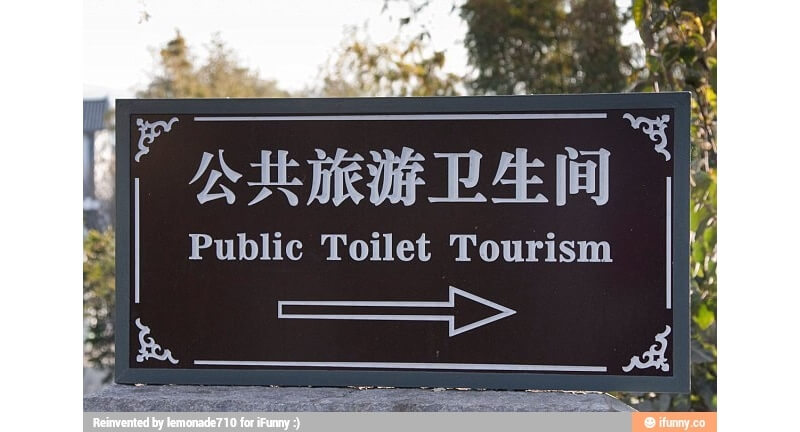 (Source: iFunny)
How important is the title?
The issue that some developers face is with wanting to keep brand continuity across different markets. If your title doesn't contain any important brand elements, or your name can easily be translated without losing its unique flavor, then your best bet is to change it entirely. 
The Treasures of Mystery Island is a good app name that works well in different languages whilst retaining its memorable character.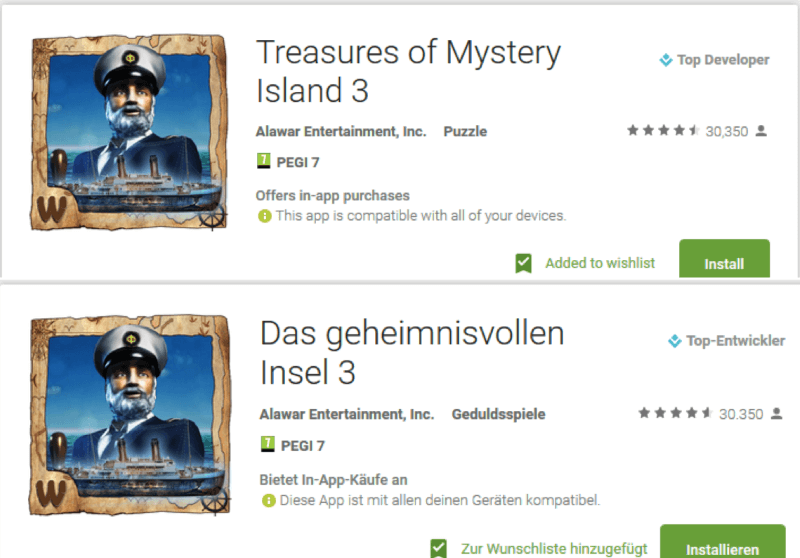 Another alternative is to change part of your title, usually the the descriptive element (or byline), whilst keeping the brand name the same. This is the approach that MeetMe and Flipboard take. "MeetMe" is kept in English but "Chat & Meet New People" is translated.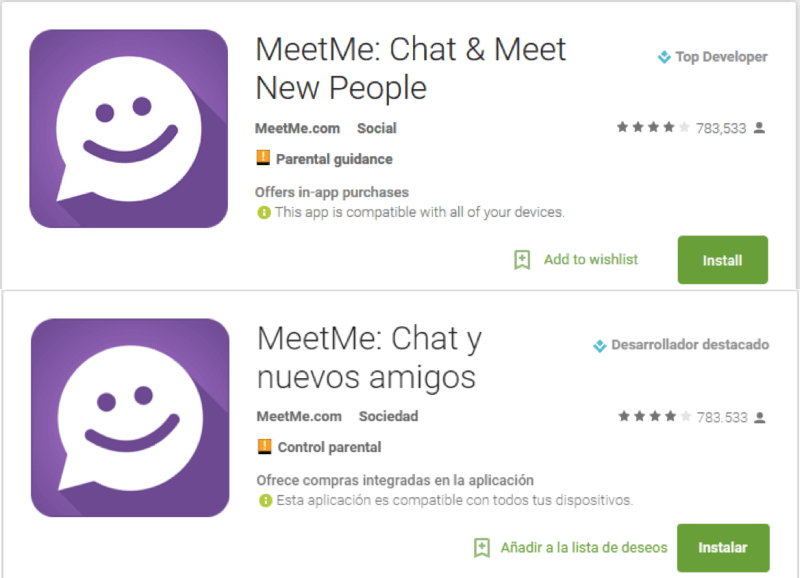 Perfecting your description
There is a four thousand character limit on Google Play and the App Store so it's vital that you make sure your core message fits into this limit in the language it's being translated into. 
You also need to ensure  that your main keywords are included in your description. Your translator will be able pick the most appropriate translations but ideally you also want to do your own research. In this way you can ensure that you're picking high volume foreign-language alternatives. You'll also add your choices to the keywords section in the Apple App Store. 
The other factors to consider in your description are the various cultural conventions. Units of measurements, dates, time, references to pop culture…all should be taken into account.
App Store Optimization
Rather than go into depth here about ASO, you can consult our in-depth guide on the topic. Applying the advice contained there to foreign language targeting is a relatively simple job.
Do  I need to translate my graphics and promotional videos?
The short answer: no. At least not for MVL. You can at a later date but now it's almost certainly surplus to cost and requirement. 
Whether or not you eventually translate your graphics really depends on how much text overlay there is on them and how vital they are to communicating the essence of what your app does. Even major games (Clash of Clans, Temple Run, Plants vs. Zombies) don't bother translating their promotional material. 
And last but not least for your convenience we have included also the technical aspect of localizing in for the App store and Google play. 

1. Navigate to the App Store and select the "App Information" tab.
2. Select the language option dropdown.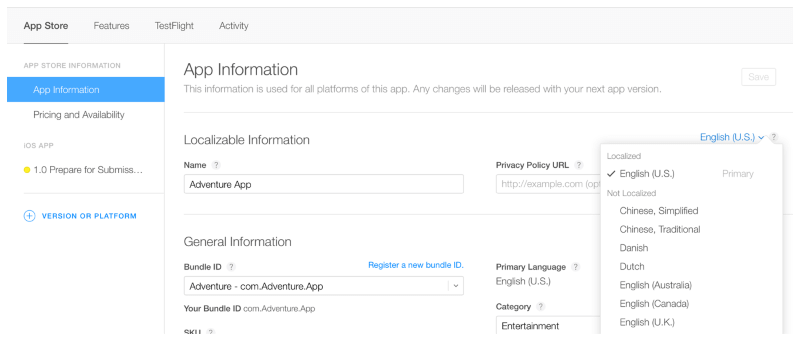 3. Choose the language (in the "Not Localized" section) that you want to localize for.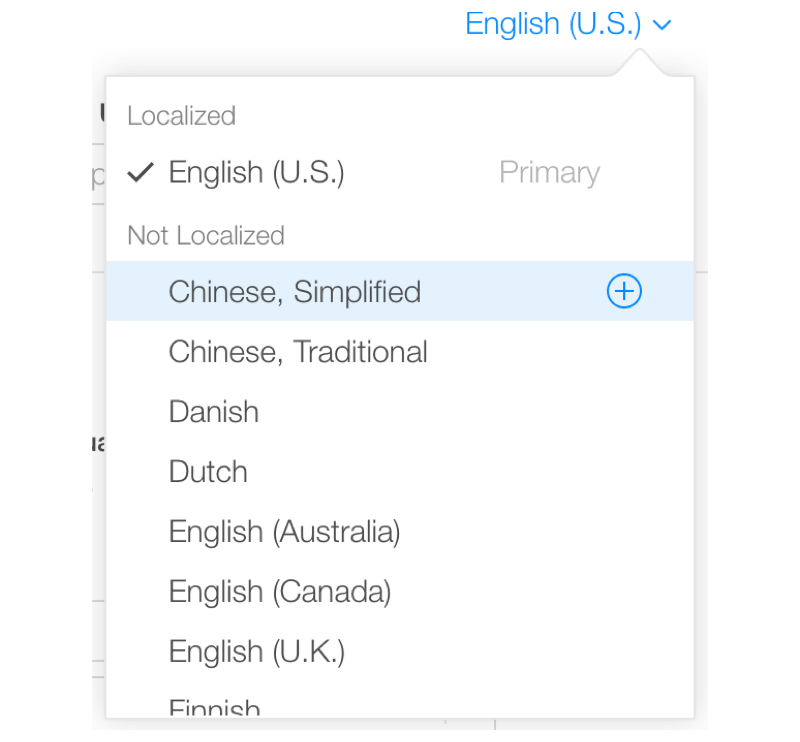 4. Enter your translated metadata.

1. Open the Google Play Developer Console and open the "Store Listing" tab.
2. Click "Add Translations."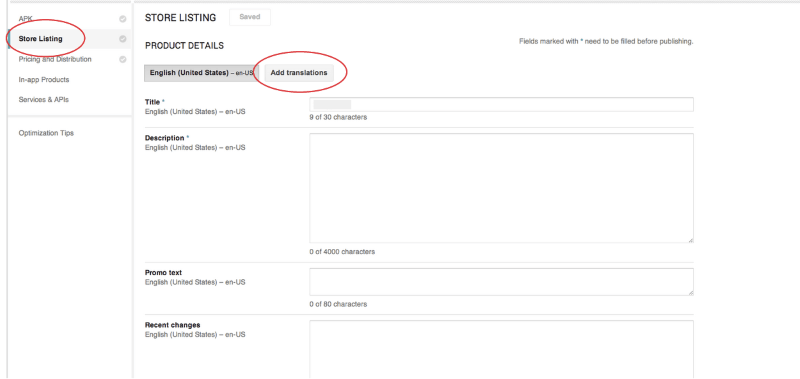 3. Select the language you want to target.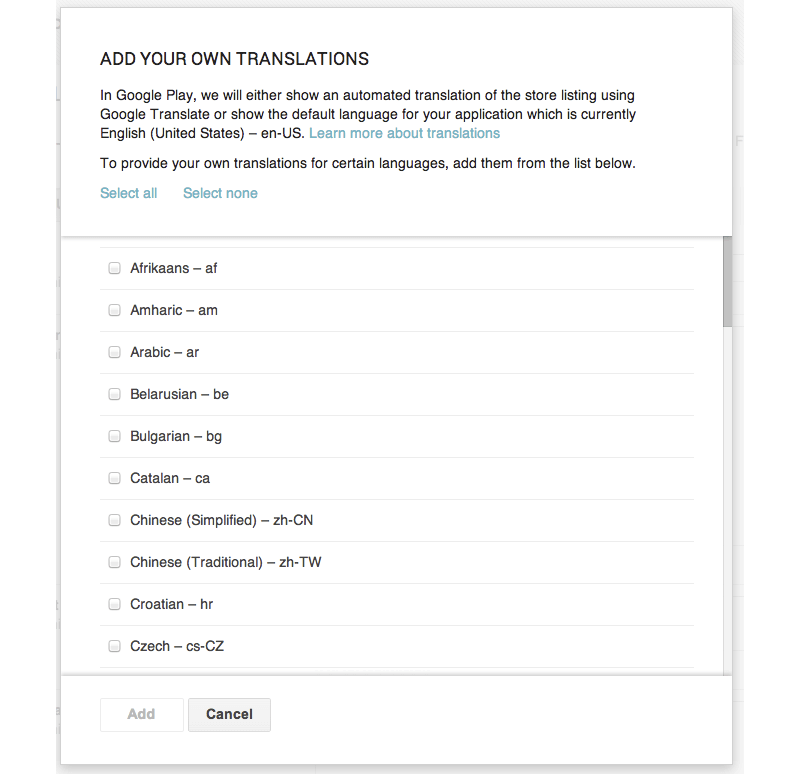 4. Select your chosen language from the "Languages" tab and enter your metadata.

Final thoughts
As a developer, you can't afford to ignore the potential opportunities of localization. What the MVP approach outlined in this article enables you to do is very quickly, cheaply and easily test huge potential markets – ultimately enabling you to determine whether or not full-scale localisation is desirable.
Given cultural differences, you might also find that your app is better-suited to a foreign market entirely, leading to a download increase (as with some of the examples in the post) of ten or twenty times.
Even if you are just an indie dev working hard to make ROI on your app portfolio, implementing MVL is simply a must! you can see from our examples the huge impact and difference that is created between apps with no MVL and apps that use it. it simply doesn't make sense not to use it.
I do hope you'll implement some of the advice included here and get in touch to let me know how it goes. Here's to your international success!
Do you need help with your MVL? we can help you. feel free to contact us in the comments below.