Description
Add to wishlist
Special Launch Offer from our friends at AWD Games Official!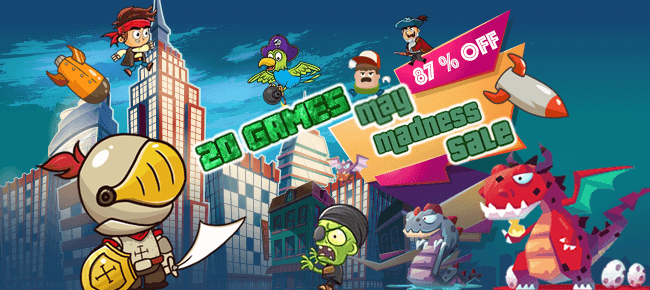 AWD Games is a market leader in providing the best Unity source codes for reskining iOS & Android games. With over 8 years of experience and hundreds of satisfied customers you can safely bet that you will win a lot from their source codes.
AWD Games has decided to offer our ever-growing community an offer that you just simply cannot overlook!
They are giving away their gigantic library of source codes in this bundle for only $199. That's less than $9 per source code!
Crazy, right? But why are they doing this? Their Lead Developer explains: "We want to help out apprepreneurs who want to succeed with Unity. With these 20 source codes, in depth documents and our 24/7 support they will be well head of the pack."
Today you have the perfect opportunity to get serious about Unity iOS & Android reskining.
Features
Now, purchase May Madness Bundle and build your high quality Google Play Store and iOS store.
Minimal risk. Full support.
20 Top Games
That's a total of $1,510 worth of A+ source codes for only $199!
⭐ Before buying, please read carefully the product description of every item in this Bundle Offer and take a close look at their features and characteristics as they may be different for every game template in this package.
Features
Coded in Unity – The leading engine for universal games.
iOS11 & iOS12 ready – embracing the power of the best OS on mobile.
64 bit supported – always up to date with Apple's requirements.
iPhone 8, iPhone X and iPad Pro ready – beautiful on all devices.
Android 9.0 and 10 Ready!
Unity 2019 Ready!
Monetization:
Admob , Unity Ads and leading ad networks supported!
In App Purchase supported!
Got A Question?
Ask it in the Comments section. We answer each and every question in less than 24 hours, but mostly within 3 hours (if we're not asleep). Customer happiness is our #1 priority.
And of course, we offer a 14 days money back guarantee.
Professional Customer Care Services
We care about you and your purchased source code!
We'll support you on any task.
We will help you to optimize your code.
We provide even TeamViewer session to directly fix your error.
Your success is our success.