Description
Add to wishlist
SATISFYING painter game with smooth control (one tap) to change the duo rotation .. Paint all the bullets to finish the level, there's Unlimited levels. enjoy the experiments in a colorful world and beautiful sound effect.
Smooth control/gameplay
READY TO PUBLISH
FOR TESTING THIS GAME: Demo Apk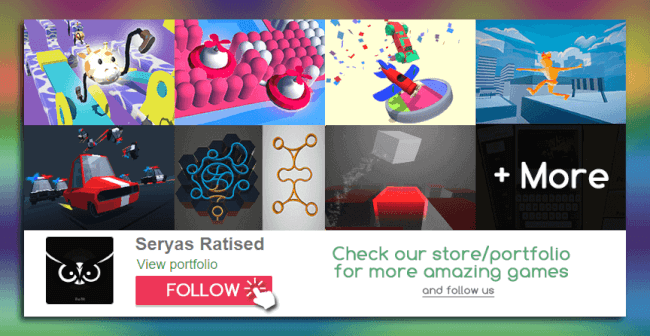 Features
Ads implemented
ADMOB ready to use (Change the IDs)
simple way for creating levels and themes
+50 Levels pre-made (With Unlimited mode, so the game will always have a NextLevel)
Different Themes (world's Colors)
cool and Nice design
Satisfying & fun to play
for all ages
cool sound effect and vibrations
After getting this amazing game's source code
– Create new unity Universal Renderer Pipeline project
– Extract the source code zip folder.
– copy and past the folder "project settings" to your new project path (replace the existing one"
– import the "DuoPainter.unitypackage"
DONE!
ENJOY!