Description
Add to wishlist
Epic Defense – The Rise Of Darkness is a type of strategy game has been millions of users around the world are very fond of. Epic Defense – The Rise Of Darkness gives players the feeling of novelty in the genre of warfare – tactics with extremely unique weapons upgrades!
Epic Defense – The Rise Of Darkness is a survival war between humans and monsters that arise from the dark: Orcs, Werewolves, Death Knights, Wyvern, Dragon … One is alive, two are destroyed.
The fiercest battle in human history has gone through a series of difficult times and is coming to an end, and that depends on you. Become a great leader to bring peace to the world, then you will become a legendary warrior of the world!
Features

– Made with Unity 2017.2.3f1
– All necessary services have been integrated in the project:
+ Ad monetization system with Admob and Unity Ads
+ In-apps purchase (Coins and Diamond/Gems)
+ Leaderderboard with Google Play Service/ Game center
+ Realtime Internet Daily Gift for free Coins Now, users can not change the time on the phone to receive gifts.
+ Push Local Notification– A great way to keep users coming back to the game without asking for any additional permissions when you publish
+ Share Native with Image and subject,title, link…
– 20 levels of play are ready to publish,
– Easy to edit/add new new waves of enemies of new levels (Just drag, drop and fill in the necessary parameters in Unity Editor- Hierachy. No code skill required)
– 3 game modes: Easy, Medium, Hard
– 10 different Tower with weapon upgrade system 5 levels
– 10 different enemies
– 30 achievements is available, easy to add new achievements (Everything just fill in the parameters).
– High definition awesome illustrated cartoon art
– Fix screen size 3: 4 or 9: 16, Iphone X, Iphone XS, Iphone XS-max…
– Document and link video tutorials are included in the project:
+ Edit/add new new waves, Edit/add new new Level… (Document and Video)
+ Config Admob, Unity Ads, IAP, Time Reward, Local Push, Share Native (Document and Video)
+ iOS build tutorial (Video)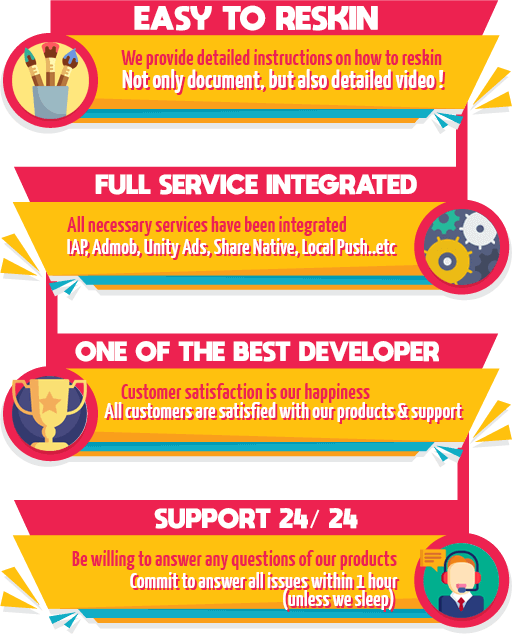 Link APK
Money Back Guarantee

Save money now and earn money in the future! Customer satisfaction is our main priority, and we'll be at your disposal for any questions before and after the purchase.
And of course, we offer a 14 days money back guarantee.