Description
Add to wishlist
This is unique game has good earning potential!
>>>>> APK DOWNLOAD <<<<<
ADMOB integrated (its one click to change id for you, see README.pdf)
IAP integrated
Facebook SDK integrated
Easy to create new levels
The impostors are locked in the room and only one will survive. Manage to pick up weapons, strengthen yourself with bonuses!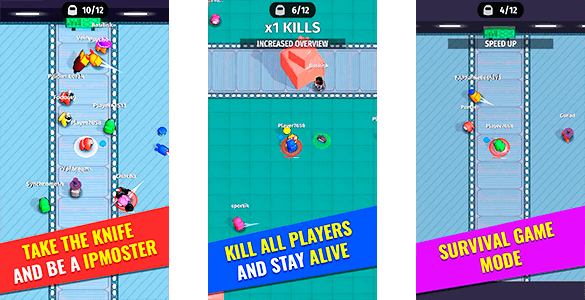 Other games:

Tactical Knight [ $79 ]
Among Impostors [ $149 ]
Impostor Hook [ $99 ]
PETS.io [ $89 ]
Is it GOLF? [ $69 ]
Don`t Brake! [ $49 ]
Archhero [ $79 ]
Falling Royal Race [ $79 ]
Features
– Good retention 41%
– ADMOB (banner, interstitial, rewarded video)
– IAP
– FaceBook SDK integrated
– Trend game
Money Back Guarantee
Save money now and earn money in the future! Customer satisfaction is our main priority, and we'll be at your disposal for any questions before and after the purchase.
And of course, we offer a 14 days money back guarantee.

Professional Customer Care Services
We care about you and your purchased source code!
We'll support you on any task.
We will help you to optimize your code.
We provide even TeamViewer session to directly fix your error.
Your success is our success.