Description
Add to wishlist
Strike Galaxy Attack is a best fast-paced top-down view space shooter war game template.This game requires quick reflexes and coherent thinking. You must be able to memorize the shape of the invaders. Then you have the opportunity to win this aggressive and powerful army.
In the game, you will be the hero who rescued and wiped out the invaders from the galaxy. Are you ready to become a hero? Fight for the freedom of the galaxy!
*19/06/2018 : Add back button as requested by the buyer
*25/06/2018: Fixed some minor bugs
*24/11/2018: Upgrade project with Unity 2017 .2.3f1 (64bit)
*12/November/2020: Upgrade project with Unity 2019.3.9f1 (64-bit)
Features

– Unity 2019.3.9f1 (64-bit) or higher(Also support Unity 2020)
– High quality images optimized for all screen sizes from tablet to mobile (iphoneX,Galaxy S9..etc)
– Two extremely fun modes: Adventure and Endless
– 23 levels in adventure mode and hundreds of waves enemies in endless mode are ready to publish, also fighting boss included
– 3 Fighter with 12 levels of bullet each type, enough to accompany you through the galaxy
– Leaderboard global ranking to compare your high score with everyone
– Admob
– UnityAds
– In Apps Purchase
– Lucky Wheel
– Daily bonus Gold
– Free Golds with Unity Ads
– Continue game with Unity Ads
– The next level will be updated continuously periodically based on our data. You will be able to upgrade it for free at no extra charge (except for the purchase fee per lisense).
– All plugins: Admob, Unity, IAP, GooglePlay Service have been integrated in the project. There are specific instructions for building Android and iOS in the tutorial document (This will be useful for newbies)
– 24/7 professional support. Respond to messages within 1 hour (except when we sleep)
– Commit to support until the app publishes on AppStore and GooglePlay
# Tutorial document includes:
– Configure plugin components (Admob, Unity, IAP, Leaderboard…)
– How to reskin / how to add levels / waves
– Build Android,iOS tutorial and files needed have been included in this game project. At the path: Assets-> Strike Galaxy Attack-ChickenInvader Document.docx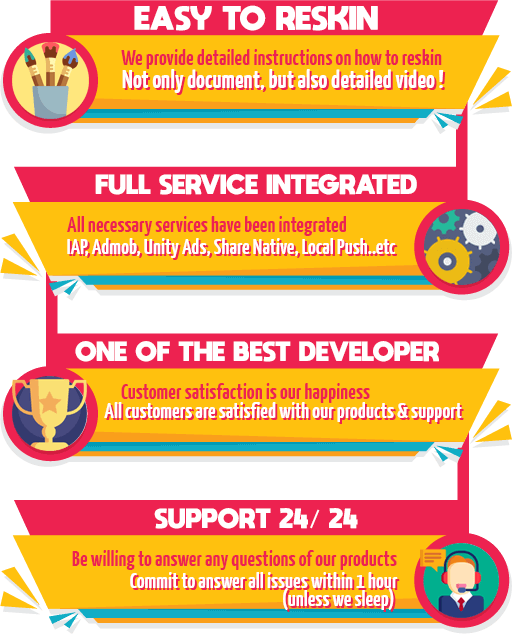 Link APK Demo
Link APK Unlock All Level
Money Back Guarantee

Save money now and earn money in the future! Customer satisfaction is our main priority, and we'll be at your disposal for any questions before and after the purchase. And of course, we offer a 14 days money back guarantee.