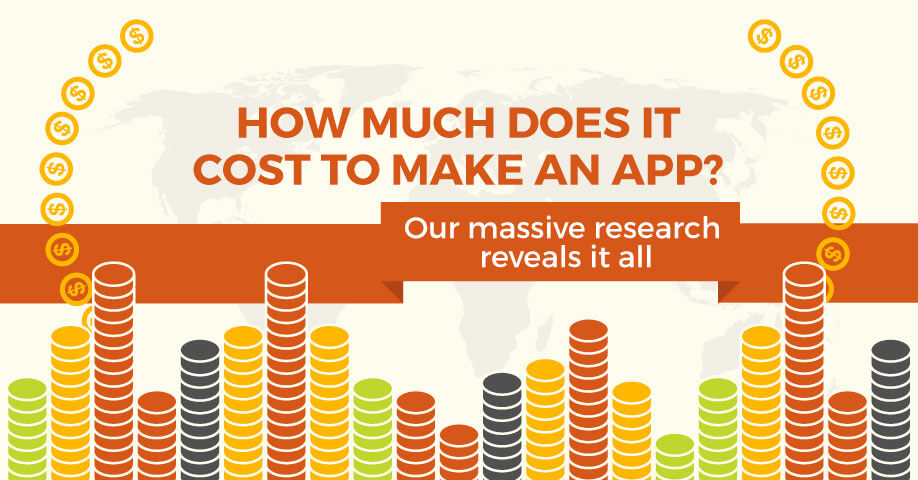 The app world is ever more demanding, take Tech Crunch's word for it, which recently stated that 85% of consumers spend their time on mobile apps.
After relentlessly researching which apps perform best, you construct an idea about what you want to develop. It's only a matter of seconds you start to wonder how much you need to financially invest in it. 
You use an online calculator to help you make an estimate. After checking all the features you need your app to have, the digits you see before your eyes blind you.
$300,000?! Seriously?
"Apps are for rich people", you say to yourself disappointed. 
But what if we told you that you can make your rocking app?
After researching estimates on different mobile app calculators, we came to a conclusion that they not only offer zero help, but also create a false view of the cost of apps. We can rename them "marketing tools" rather than "calculators".
Let's burn those marketing curtains and reveal true estimates of the cost of mobile apps in the real world. 
Types of Apps
Basic Table Functionality: These apps are pretty simple to develop. Think of your email list. You click on a specific topic and it opens a page with information about that email. A truly basic app.
Database Driven Functionality: Database driven functionality apps are more complex and interactive than the basic table apps. They can be native, which save information locally or dynamic, saving information solely through internet services. For example, Twitter and the Weather Channel apps are famous dynamic apps that function only on external information. 
Games: Just as you may have thought, games are the hardest type of apps to develop. Due to their complexity, it takes more work to develop thus increasing costs. Also, there are other features apart from creating the game itself that can cost you. Some of those features are: integrating the app with Apple gaming center, updating and submitting player scores, connecting players in an online community and more. It may be a lot of work and can cost anywhere from $10,000-$250,000, however games are the most popular types of apps.
Enhancement or Modification of the Device Firmware or Hardware: These apps enhance the performance of an existing function which may be the camera, alarm clock, flash and try to make it better. An example is Camera+.
The Developing Process
Taking a better view of each component of the developmental process provides a realistic overview of how much your app can cost.
Clutch surveyed 12 leading mobile development companies in order to determine the costs of developing an iphone app. They found that the median cost range is between $38,000 – $171,000 but can go up to as much as $500,000 (and even higher).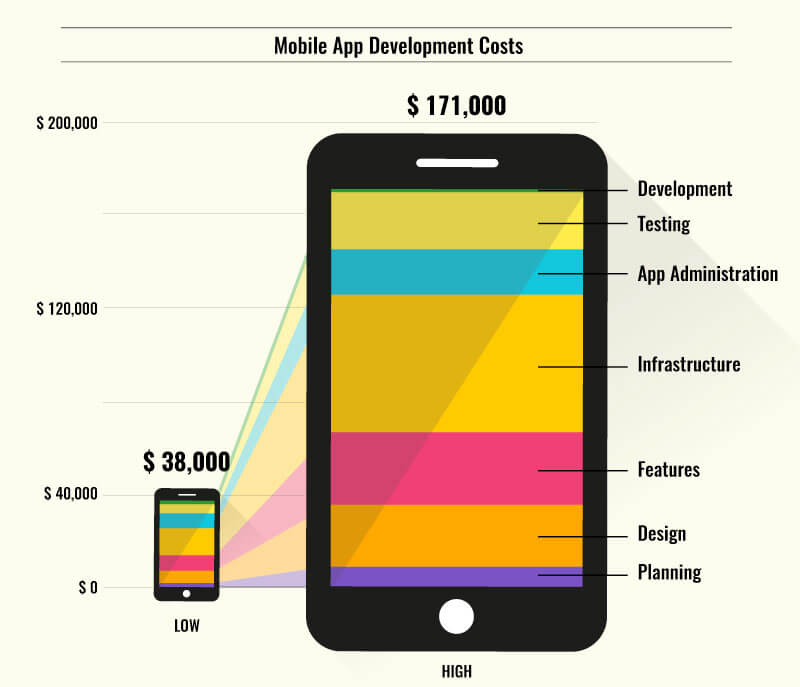 (Data inspired by : Clutch)
The calculations as based upon two hourly rates, $100 and $150 per hour, the most common hourly rates used in the US for developing apps. Respectively, the minimum costs for these hourly rates ranged from $25,000 to $114,000. The maximum costs however, ranged from $485,000 to $725,500.
The survey didn't apply other costs after the developmental process, such as maintenance and updates. 
Below is a more detailed breakdown of each component of each stage of the developmental process.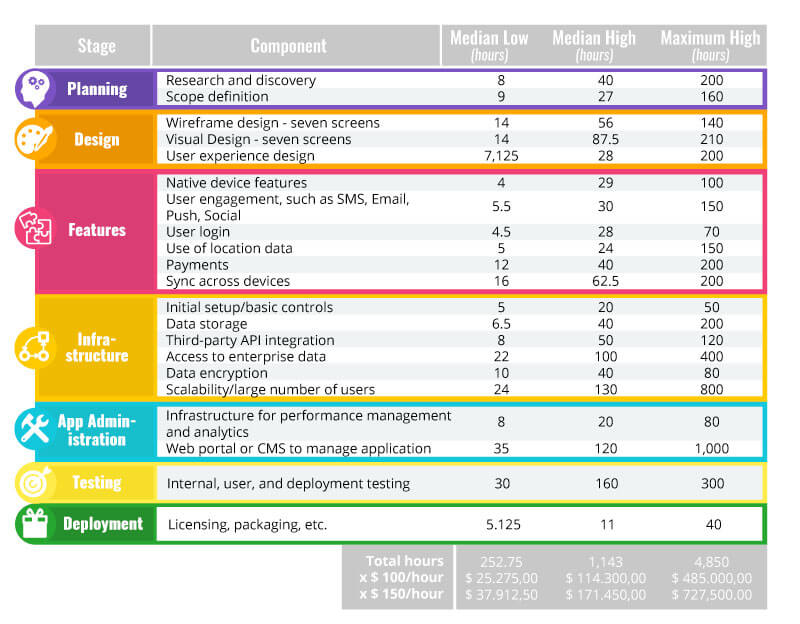 (Data inspired by : Clutch)
Let's take a look at the median and maximum value of each component…
Planning
The planning stage consists of two phases which we will look at separately.
Research & Discovery: (Median range: 8-40 hours, Maximum value: 200 hours)
This phase covers market and stakeholder research. Defining what features the app will have, number of screens, API's and any other factors offer an overview of the size of the project.
Defining the Scope: (Median range:9-27 hours, Maximum value: 160 hours)
This step includes documenting the project and can take more time depending if the client has yet to explain their vision clearly. 
Design
Wireframing: (The estimate is based on 7 screens, Median range: 14-56 hours, Maximum value:140 hours)
The development of wireframes basically consists of creating layers and structuring every screen. The time can increase if you have more than 7 screens to develop. The number of screens depends on the brand, user base and application requirements.
Visual Design: (The estimate is based on 7 screens, Median range: 14-87.5 hours, Maximum value: 210 hours)
This is the "artistic" phase of the app development, where images and infographics are designed. More hours are needed if the UI and screen are complex, along with more specific requirements.
User Experience Design: (Median range: 7-28 hours, Maximum value: 200 hours)
The user experience design assures that each screen is easy and consistent throughout the entire architecture of the device. 
Features
The number of features dictates the overall cost of the app. Here are some features that are worth mentioning:
Native Device Features: (Median range: 4-29 hours, Maximum value: 100 hours)
The native features directly interact with the hardware of the device.
User Engagement Features (Social Media, Push Notifications, SMS):  (Median range: 5-30 hours, Maximum value: 150 hours)
User engagement features can be email, social media, push notifications and more. More complex features can include a 3rd party API.
User Login: (Median range: 4-28 hours, Maximum value: 70 hours)
This included features such as "forgot password?" and can get more complex when adding feature to sign up or login through social media.
Location Data: (Median range: 5 to 24 hours, Maximum value: 150 hours)
The cost varies depending on the type of functionality that will be triggered. Coordinate detection is simple, but geofencing and iBeacons for instance are more complex. 
Payments: (Median range: 20-40 hours, Maximum value: 200 hours)
Payment methods like PayPal, credit cards and electronic wallets (Google wallet) need to be integrated separately, so costs can go up.
Syncing with devices: (Median range: 16-62 hours, Maximum value: 200 hours)
This means that the data is synced with the system, making it easily accessible on any device. Complex data along with API's can add more hours.
 Infrastructure
Basic setup: (Median range: 5-20 hours, Maximum value: 50 hours)
The time for the initial setup is pretty short, but the number of controls per screen may add extra time.
Data storage: (Median range: 6-40 hours, Maximum value: 200 hours)
The more complex the dataset is, the longer time it is needed to complete this phase. Also see if your data will live off the device or online because there is a significant cost gap between these options.
Third party API: (Median range: 8-50 hours, Maximum value: 120 hours)
The better the quality of third party support services along with detailed documentation that's up-to-date shortens the time of this phase.
Enterprise data: (Median range: 22-100 hours, Maximum value: 400 hours) 
The numbers of hours it takes for enterprise apps to access data from a proprietary API aren't well known, which basically depends on the amount of data, documentation and the type of system to be integrated. 
Data encryption: (Median range: 10-40 hours, Maximum value: 80 hours)
Encrypting data in apps is usually used for security purposes, and depending on the level of security the time of this phase may increase.
Scalability: (Median range: 24-130 hours, Maximum value: 800 hours)
Scalability depends only on the server and has nothing to do with the app solely. The more users, the more hours are needed. Third party libraries can help save time. 
App Administration

Infrastructure for performance management and analytics: (Median range: 8-20 hours, Maximum value: 80 hours)
Many apps come with built in analytics in order to understand user behavior. The complexity and more hours put to work simply depends on how many parameters you want to track.
Web portal or CMS to manage app: (Median range: 35-120 hours, Maximum value: 1000 hours)
Depending on the amount of content in the app, the size of the CMS can vary greatly and mostly depends on what the purpose of the app is.
Testing
Internal, user and deployment testing: (Median range: 30-160 hours, Maximum value: 300 hours)
It's normal to assume that the testing depends on the complexity of the app. Apps that require a high amount of security as well as interactive games tend to take more time to test.
Deployment 
Licensing, packaging and other: (Median range: 5-11 hours, Maximum value: 40 hours)
This is the final stage of the developmental process and includes the administrative requirements of submitting and launching the app.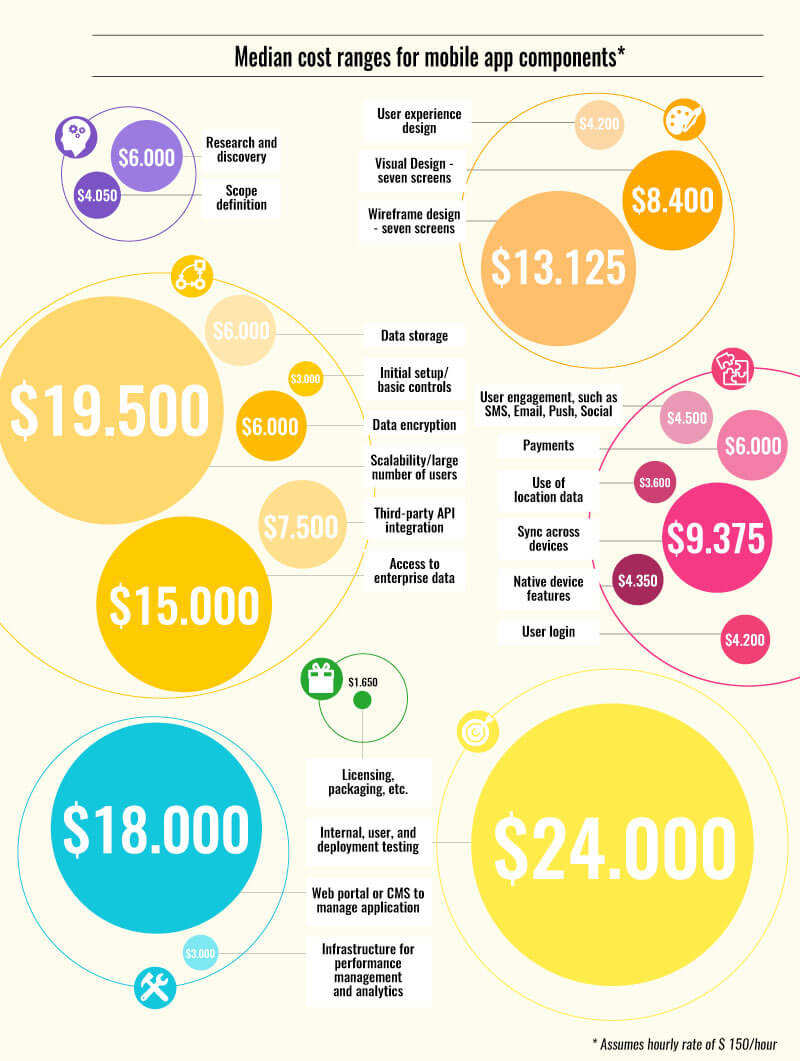 (Data inspired by : Clutch)
These are the results of another survey conducted by Kinvey in November 2014: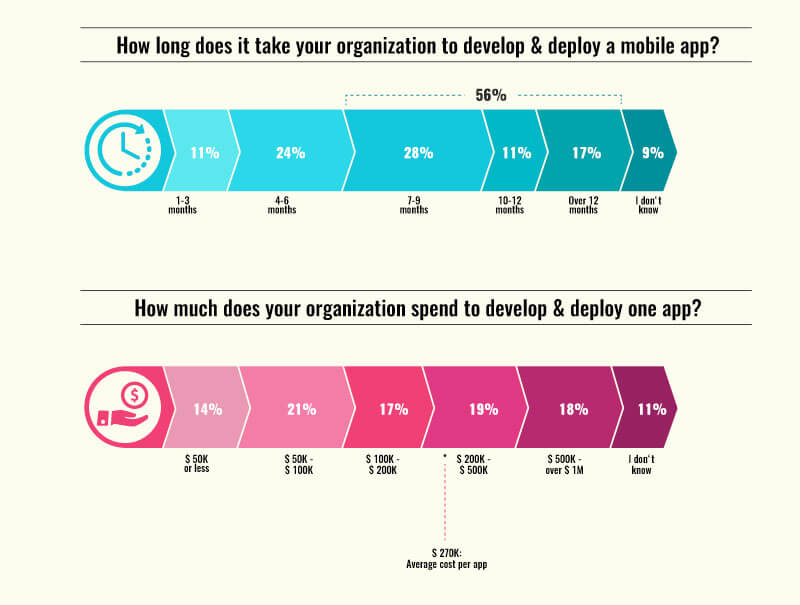 (Data inspired by : Kinvey)
Cost of Mobile Apps In Different Countries
We said that you can afford your app, didn't we? Here's the interesting part. As we may know, not all mobile developers charge a $150 per hour rate. There is a wide selection of experienced and independent mobile developers around the world that charge a more reasonable price per hour.
Of course, finding an overseas developer may be risky, and it may take time to find the right one. You can expect quality on the team that you construct.
A market research by Yalantis showed the hourly fees of individual freelancers on Elance that provide IT and Programming services from around the world.
In order to receive a realistic view, we chose some of the leading markets for mobile development: Ukraine, Pakistan, Vietnam and the U.S.
We perceived the data that offered two rates per country, one moderate rate and another high quality rate. We then calculated the average of these two rates for each country.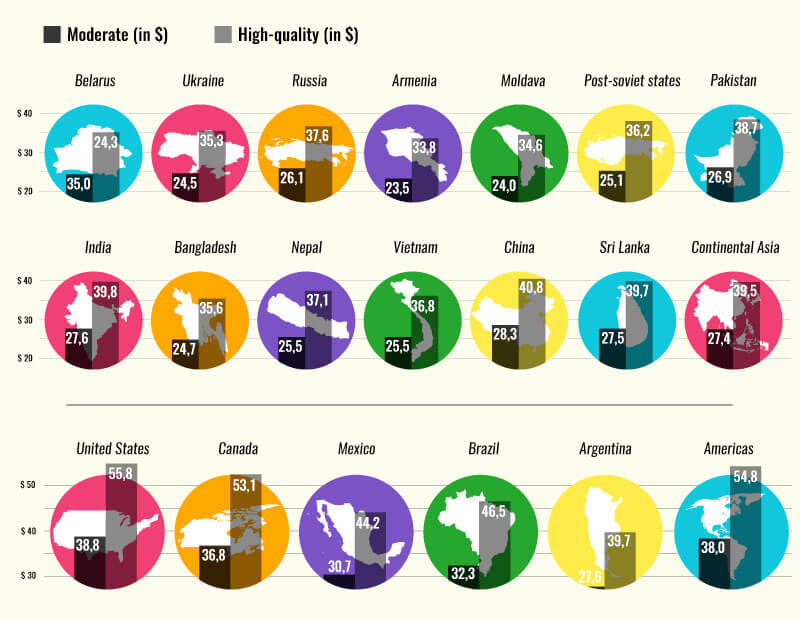 (Data inspired by : Yalantis)
After calculating the average per hour rates of Independent developers from Ukraine, Pakistan, Vietnam and the United States, we then estimated the cost of each component (explained previously in the survey by Clutch).
For proportion, we calculated three costs: the median range (both low and high) as well as the maximum value. In order to visualize the data, we also constructed graphs for each country's median low, high and maximum value.

These costs are more reasonable and show that you can hire Independent developers for any stage of your mobile project.
Soaring Digits On Online Calculators (Not So Helpful)
Many app developing companies now offer online calculators in order to offer an estimate of just how much you would need to invest to develop your app –which may crush your dreams.
We've looked at each feature and how much it costs to reveal some numbers. Unfortunately, the numbers we received weren't so "realistic" as expected.
Otreva Calculator
The otreva calculator offers many features which are divided among different platforms. We chose the most popular platforms, iOS and Android. The features are also divided in two parts, app features and admin features. 
Imason Calculator
The imason calculator is very similar to the Otreva Calculator, except it offers features for developing an enterprise mobile app. The prices are only estimates, not actual quotes.
Kinvey Calculator
The Kinvey calculator estimates the cost of developing an app by yourself (DIY), but also offers a calculation of building the app in their BaaS platform (showing you how much you can save with them).
Average Estimate
We've combined the total costs of all of the calculators into one table in order to review all costs an round up an average cost for both iOS and Android platforms.
The average sum of both the minimum and maximum DIY and Kinvey platform costs were calculated to offer an average estimate.
What we found was that the average price to develop an iOS mobile app is $221,692 while an Android app would cost $217,053.
Of course, these calculations are based on these three calculators only. Also, some calculators had more features than others. For instance, the Kinvey calculator offered a wide range of features and many options to each feature. That's why we chose the minimum and maximum values — the combinations were endless. 
On the other hand, the Imason calculator offers a less amount of features.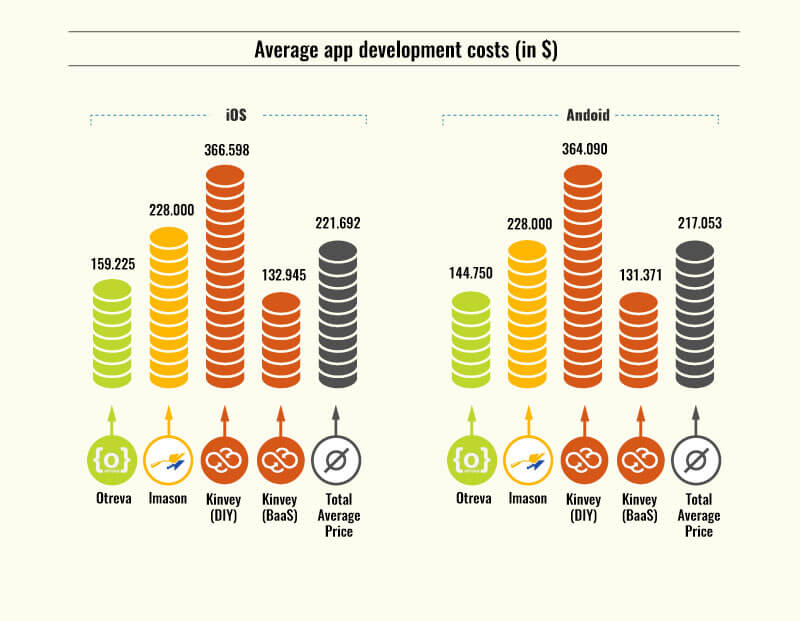 We also compared the features that both the Otreva and Imason calculator had in common. The reason that we didn't feature the Kinvey calculator was because it didn't offer the costs of each feature, just a total cost.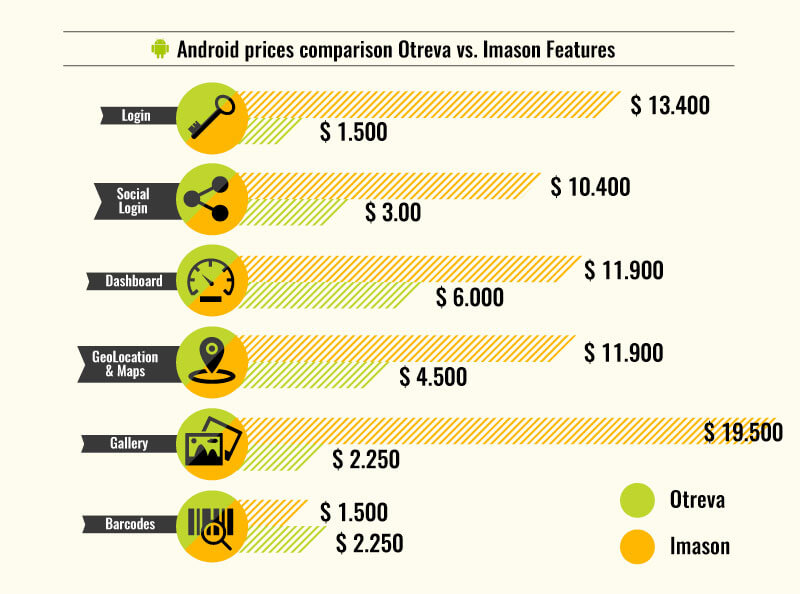 What we concluded was that the Otreva calculator seemed more realistic, while Imason and Kinvey showed estimates that soared up to the sky. These graphs just look silly and only prove that they seem like more of a marketing tool rather than a helpful calculator.
Post-Development Costs
Stop there if you thought that the developmental costs of an app are ALL you'd be investing in. The reality is that there are more costs right after you develop the app, and you really need to consider them for the functionality of your app. 
Developing the app is just the tip of the iceberg. 
Set Your Budget Higher 
A Forrester report claims that you should set a higher budget for your mobile project. An average amount of $50,000-$150,000 that are usually spent for the development process are only 35% of a two year cost. 
Updates
Updates can be a considerable ongoing cost, and AnyPresence surveyed enterprise mobile development professionals on how often they update their apps. The survey found that 80% updated their apps twice a year and a third even at least once a month.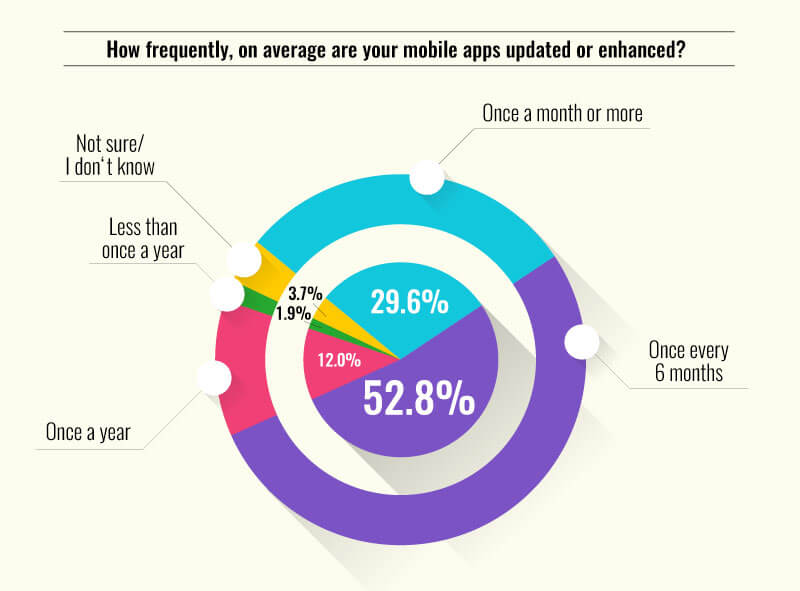 (Data inspired by : Formotus)
Maintenance 
Other costs apply to maintaining the app, such as bug fixes, improvements as well as enhancements to improve user experience. This is important for user loyalty and even the smallest fixes show users that you care. 
Try to develop a maintenance plan to schedule updates, this can keep your costs down. 
Games
As we mentioned before, games are one of the most downloaded types of apps. An important step in your mobile project should be a planned out idea of exactly what type of game you need. This may take a considerable amount of time, but in the long run, it can save you on costs.
Here we have three types of games to give you an overview of the budget and level of complexity for each. 
Mini Games ($7,000-$28,000)

Even the word 'mini' says it all. These are the tiniest games that can be developed yet can cost you around $10,000 upfront. If you have big expectations and a small budget, it's time to lower them. 

These games are 2D and have really simple visuals. They usually can take up to a couple of months of coding, but that really depends on the level of experience of the developer. 

You probably think that these games are useless and not worth the cost. Well, have you heard of Flappy Bird?

It's been reported that this simple app generates 50k per day in ad revenue! It's highly experienced developer, Dong Nguyen, also said that he coded the game in only a couple of days. The sky's the limit!



Small/Medium Games ($28,000- $170,000)

These games have characters, different levels and a story. There is a greater amount of content among these games. The first version of Angry Birds falls into this category. 

Angry Birds cost $140,000 to make, and has brought in a revenue of $70 million! The creators of Angry Bird, a Finnish game studio Rovio, stated in an article for PC World that it look them 8-9 months to develop the app.

Large Games ($170,000-$350,000+)

High-end publishers usually make these types of games. They include detailed graphics and very high quality content. A popular example is Clash of Clans, an app that took 6 months to develop and release. Starting with a team of five (later growing into eight) created a highly graphical 3D game which brought in a revenue of $500,000 per day. 

Even though we couldn't find out how much is cost to develop Clash of Clans, another highly graphical and high quality app, Infinity Blade 3, is rumored to have cost millions to make.

Given the hourly rates of different countries (Ukraine, Pakistan and Vietnam), we constructed a graph that offers estimate of how much developing these games would cost in these countries. We also included the U.S. with an hourly rate of $100.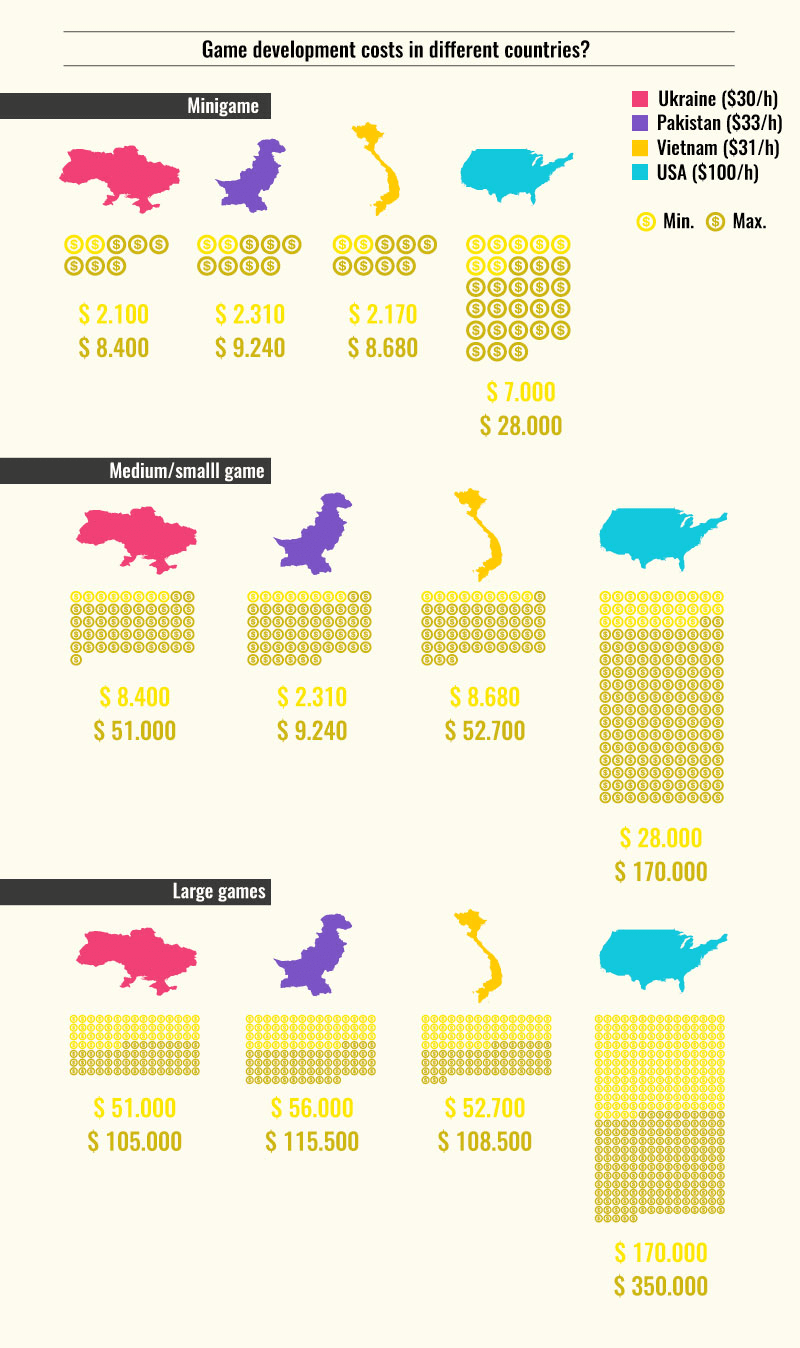 It's also important to mention that it may take a significant amount of time to put together the right team for your project.
Buildbox – Revolutionizing Game Development
Buildbox has soared high in the App Store as the first ever game building engine that doesn't require a single line of code! Founder, Trey Smith, says that most of their customers don't have any programming experience.
This allows anyone to create a mini game without having programming skills. An app developed in Buildbox called Color Switch even became the most downloaded game in the App Store in over 100 countries. 
What's even cooler is that Color Switch was developed in only 30 minutes! This new "buildbox revolution" is truly democratizing game app development, allowing anyone to make a mini game in less time and zero frustration.
Conclusion
Pay close attention to the costs that apply when developing your app, and don't forget the costs that come after that. 
By thinking ahead and knowing exactly what kind of an app you want, you can cut any unexpected costs that may occur when you don't have this thought-out well. It's hard to make a clear budget estimate, and it depends how experienced the developers are and if you are hiring an in-house agency or outsourcing freelancers.
Independent developers from around the world offer more reasonable prices than many high end agencies. 
And most importantly, you, like many others, can make your dream app without being super rich.