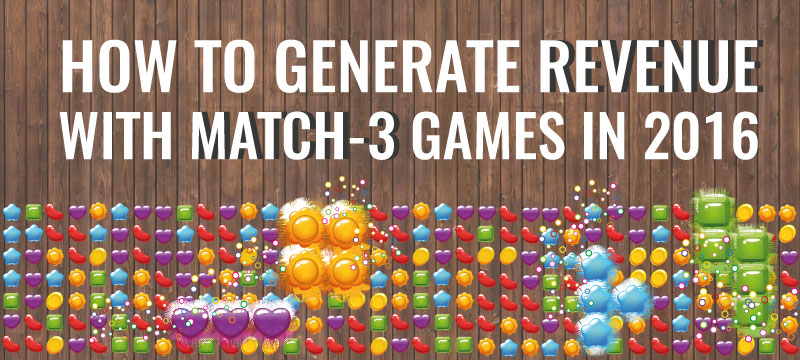 These days, nearly everyone knows what a match-3 game is. Whether it's Candy Crush Saga, Bejeweled, or Jelly Splash, these addicting games have been keeping players interested for years. With over 2,200 match-3 games in the App Store, many people are wondering if the market is completely saturated. 
That brings us to an important question – is it still possible to find success with match-3 games in 2016? The answer is a definite YES! In this article, we'll show you how to do it. Now, let's get started!
Analyzing Key Match-3 Game Components
If you want to make a successful match-3 game, it's important to understand the different game components. Dubit Limited, a leading research and consulting company in the technology industry, analyzed five of the top match-3 games on the market: Candy Crush Saga, Candy Blast Mania, Bejeweled, Jewel Mania, and Juice Cubes. 
The Dubit team played each game on an iPad for a couple hours. While playing each game, they tracked five key components:
| | |
| --- | --- |
| | Narrative – The story of the game. |
| | |
| --- | --- |
| | Gameplay – Elements such as number of levels, use of lives, time limits, etc. |
| | |
| --- | --- |
| | Social – Competitive social elements and play. |
| | |
| --- | --- |
| | Monetization – How the game made money. |
| | |
| --- | --- |
| | Audio – How the game used sound. |
Each component was assigned a score from 0 to 3:
0 – Not present.
1 – Present, but not significant.
2 – Present, but used occasionally.
3 – Present and significant.
The results showed that match-3 games share many components. For example, narrative is typically not a key element of a match-3 game. All of the games use sound for positive reinforcement and level variety. 
However, that doesn't mean that every match-3 game is copy of Candy Crush Saga. While Candy Crush uses strong social elements, many successful match-3 games do not include a social component at all. Gameplay and monetization also vary widely among match-3 games. Even games that look exactly like Candy Crush are often quite different when you look inside.

 
Data inspired by Dubit
The Continued Success of Candy Crush Saga
Candy Crush Saga was released in late 2012, so you would think that it would be old news by now, right? Wrong! According a recent article in The Guardian, Candy Crush Saga players spent nearly $2.5 billion between October 2013 and September 2015. In fact, Candy Crush Saga was still the #2 top-grossing game in the App Store in 2015.
In the fourth quarter of 2013, Candy Crush players spent $495 million. That number has fallen, reaching $201 million in the third quarter of 2015. Nevertheless, that's an impressive amount of money for a 3-year-old game! Plus, it looks like the figures stabilized in 2015, generating consistent revenue.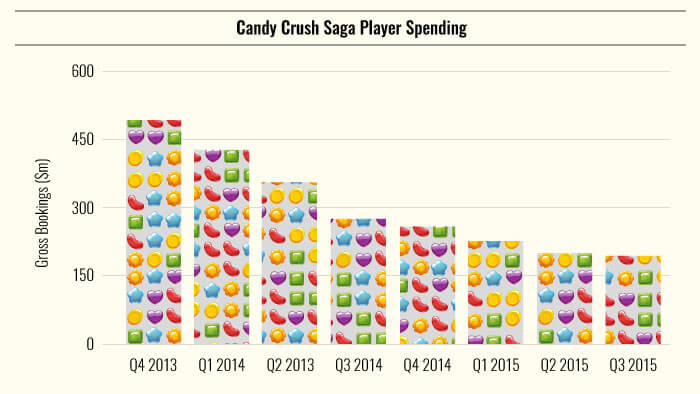 With long-term success like that, it's no surprise that other companies have recognized the power of the match-3 genre. Even Unreal Engine is producing Unreal Match 3 to showcase the versatility and flexibility of Unreal Engine 4. It will show developers how to create a successful match-3 game that implements social and monetization features such as achievements and in-app purchases. 
Replicating Match-3 Game Success
When developing a match-3 game, you don't always have to try to reinvent the wheel. In many cases, investing in a good theme, developing a high quality game, and smartly promoting your app can result in great success. 
According to Abhishek Rai, who makes top games under Game Wallet, Playbit, and Newb, replication is a great tactic that can significantly reduce development time. His popular app Crossy Blocks borrows heavily from Crossy Road. Rai leveraged the look and features of the game. Most importantly, he used the keyword "crossy" for built-in user acquisition.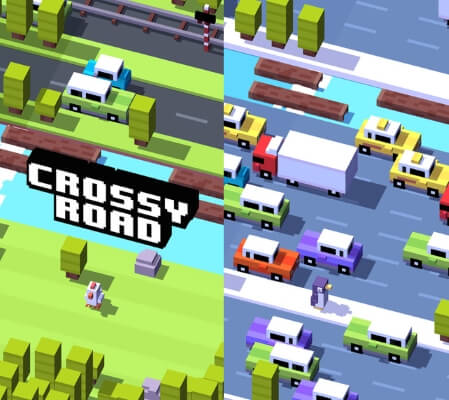 Image source – Crossy Road
Rai has several other successful titles, including Candy Quest and Bug Climbing: Hill Climb Race. While he didn't provide any specific numbers, he indicated that these games "make money as others do." At last count, Candy Quest was approaching 1 million downloads.
Match-3 Game Tips for 2016
It's clear that match-3 games are still generating tons of revenue. So, how do you become one of the success stories? The key is including the right components in a high quality game that fulfills the needs of users today and tomorrow. It's important to know your audience and prioritize the features that matter in terms of success. 
That being said, there are definitely some must-have features for any match-3 game in 2016. Recently, GameRefinery used advanced predictive modeling and analytics to identify clear trends for match-3 games. Here are a few important things to remember with designing your match-3 game.

With so many games on the market, players have many options to choose from when it comes to match-3 games. That's why it's important to bring something new to the table on a regular basis. It could be special incentives, different block pieces, or new level goals, but the idea is to develop a game that will be fun and interesting for months and years, not days or weeks.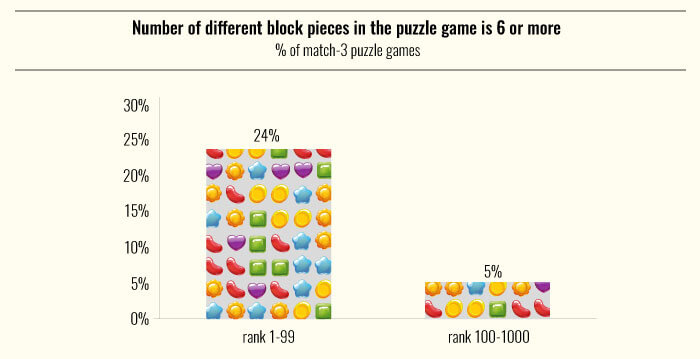 Source: GameRefinery

Most match-3 games are similar, but players still like to be surprised. When you introduce non-linear level progression, it gives players an exciting new challenge. For example, a hidden level that departs from the main path of the game can provide new motivation and incentives. In 2016, many successful match-3 games are starting to trend this way.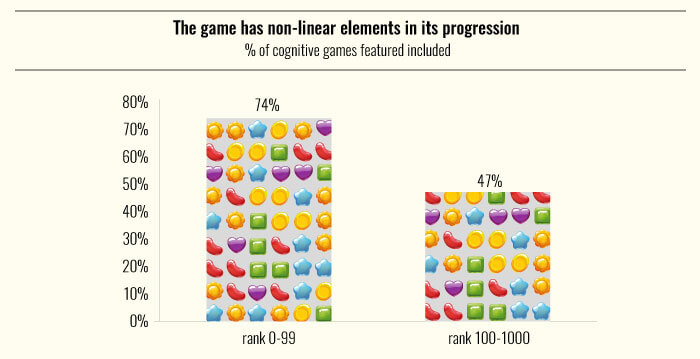 Source: GameRefinery
Non-linear gameplay gives players challenges that can be completed in a variety of sequences. Players typically only see some of the challenges, and the challenges may appear in a different order. Candy Crush has a variety of nonlinear elements. For example, the levels are randomly generated and players choose which candies to crush and in what order.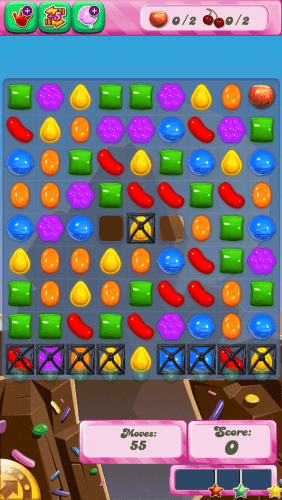 Match-3 games are popular because people love the gameplay. When trying to come up with new ideas and features, be sure not to stray too much from the original idea. Players want to experience new things, but they also feel comfortable with the format they have come to know and love. Try to find ways to stand out from the competition without losing the key components of a match-3 game.  
One instance in which this happened was with the block-based puzzle game Tidalis. The game was criticized for its use of a new "streams" mechanic. To clear blocks, players must drag paths through arrows to set up chain reactions of like-colored blocks. This unusual game did not catch on with users.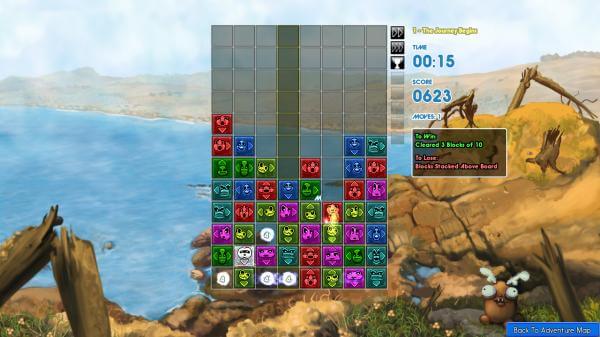 Image source: Tidalis

You won't reach the top-grossing charts without a way to generate cold, hard cash. One of the biggest barriers for free-to-play games is the "first purchase threshold." If you can get players to make one purchase, they are more likely to do it again.
There are several ways to promote in-app purchases, including limited time special offers and first purchase discounts. Another effective method is to include tutorials with free in-app purchase actions included. This allows players to clearly see the benefits of paid boosters from the moment they start playing the game. 
The concept is the same as the free samples offered at your local grocery store. It gives users a small taste of free goodies and increases the odds that they will become paying customers in the future. For example, Gummy Drop uses tutorials to promote its powerful paid boosters. 
Image source : Bigfish games
 Final thoughts 
Cracking the match-3 game market isn't an easy task. But if you do find success, it can be extremely lucrative. Several real-world appreneurs have shown that it's possible to develop a successful match-3 game in 2016. You can find similar success by understanding the key components of the games, building on previous work, introducing new features, and wisely monetizing your app. Always keep your audience in mind and prioritize the game components and features based on their needs. 
Are you planning to launch your own Match 3 game in 2016?
Make sure to check out jelly garden which is by far the most powerful match 3 game engine available for sale as a source code. You can learn about the author of this engine in the full exclusive interview we ran with them here.
Jelly garden contains the major features needed to start your own match 3 game in the fastest and cheapest way possible!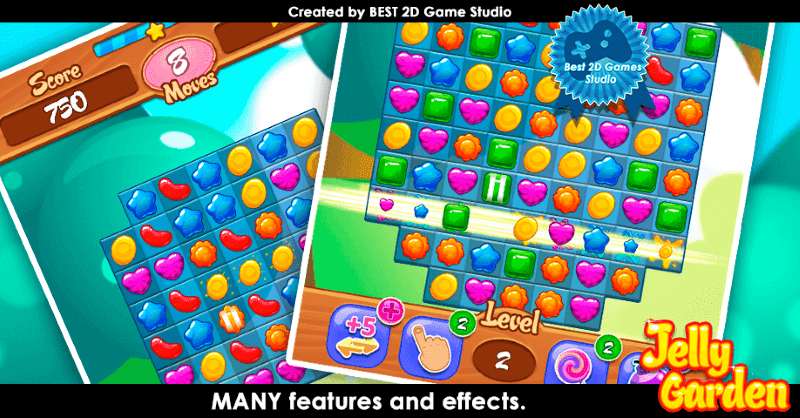 Jelly garden complete match 3 engine source code