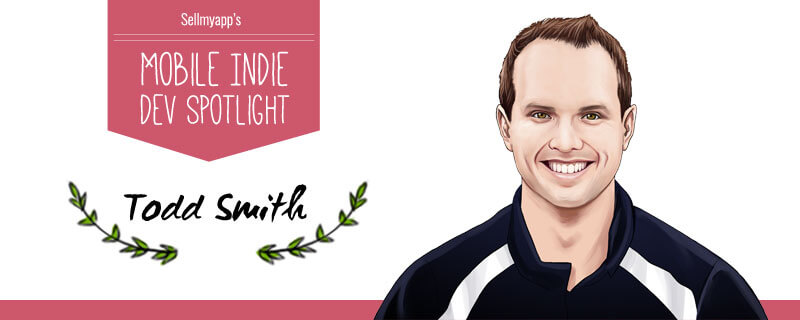 Todd smith brings an exciting story about his route down the indie path. He took some big risks but thanks to his creativity he was able to create a sustainable business model. Now he is dedicating himself to develop high end slots source codes. His story is being told for the first time on the web so Read on!
Todd when did you join the mobile development industry?
I joined this industry in the fall of 2012 and things were a little different back then.  For some reason many developers (me included) hired programmers to build apps from scratch instead of reskinning.  
I know reskinning was going on, but I didn't know anything about it at the time.  I paid $700 to have my first app built and it was a content based.  I got some downloads, but it took over a year to get my money back.
Sometime in that first year before ever reading about reskinning, I unknowingly started doing it myself.  Because the first app was a great shell for other apps with new content, I produced a few more.  Actually, I had another programmer set everything up for the first reskin and I eventually asked the question…
"Can't I do this myself?"
The answer was yes. I got familiar with Xcode and found quick ways to solve many of common errors that can happen (the dreaded red errors!) I eventually started to find other developers that were using and selling each other's source codes.  I experimented with a ton of different ones in many niches, learning a lot along the way.  
What does your studio do today?
Today I am focused on 3 main things.
• Slowly getting older apps updated to iOS9 standards. This includes our keywords, icons, screen shots, ad placements and ad networks.
• Providing great source codes for other developers to use.
• Looking for new opportunities in the app store.
• Looking for underserved niches and finding out what they need.
Here Outlandish Apps, (we)…..I tend to use "we" a lot because growing up, I always admired people that didn't forget to include others when a project was a group effort.  More often than not, I say we instead of I.
I am the main guy here at Outlandish Apps, but based on what needs done, I have a network of 3 main programmers and a graphic designer.  I reach out when I need something done and we work out a quick deal for the project or they just keep track of time and we settle up once a month.   They are all very talented and have great prompt communication skills.   
What was one of the biggest challenges you had during the time of your business? And what did you do to overcome it?
Decreasing downloads from more competition in the app store.  I did some work to let our apps stand out from the competition.  Some things that helped:
| | |
| --- | --- |
| | Better icons, screen shots and keywords  (I know you hear this all the time, but it's true) |
| | |
| --- | --- |
| | Localizing for more languages |
| | |
| --- | --- |
| | Adding new features  |
What was the biggest success moment that you can remember in your business? tell the readers how it happened and how did you feel about it.
It might seem insignificant, but the biggest success moment for me was getting app #1 approved and LIVE in the app store back in October of 2012.  I was excited to be a part of this ever-growing market. 
If you could travel back in time and talk to the "beginner you" which mistake would you warn yourself from?
First off, I'd warn myself not to assume you need to pay someone to create an app from scratch.  It's worth finding out if you can either license a source code or buy another app that will get you close.  You can always pay to have it modified and save a ton of time.
I'd also warm myself that just because you think something is a good idea and the market SHOULD want it, doesn't mean they DO want it. 
I fall prey to this over and over, still to this day.  Some projects are more about helping people or giving them a solution to a problem you think they have, rather than getting thousands of downloads and ad impressions.
Why Slots? What pushed you to develop a slot engine?
It's no secret that slot machine games have a ton of download revenue potential.  I licensed a few casino source codes in the past with that yielded impressive results.  The problem with some of those older options is they are no longer available.
And even if you bought them when they were, you'd still have to fuss with getting them up to iOS9 standards.  Our source code solves this and comes ready to go with all the features you would expect for a great price!
What is the best marketing practice that you recommend for people to implement when publishing a slot machines app?
Although it may seem cliché, the best way to get organic downloads for your slot machine app is a fun theme, spectacular graphics (icon and screen shots included) and keywords you can rank for. 
When we launch an app I like to promote it on our Facebook and Twitter Followers.  On facebook, I'll often use their "boost post" feature and on twitter I will use their ads. 
I ask friends to share and retweet those.  Then I will send an email / text to really close friends and ask them to download the app and leave an honest review. All these things should take place within hours of launch and continue for the first 48 hours
You mentioned to me the practice of being different, can you elaborate on how did you implement this concept into your business?
A great example of being different or thinking outside the box is our very own Secret Chest Slots App Template available here on SellMyApp.  The history behind this template is a story in its self and I have not talked about it before.
The things that took place to get it on marketplaces for other developers to use, can be applied to the market today to achieve a similar result.  Either to license your own source code or publish a new app for a fraction of the original developer time and cost.
I wanted to license a new casino source code so it could be the vehicle for some great theme ideas.  I had previously used Carter Thomas' Party Slots but I no longer thought it would be a good fit because there were so many other developers using it (100's if not 1000's).

It was also up us to keep it updated with the new iOS versions and SDK's.  I didn't receive any updates especially after he stopped licensing source codes.  Eventually we updated Party Slots to comply with recent iOS standards for app updates, but I was still on the hunt for an alternative. 
I found a very unique game for sale on Apptopia (now Fliptopia) called Fun Slots.
The original game trailer can be seen here:
The only problem was the list price was 25k!  It was a completely custom project with NO reskins and it only had one version in the store listed at $0.99.  It had limited downloads, but lots of potential.  This app was originally published back in November of 2013.  There was not a free version, so no ad revenue existed.  In fact, I don't think any revenue had been generated other than a few downloads here and there.

I contacted the developer and tried to work out a deal for less than the asking price. I asked the seller about this price and here was his response, "Valuation is based on how much it cost me to build it (in fact, I've spent a little bit more on it, I just want to get at least some of my money back) and how much potential it has".
Even with what I believed to be an honest response that I trusted based on the quality of this app, I couldn't see paying that much based on the current market and other recent sales.  The costs to create a project and what the market says it's worth are two very different things. We parted ways and wished each other the best of luck.

I contacted the seller to see if it was still available and if he would be willing to take anything less than 25k.  After some back and forth he was willing to let it go for 20k.  Although, I appreciated the price drop, I still couldn't pay that much.  We parted ways once again. 

I was randomly doing some research looking at the recently sold listings on Fliptopia trying to get a feel for the market.  Many of the apps listed on this site are reskins of other source codes (I have a few too), but it's unique to find a listing of an app that gives you full rights of a source code and has never been sold / licensed on any marketplaces.
As I was scrolling through the current listings I saw the Fun Slots still listed at 25k.  I couldn't find it in the app store so I contacted the seller again to see if it was still for sale.  He had taken it down off the app store, closed his developer account and forgot about it. 
We went back and forth and quickly agreed on a price.  I was thrilled, but there were two pretty big barriers.  First, he didn't have this project and assets backed up and he wasn't sure if the files were on his computer anymore. 
There was a chance all those wonderful wonderful files were lost.   Second, because it was no longer live on the app store, we couldn't do a quick sale on Fliptopia or transfer on iTunes Connect.  It was going to have to be a private sale.  

Another issue (I can't remember the exact details) but we couldn't use PayPal.   It had something to do with him not being able to withdrawal the money from his PayPal account to his bank (in his country).  I called PayPal to verify, but was still worried we wouldn't be able to make a deal. 
I had used PayPal and other products / services for over 10 years, and now the one deal I need it for, It won't work.  The only reasonable option left was a bank wire transfer.  I was to send 50% and then he was going to send me a dropbox link so I could download all the files.
I was going to verify everything and then send the remaining 50%. So, I had to transfer 50% upfront to someone I had only chatted with online. The app wasn't even in the store and they hadn't updated it since iOS6.  Who was to say they even owned it anymore?
I basically had to be confortable that the upfront 50% could be lost because he wouldn't send the code or it will be riddled with errors and cost thousands to fix / update.  The bank said usually takes 24-48 hours to be complete, but it may take up to a week. 
Regardless, I wired the money and less than 8 hours later I got a message on Skype that he received it and he provided a dropbox link.  That message came in about 2 am my time while I was in bed asleep.  I must have still been logged in to the skype app on my phone.  You better believe I walked downstairs half naked to download the folder. All assets looked to be there.  I opened the project up in Xcode and hit Run. 

To my surprise, everything came together, the simulator opened and I was playing fun slots half naked at 2 am in my kitchen.  There was a long road ahead to get this app ready for us to use. Eventually we got to the end of that road and published our first version.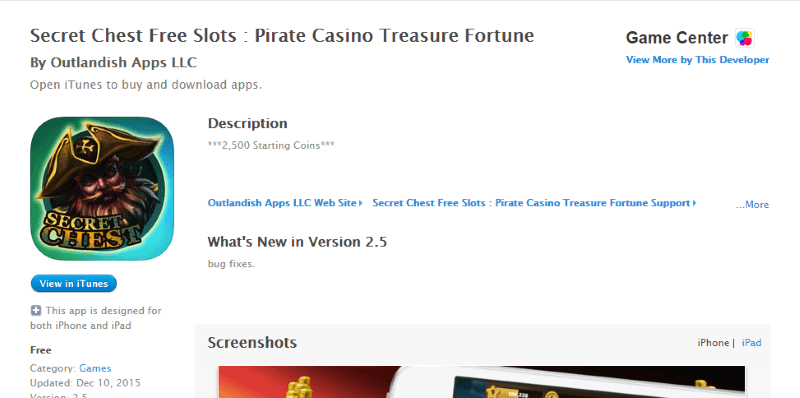 View the published version here
Soon after, we had some requests to set it up for other developers to reskin.  That was another long road we had to walk down, but eventually we got it setup correctly too.  The feedback has been great and we will continue to work hard keeping it up to date with new iOS versions and features.

I was searching for a way to publish some new casino apps, but couldn't find anyone selling a license that was a viable option for our new vision.  Having a new app created from scratch (coded from the ground up and all custom graphics) was out of the question and budget. 
Instead, I sought out to find another way.  I decided to be different in that I found an app that had plenty of potential, but needed a new home.  The original developer had moved on and I wanted to bring it back to life.  
It took over year to get this deal done and tons of work afterwards to get it updated and ready to be published.  It took even more work to get it reskin ready and we only did this because other developers requested it. 
Not everyone would have stuck with it that long and taken the risk.  That risk was worth it because now other developers can get access to a premium Slot Machine Game Source Code for a fraction of the original development cost.  
All the previously popular Slot Machine Game Source Codes listed on other marketplaces and websites are either too large in size and/or not updated with 64 bit and iOS9 ready.  They also sold so many copies with affiliate sales that the market was flooded with copies.  We have not done that. We started this project with the best intentions and maintain those today. 
If you want to get your casino slots app into the store quickly, take a look at your Secret Chest Slots Template.  If you want to try something else, keep reading.  If you really want to go for it, buy our template and keep reading!

Come up with some criteria you are looking for in your next app project (mainly, the category and type of app).  Then start to search for apps that flopped.  You are not looking for the apps the come up ranking #1 for your targeted keywords.  
You are probably looking for the apps down at the bottom.  The kind of apps that have a solid platform that yield smooth game play without crashes.  Ideally for the best price, an app that already is or can be turned into the app you want to create.  
It has average or below average graphics with horrible keywords and ASO overall.  It also may have been great at all the previous things, but served too many ads, got bad reviews and never recovered.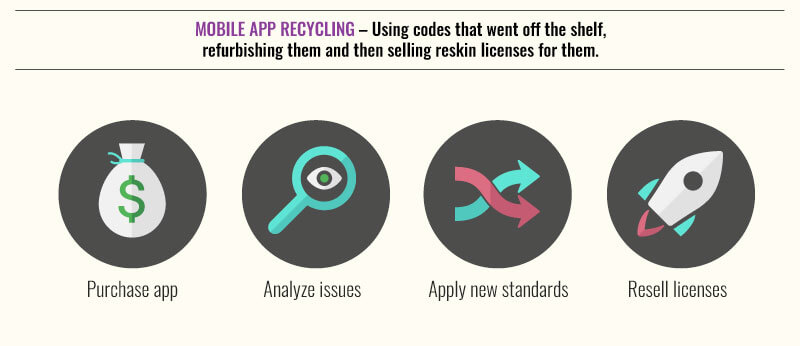 These are the hidden gems you want.  The better the graphics and ASO, the better it ranks.  The better it ranks, the more downloads it probably has.  The more downloads it has the more revenue it has probably produced.  The more revenue it has produced the more the developer should probably want for it.
Your target needs to be original and not a reskin.  This would mean the original developer owns full rights to it has not sold / licensed it to anyone else.  Make an offer to buy this app.  Address some of the issues that may have caused it to flop and bring it up to iOS standards if necessary.
 Publish your own version and /or ask a few developer friends if this is something they would like to license.  It takes time to spot the best opportunities, but it's not too late to start.  You don't have to only search app marketplaces, search the app store itself.  Find the app you want, get ahold of the developer (some are easier than others) and make an offer.  Just because it's not listed for sale, doesn't mean it's not for sale.
If you want to try this in the future, but right now are more focused on getting your casino slots app into the store, take a look at our Secret Chest Slots Template!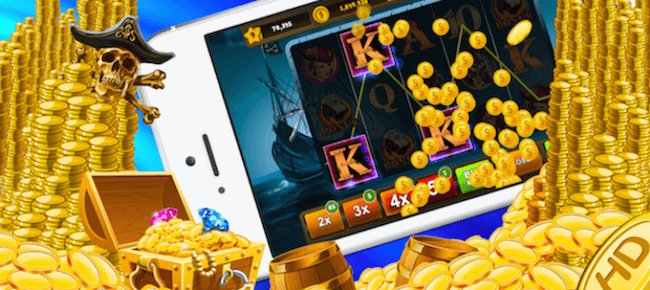 Secret chest slots source code
I'm not sure if this is even an official movement in mobile app development yet, but it will be.  I will call it Mobile App Recycling.  Some may call it App Flipping, but few actually do it.
Should users expect new versions of your source code? And will it be given for free to all buyers?
Absolutely.  This source code is not something we view as a set and forget.  As the app store changes we will adapt to make sure the developers have what they need to succeed.  These changes will always be free.  You can see our change log so far:  
• V2.7 Text & Bonus Optimization for iPad Air 1 & 2
• V2.6 Text & Bonus Optimization for iPhone 6s Plus + Button Change
• V2.5 Minor bug fix and smoother gameplay
• V2.4 (2) Bonus Games Added & Ad SDK updates for better ad delivery
• V2.3 Optimization for iPad Pro
Soon after we published Secret Chest Slots in the app store we started licensing the source code to other developers. The requests for changes (see log in next question) kept us very busy and we did not put any effort into pushing our app up the charts. 
We put the requests of the other developers (customers) first.  We plan to do some extensive research in Q1 of 2016 to get it better optimized for organic downloads.  We also have a few unique / weird promotion ideas that will be pursued. 
And there is also a big surprise coming up. I think the image here will give you a sneak pick of what we are working on.

Buy Mega Jackpot Slots – Classy Vegas Style Casino
Final thoughts
Todd shared an amazing story with us. He discovered the potential in slots source codes and realized that the current solutions simply don't cut it. he went on a journey to establish his own system and pioneered "Mobile app recycling" along the way. Today he is working hard so the community will be able to enjoy a cutting edge slots machine source code.
We would like to thank Todd again for sharing this story for the first time!
Do you have any questions for Todd, ask it in the comments below and he will happily reply to you!