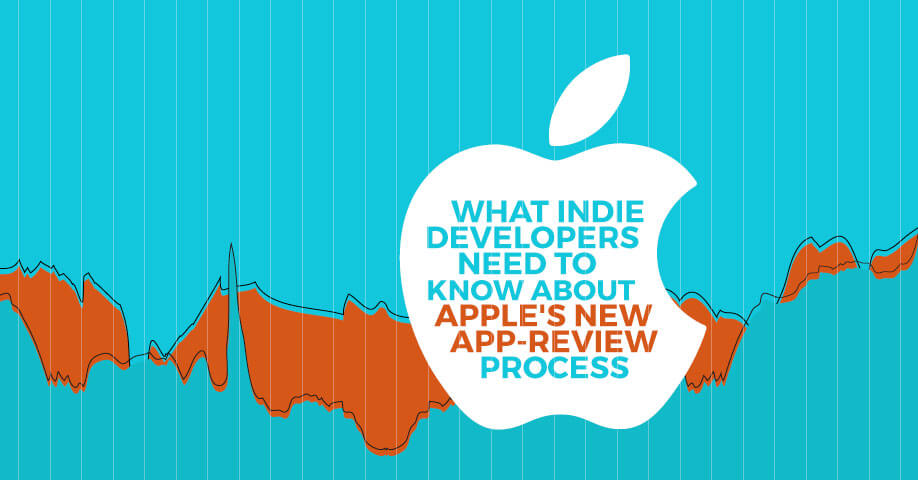 The app marketplace changes fast. It's vulnerable not only to disruptive and game-changing apps (pun intended), as is evidenced by the recent uber-success of Pokemon Go, but also to shifts in direction on the part of the companies that underlie it, namely Google and Apple. 
The recent news that Apple's App Store has cut its approval time for new app submissions and updates from several weeks to less than two days is a good example of this. The move comprises part of a company-wide push from Apple to increase revenues from all of its services, of which mobile applications is a key one.
App Review Times, a website which posts real-time data about average review times for the iOs App Store and Mac App Store based on anecdotal informations from Twitter and App.net, currently puts the number at 2 days and 1 day for each of the stores respectively. This is in contrast to 8.8 days a year ago and 5 days in december of 2015.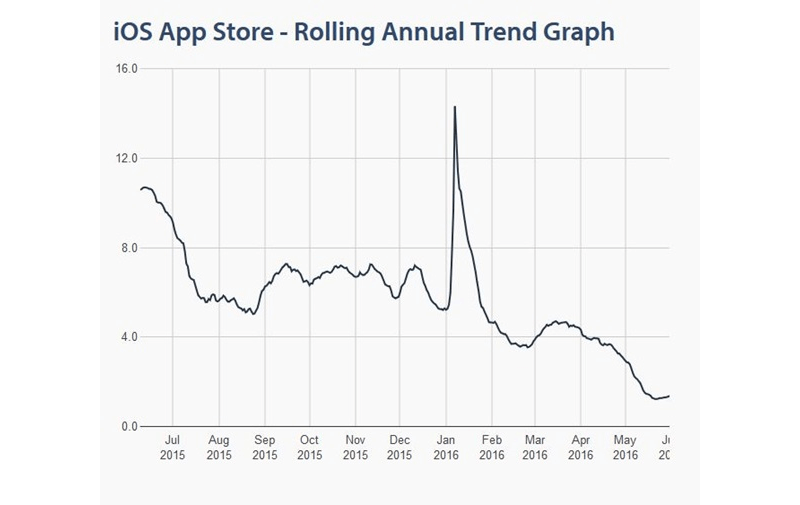 (Source)
The change has likely in part been driven by the review criteria that Google use in their Play Store. The Play Store often makes apps available for download in days, sometimes even prior to undergoing security and safety checks. This has arguably made Google more competitive and the move by Apple can be seen as an attempt to catch up. 
What has happened?
It's already been mentioned that the new initiative is part of a broader push by Apple to increase company-wide revenues. The intention is to give developers the ability to respond more quickly to the market, which in turn will fuel the immediacy with which app users are able to give feedback and criticism. It will mean that developers are able to offer bug fixes, improve user experience and add more features at a far faster rate than was previously possible.
This will have two effects in terms of increasing revenue for Apple. Firstly, it is likely to establish greater loyalty amongst both App Store users and developers. Secondly, and we're going to talk about this in more depth later in the article, it will enable developers to streamline and improve their in-app monetization strategies based on user feedback far more speedily than they were able to so before. This will mean that they are able to better take advantage of high download rates early in the app adoption cycle and monetize their user-base more effectively. 
Many developers are excited about this change and the Twittersphere is abuzz with talk of potential new opportunities. One such developer, Button Inc. founder Chris Maddern, has spoken about how in the past he would allot a minimum of one week for approval. A recent first-time submission of his took only 20 hours to be approved!
An attempt to reinvigorate slowing sales
Apple's sales, particularly of iPhones as shown in the graph below, have been slowing in recent years. Only recently, billionaire investor Carl Icahn sold all of his shares in the company, making a tidy 2 billion profit in the process and predicting an upcoming "tsunami" of upcoming trouble. Apple has been particularly vulnerable to a slowdown in the Chinese economy, which represents one of its biggest markets. 
That said, others are predicting that Apple's sales, and its share price, will recover. recently-appointed CEO Tim Cook is attempting to draw greater attention to Apple's service offerings, including the App and iTunes stores, which have become integral to Apple's overall sales, contributing to over 12% annually. The App Store, the revenues of which have grown by 35%, holds a significant amount of the responsibility for this boost.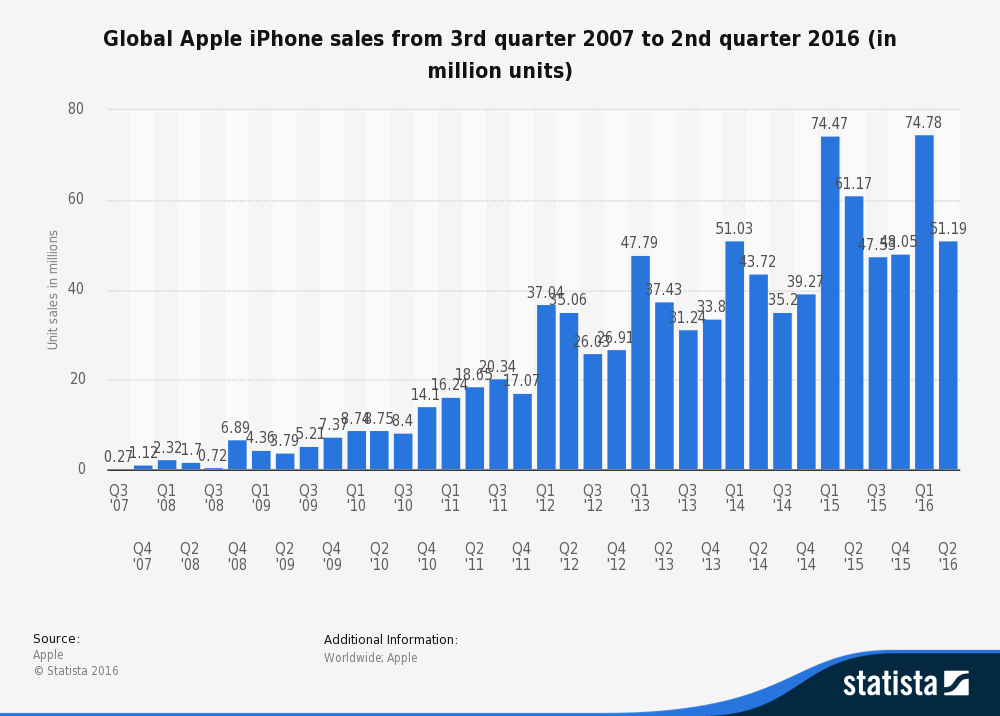 (Source)
What does it mean for developers?
It's interesting that this speeding up of review times has occurred just before Apple's Worldwide Developer Conference is due to take place. It also comes fast on the heels of a change of direction from Phil Schiller, who is responsible for developer relations and has taken over running the App Store. Since then, Apple's iAd network has been shut down. 
As mentioned, the opportunities for developers lie in the speed with which they can respond to market demands and user feedback, particularly as it relates to their monetization strategies. In-app purchases far outstrip advertising in terms of revenue, as is shown in the graph below. The possibilities for in-app purchases are huge, with various tactics and strategies available for developer to use. They can take advantage of the decrease in approval time by experimenting with new monetization models and adjusting based on near-immediate feedback.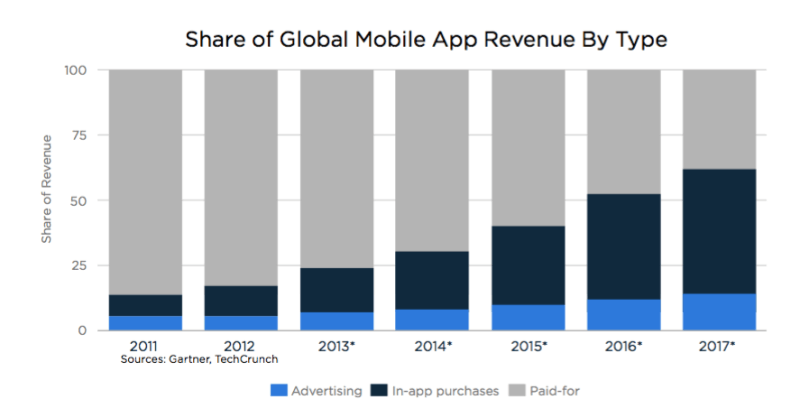 (Source)
Also of note is the point that the software development cycle will diminish based on the smaller amount of time that is needed for review. Talking to Bloomberg, Chris Maddern said that, "A lot of the way that we build software for iOS is controlled around the fact that you have a one-week release cycle," and that, "It can now happen within hours of submitting them, which is really awesome because it speeds up the development cycle." 
Degree35, an app development company specialising in gambling apps, has also reiterated these sentiments about shorter development times in an article on the topic: "From our experience, it's taken from a couple of days up to 6 months (which was definitely the worst case!) to get an app approved and live on the Apple App Store. Needless to say, this has had significant impact on our development schedules, particularly for businesses working to targets and specific dates."
How does it relate to other changes by Apple?
According to certain reports, Apple has dedicated 100 new people to overhauling the App Store. There are many potential projects in the works and in particular there's a lot of talk about paid app discovery. It's likely that such an initiative would provide an extra revenue source for Apple and is part of the basis for cutting back on iAds. It's also interesting that the rumours come in the wake of an apparent push towards developer inclusiveness, as one of the most common complaints is that apps are too difficult to find and that the App Store is oversaturated.
A recent article from Bloomberg describes this change in the context of Apple's increasing reliance on revenue from services, as is shown in the diagram below.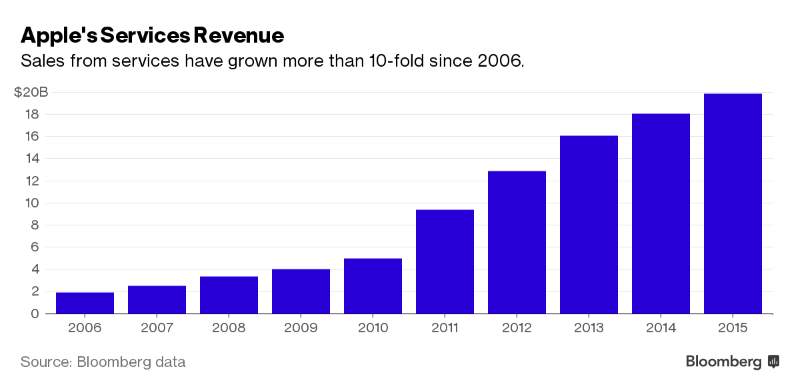 (Source)
Conclusion
Whilst the reduction in app review times may seem like a smaller change, it should be viewed in a much broader context. Responding to big changes in the market, Apple is shifting its focus from products to services, and app developers need to adapt.
What are your thoughts about these changes? Leave a comment below and let us know!