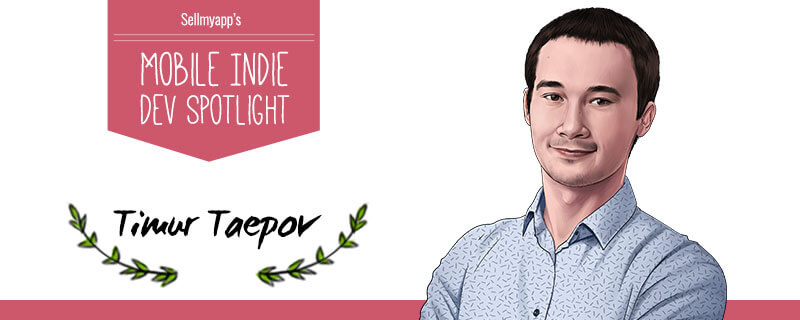 He quit his corporate daily job to pursue his dream – becoming an entrepreneur. After 5 years of attempts and failures together with his brother they created a successful game development studio and work on their own project X … 
It's truly inspiring, so read on!
Timur when did you join the mobile development industry? 
I joined the mobile industry about two years ago. I started studying Objective-C and Swift. That was the starting point for me. I remember I said to myself that I will make functional apps, not games, but the funny thing is that I joined the app reskinning market and started to make games only! To dig deeper into mobile game development I quit my corporate job and established my own company. 
Before that I worked for big companies: Renault-Nissan, Ernst & Young, Coca-Cola Hellenic and United Metallurgical Company. On my corporate positions I did procurement, business consulting, sales forecasting and performance management. These were the places where I learned what is business processes optimization, project management and it gave me self-discipline that is vital when you run your own business.
What does your company do today? 
Today we provide game development and app marketing services. We sell game templates, provide app reskinning services, implement custom game projects. 
In terms of app marketing field we provide App Store Optimization (ASO) services. You can find our articles about app marketing on several mobile blogs such as : AppLift , AppTweak , SplitMetrics and TapDaq.
Currently we are a small and ambitious game development studio. Last year my brother joined me as a business partner. And we have a couple of graphic designers who work remotely for us. 
Our core products are game templates and game reskinning services. Due to my corporate background and my university degree I'm really keen on business development. I like to build business models, discover growth points, test hypothesis and transform the business model. 
And I'm happy that my brother joined me because he is all about game design and game development. It is something like a synergetic effect. It allows me to fully focus on the business development actions.
What was one of the biggest challenges you had during the time of your business? And what did you do to overcome it? 
The biggest challenge was to become profitable. Game development is not the first venture I tried. Before I launched my gamedev studio I failed many times for about five years. 
All these attempts to launch my own business were during my studies at the university and my corporate job. Some projects were quite successful, some of them failed immediately, usually it's difficult to build a valid and stable business model. In the game industry I finally found success.
What is the best source code you have created? 
The game template called Levitation. Our studio is always watching over the current trends. We found that this one-tap game mechanics works well for many developers, that's why we decided to make our own product with that kind of game mechanics.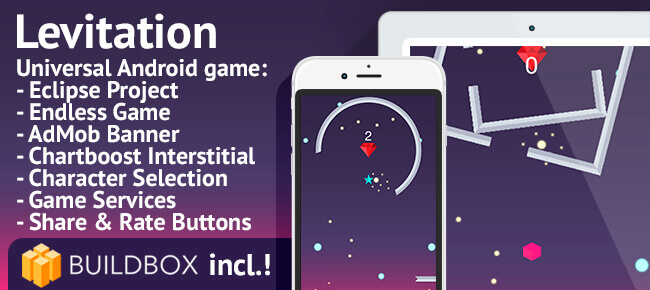 Levitation – The complete buildbox source code
This is our best selling game template at the moment. It was featured on Product Hunt and we are very happy to have such a good feedback from Community Team with Product Hunt: "The art style in this game is fantastic!" It motivates us to move further and set higher goals.
What was the biggest success moment that you can remember in your business? 
For me the biggest success moment was when I broke the wall to become an entrepreneur. It took me more than five years of pain and failure. And I'm really happy now with the understanding that all these attempts were reasonable. So currently the breakeven point was crossed and I am hoping to see some big and successful projects in my entrepreneurial journey.
What would you recommend to new development companies entering the mobile market? 
I think on early stages it's important to test and define the key components of the business framework the studio will execute further. I mean it's important which game development engine suits the studio best & what game categories the studio is best at. 
And last – test test and test until you find a valid business model, then it will be much easier to optimize and scale it.
If you could travel back in time and talk to the "beginner you" which mistake would you warn yourself from? 
Well, if I could travel back in time and talk to "beginner me" I would say "don't be afraid to make mistakes, make as many mistakes as you can, the more mistakes you make, the more successful you are" 
Maybe it sounds funny. This funny video is so true! Just never give up trying.
What are you working on at the moment? 
Currently we are working on optimizing and scaling of our core business – game templates and app reskinning service. But almost every company has secret X project =) We have the one as well =) 
Actually, our next step is to make well established game Titles. It's a challenge for us and it requires many efforts to succeed. That's why with my brother we enrolled into the best game development and management course in our country. 
It starts on May of this year and will take about 9 months. We are so excited to have such opportunity. Hope this decision and our passion will lead us to the desired point.
Final thoughts
Timur once again proves that it doesn't matter how many times you fall it only matters how many times you get up. Pursuing success in the game development industry is not an easy task but Timur proves that with consistency and correct planning it can be done!
We hope this interview will inspire you to make your next step into the indie game dev exciting world! We would like to thank Timur again for sharing his story with us, it's helpful for the entire developers community so once again – Thanks Timur!