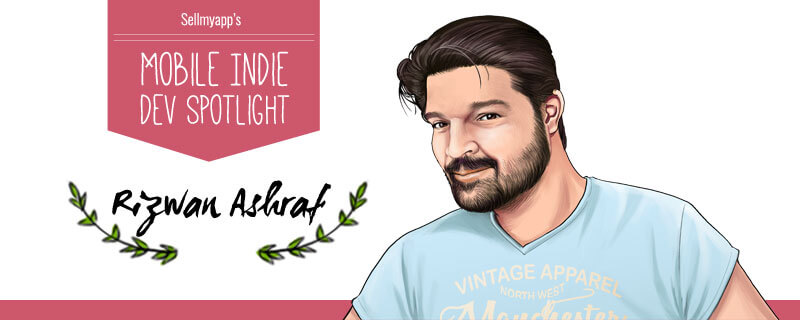 The journey started when he got his first iPhone. Rizwan always had a creative mind as an artist and the mobile revolution opened the door for him into the gaming development industry. He got featured on the app store with his first game and today he is already working on new ones.
Give it a good read, it will surely inspire you!
Rizwan when did you join the mobile development industry?
I joined The Mobile Development Industry 3 Years ago in 2013. I am First a Graphic Designer, My Company (BraveWarrior) makes mobile games for iOS and Android.
I am a one man show that handles everything from the Sketching process through Game design to The final Publishing Procedure including marketing. I have always been very passionate about my work, Even when I just started as a graphic designer lots of ambitious ideas came to my mind and I was always open to try and learn new things.
What was one of the biggest challenges you had during the time of your business? And what did you do to overcome it?
When I started BraveWarrior back in 2013 I had zero experience in mobile development But the vision was there and I played with a lot of creative ideas on how to create something Valuable.
I started learning Cocos2D as my main Goal was to set foot in the mobile game industry, Initially I had problems with marketing my games and That is the main thing I have learned from time and experiences. My Biggest Challenge in the beginning was to create a brand that makes solid products and also survives this highly competitive market.
What is the best source code you have created?
Cubijump is without a doubt my best source code and I am very happy about it. Cubijump did pretty well, From within Buildbox community Lot of developers asked for tutorials and they even bought the template to learn how to create games like this.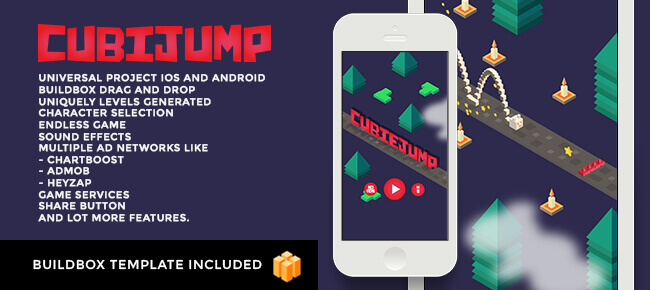 Cubi Jump Buildbox source code
When I was still in the learning stage I used to look into other source codes and try to learn how other developers are doing things in their style and I think this is the best way to learn.
What was the biggest success moment that you can remember in your business? tell the readers how it happened and how did you feel about it.
Luckily enough my First ever Game (made with Cocos2D) got featured on the iTunes Homepage and I had literally no idea how it happened since I did zero marketing. 
The idea of making my first game came to me when I got my first iPhone game. My main platform was iOS when I started I was so fascinated by the idea of using my art & design skills to create a game for iOS. 
I loved the idea of Flappy bird games, I was thinking to create something different with a similar bird style game and that lead me to sketching something unique. The version of Bobo for buildbox that I have right now is totally different from the version I created for the first time and I still feel it didn't do justice to my original game design, as I completely changed its graphics and overall gaming experience but I am going to revert it back to the original idea I created back in 2013 and that's exciting!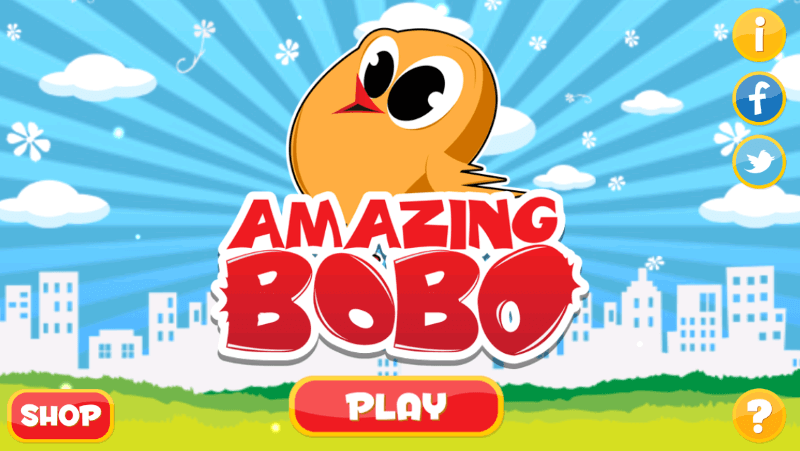 Bobo the amazing bird – the original version
I think Visual Identity is very important for a successful product. My Visuals were good, they were grabbing the users attention and my Icon was very clean and colorful. When I was working on Amazing Bobo for the first time I had a very special friend who supported me and helped me turning this game idea into a reality.
Tell the readers a bit about how do you inspire yourself to come up with new design and creative ideas?
My Inspiration comes from everywhere, I try to think of something fun and loveable when it comes to character design. I like to use colors that are friendly and nice for the eye to look at. Currently I am drawing a character inspired by Feathers and I am trying to figure out how to make it highly lovable.
What would you recommend to new app publishers? What should be their focus on for 2016?
Well, Today's market is tough and It is getting Tougher. You should develop an understanding on how to Optimize (ASO) and Market your game or app, This is a very basic yet very important in my opinion.
I would also recommend to take a look at a few basic games like Flappy Bird and Jetpack Joyride, They are the best example for Mini games with a big Market and Addictive gameplay. There is lot to learn from these games if you have the time to experiment.
What would you recommend to new development companies entering the mobile market?
I started my company with almost zero experience and now I am satisfied with my position. I Personally only want to stick with the gaming Industry as I Love games and I play a lot of them ever  since I was a child. 
If you can make something unique you are going to win and if you can't then you should think how you can create something that's unique and out of the box.
If you could travel back in time and talk to the "beginner you" which mistake would you warn yourself from?
I would have started Game Development Much Earlier.
What are you working on at the moment? 
Currently, I am working on 3 Games. I am striving to create beautiful looking graphics and I have a few gameplay ideas in my pocket that will be explored in these games. They will be a lot of fun and I'm excited about it!
About being a one man business. what can you recommend others in order to manage their time and reach their goals. What practices worked for you?
This is a very tricky & hard part in my opinion. Sometimes I get things messed up because I have to develop an overview of everything by myself. I have to see through the entire process from sketching to Illustrations as well as Animations , Music to the Development process itself.
It's good to have more than one person on your team but if you can do everything and have the patience then you can still win. 
I have always been like that. I always prefer to learn by myself than to hire a freelancer. you can hire a freelancer for your projects but if you have skills and you can do it yourself I think you should. It will not only polish your skills but it will also make you an All-rounder so even if you hire someone for your projects then you will know much more how it works so you can get it done much better when hiring freelancers.
Final thoughts
Rizwan shares an amazing story about how he transformed his passion for art and sketching into live mobile games. His passion for games led him to study mobile development and today he has his own games and source codes that perform very well.
We would like to thank Rizwan for participating in this interview, each story inspires the indie dev community and open the door to new creative ideas!
Do you have a question for Rizwan? Feel free to ask in the comments below.