Whether you are a developer seeking the business or marketing advice to get your app launched, or an entrepreneur with a great idea but no idea how to approach coding, Then this guide is for you!
But let's be honest…this guide is for everyone. Or, at least, it's for anyone who has the desire to make an app. Though creating an app isn't always a walk in the park, nowadays, anybody has the ability to make their app idea a reality. That's the truth. But it shouldn't be forgotten that making an app is difficult.
It takes time.
It takes knowledge.
It takes creativity.
It takes money.
It takes planning.
It takes a degree of luck and good timing.
And it often takes teamwork.
That said, if you have an app idea that you think has potential, one nobody else has thought of before, and one that you think will become very popular, then there's just one thing you should keep in mind: When there's a will, there's a way. Apps are created by people, just like you – no better, no worse. Every single one of those hugely successful apps you see were all created by people. And at some point, they all started off as just an idea. But their creators pursued them. And now they're reaping the rewards.
You can reap the rewards too. The first thing to realise is that creating an app is (usually) a business venture. Whether it will be given away for free, or sold, its purpose is either to support an existing business or generate profit; a profit in-and-of-itself.
All business ventures require a certain set of skills, including design, support, planning, money management, and so on. So, if you're serious about developing an app, you need to have all of these things in place. You may feel confident that you can do all of this yourself. If so, great – crack on!
But, if not, then you either need to train yourself up or find people who can do these things on your behalf. Ideas will only remain ideas unless you do something about them. Perhaps you know a coder, or an accountant, or someone who can help you plan what you need to do day-to-day. Try and encourage these people to join you. Get them as excited about your idea as you are. Make them believe in its potential as much as you do. That way they may work with you for a share of the business or a cut of the profit. And don't resent giving this to them. The project would not be possible without them. Once you're confident that you or your team has
all of the prerequisite skills in place to make your app idea become a reality, you can start thinking – and getting excited – about the potential for success.
There's a lot of money out there. And many consumers are happy to spend their money on good apps. Whilst directing some of that money into your account with an app will be a long, hard path, it's possible. And, done well, it's worth it. Do not be daunted by the sheer volume of apps already out there in the app stores – the pie is large and there is a slice waiting for your app to take. Dong Nguyen, the man behind the incredibly successful Flappy Bird, wasn't put off when he first started developing the super-addictive game while still living at his parents' house!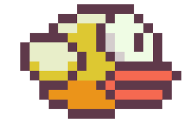 Flappy Bird Case Study
When Vietnam-based developer Dong Nguyen set out to create Flappy Bird on his own, he probably didn't expect it to make $50,000 a day. But, due to its addictiveness and extreme level of difficulty, Flappy Bird did just that. The app was simple yet incredibly effective and infuriatingly addictive. Dong Nguyen is a great example of just what can happen when you pursue your app idea. The then 28-year-old lived with his parents in Hanoi at the time of Flappy Bird's release. And, though things didn't pan out quite as expected, Nguyen shows how one person can beat a whole industry. »
Breaking into the app industry isn't easy. That's a fact.
Apps available in July 2015 »

That's a lot of competition. Just thinking about numbers this big can be daunting. But, rather than being put off, you need to see them as a measure of the demand for apps. There is a huge opportunity to capitalise on this insatiable demand. If no one wanted apps, no one
would be creating them. The truth is, people do want them – a lot – and that should be your inspiration. And, as mobile device usage spreads, even more people will become consumers in the app market. Meaning demand for apps is set to grow for a while yet.
You may think that smartphones are ubiquitous now, however their growth is still continuing with great strength. And with this growth comes even greater potential and opportunity for you to capture a share of the market and make your app a success. For example, in 2015, worldwide smartphone growth is expected to be a whopping 10.4 per cent. »
Even so, the journey from having a good idea to seeing your app receiving thousands of downloads per day is a long one. So, before setting off, you need to know what to expect, and you need to make sure you're in the right state of mind to tackle any obstacles as and when they appear.
For those of you serious about embarking on this journey, you first need to do some real self-assessment. Getting partway into the app development process before calling it a day can be expensive and demotivating. That's a situation nobody wants. After all:
It's important to remember that users now have millions of apps to choose from and very rarely will you create an app which is truly unique in what it does. Branding and go- to-market strategy is therefore crucial. Brilliant apps are often never found because their creators did not have the capital or expertise to market them.
-
George Burgess
-
Founder & CEO, Gojimo (the UK's most popular exam preparation app)
To avoid it, take a long, hard look
in the mirror and ask yourself:
1
Am I passionate?
You need to love what you do, and developing an app is not for the fainthearted. Whether you love programming itself, or you love the idea of your app enough to pull you through the slug of developing it, you need to make sure that you're oozing passion, otherwise this will all be a huge waste of time.
Ethan Nicolas, developer of tank artillery game, iShoot, quit his job the day his app rose to No.1 in the Apple App Store. Ethan learnt iOS programming in his spare time. The game made £37,000 in a single day, transforming Ethan's life forever. »
2
Am I curious?
Developing an app requires learning a whole bunch of skills. Some of these you will be familiar with. But very few people are trained in enough areas to see the entire app development, marketing, and sale process through to completion alone. Even if you get help from others for certain things, this is your project; you're in control, so you'll want at least a basic understanding of all of its aspects.
3
Am I creative?
As the one spearheading this entire project, you're going to need an abundance of creativity. Problems will arise, and finding solutions to them is often a case of thinking outside of the box. It's important that you're able to think of creative answers quickly and frequently. Help yourself by preparing for the worst case scenarios so that you are always prepared.
4
Am I focused?
You need to be able to work toward the completion of tasks without taking tangents and with minimal distraction. No matter what you want your app to do, you're inevitably going to face some long nights. Completing these to a high standard will be essential, and so stamina and persistence are a must. But, if you're passionate (point 1), curious (point 2), creative (point 3), and entrepreneurial (point 5), then you're halfway there!
5
Am I entrepreneurial?
Regardless of whether you plan to charge people for your app or if you plan to give it away for free (or somewhere in between) – whether as a branding tool or simply to help people – you need to be able to see the bigger picture. This is what you will be working toward. It will be your motivation, and, though the details may change, you need to have a goal and the enterprising spirit to realise it.
If you can truly answer "yes"
to all of these questions, then... creating an app
may just be for you.
Even the most motivated of us can, from time to time, lose our drive. But sometimes giving up can't be an option. Some things are just too important. So, when you fall, you need to know how to pick yourself back up again.
There's always a way to break out of a motivational slump.
So bear these tips in mind when you hit one.
Make your app your main goal.
Often, the reason people give up on the things they're passionate about is because they get sidetracked by other things going on in life. Trying to do too much will dilute your energy and leave you doing not much of anything at all. Keep in mind your goal – creating an app – and make it the main focus of your life. This may mean making temporary sacrifices elsewhere, but it's not forever. And the ends justify the means.
Stay inspired.
Inspiration comes from many sources. And often, when you're finding it hard to carry on, simply looking at others who have or are in the process of doing what you want to do is enough to get you back in the saddle. Simply Google the names of your role models, or look at what your competitors are doing. And remember, this isn't impossible. Far from it.
Talk about your app.
When you begin developing an app, it's probably all you can talk about. Your friends and family will probably know nearly as much about your app as you do. And this is good – it means you're excited. When you hit a motivational slump, talk with people about what you want to achieve. You'll find that you'll see things differently. All the problems you're facing will be subsumed by the bigger picture.
Make a public commitment.
Humans are social beings. And we don't like to be seen to fail. So tweet your deadlines, make promises for previews and sneak peaks (and then deliver on your promises to build trust and credibility!), tell people when you're going to be finished, and be honest if there is an unforeseen issue causing a delay. A fear of failure will help you go the extra mile when you need a kick in the right direction.
Realise that motivation comes and goes.
Motivation is never a constant. It comes and goes. So, those times when you feel like your app is never going to be finished, that your motivation will never return, you need to keep in mind that it will. It always does. So sit tight and ride out the no-motivation-wave, and know that you will come out swinging. Sometimes it just takes time.
To get the motivational ball rolling,
here are a few stats about the app industry.
An entrepreneur lives inside all of us. We all have ideas, but very few of us turn those ideas into reality…into "something". The modern mobile era has transformed us ordinary folk into potentially becoming the next big thing. No matter how niche or broad your initial idea is, creating an app is within the grasp of everyone. By shifting your mindset into "will" from "could" you are already taking the first step towards establishing your framework of skilled experts into a project team working towards the same goal: launching your app. Take your passion and curiosity, and turn them into creating your app with single-minded focus. This chapter
outlines exactly how you do this, while ensuring that your motivation is kept ramped up.

Remember, just 0.01% of the current number of worldwide app downloads of just over 100,000,000,000, equates to more than 10 million downloads. 10 million. Think about that for a moment…then read on!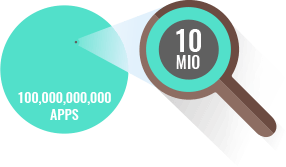 This guide is for everyone – it is not technical, and it is not jargon; it is your Ultimate Guide to Creating an App no matter what your background.
Even Flappy Bird developer, Dong Nguyen, lived with his parents at the age of 28 when he started on his venture…it resulted in him making $50,000 per day.
Getting in the right mindset is, quite simply, a case of "doing" instead of "thinking" – take those first steps now.
Stay focused on your journey – it won't be plain sailing all the time, and you'll hit some speed bumps on the way, but keep your goal front-of-mind to stay on track.
The future is not mobile; the present is mobile. And with the number of app downloads for 2017 projected to be 268,692,000,000 you need to get reading!
take me to
the index
take me to
chapter 2