Targeting a niche market is often a clever way of giving your app idea the best chance of success. But not all niche markets are appropriate. In order to find out whether the idea you have and the market you wish to target are compatible, you need to do research.
There are two main types of niche markets: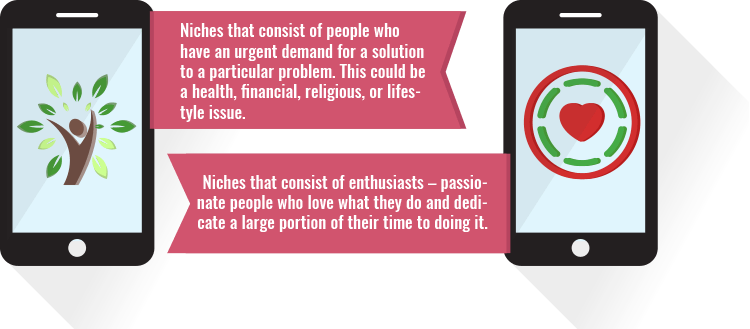 Both of these niche market types can be extremely profitable. For example, if you're able to provide a solution to a real problem (like a weight loss app, or an app which people can make money on, etc.) then your target audience is likely to jump at it with gusto.

Or, if you're able to tap into people's hobbies and passions (say, vintage motorcycles, fly-fishing, or craft ales), and provide something that will help them pursue them in a different or improved way, then the demographic
you're targeting is likely to be very receptive.

The people who make up both of these niche market types are often willing to spend relatively large sums of money on things that meet their needs. But you will only make money so long as the niche you choose to market is appropriate. To find out whether it is, you need to…
...Learn About Your Market.
A niche market is worth
targeting if it ...
1.
... has a demand
for your app
2.
... has a presence
on the app store
3.
... you wish to distribute
from and has no
or poor competitors

Let's start with demand. Profitability is demand plus purchasing power. So you need to find out whether there is a demand for your app to know whether it will be profitable. (We'll show you how to determine your target demographics' purchasing power in the next section)
Assessing Demand with Google Trends and
Google AdWords (Quantitative Data)
A great place to start researching demand in your niche is Google Trends. The platform provides a quick and easy way to see if interest in your niche or your app is trending upwards, staying flat, or going down.

Simply type in some terms related to your niche/app and see whether interest in them is increasing or decreasing. You can split this data regionally, see when headlines relevant to your terms were published, as well as view search forecasts.
If the data you get back is promising, you can then use Google AdWords keywords planner (or some other reputable marketing software) to go into more detail and see which search terms people are inputting that relate in a direct or an indirect way to your idea.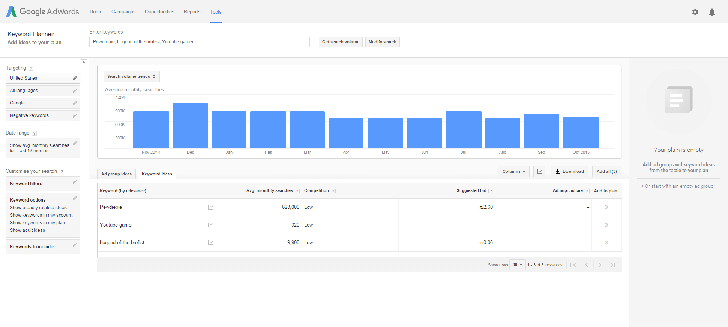 If a lot of people are searching for "is there a way to do [insert what you're app does]", then you take this as your cue to get going.

But, even if they're not, they may be inputting queries that indirectly relate to your idea. And this can be just as good, if not better than more direct queries.
This may be because your idea is so innovative that no one has even thought about searching for it. And this is a great position to be in, since it means that your app is less likely to face competition and to be genuinely innovative in your niche.

Example: imagine the developers of Windfinder conducted AdWords research. They may not have seen many results for searches such as "app that gives wind forecasts", but there may have been plenty of indirect searches like "today's wind forecast in x". So remember to be shrewd about what queries you look up.
Assess Demand Using
Forums (Qualitative Data)
Many niche markets have lively forums where your target demographic gather to share their thoughts about their shared interest.

These forums aren't hard to find (simply search the name of your niche market along with the word "forum" and something should come up) and they can provide invaluable first-hand information about the needs and wants of your target demographic.

Browse the forums most popular threads and look for the things members frequently complain about, the problems they face, and the things that affect them. These are the areas your app should aim at. If your app solves one or more of these problems, there will be a demand for it.
For example, the folks at WindFinder could have used the following post on the Boards Windsurfing Forum (part of the British Windsurfing magazine, Boards) to influence their app: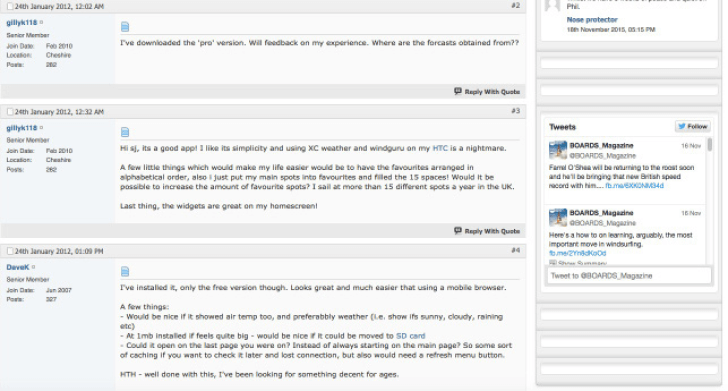 Image credit source: http://forums.boards.mpora.com/showthread.php/61034-WindFreak-for-Android
Forums are also a place to get qualitative information about your niche market in general. Search for other big companies operating in your niche and see what people think about them. Search for any recent changes that affect your niche market and how people have responded to them. Identify influencers in your niche and assess who may be worth targeting and for what purpose when the time comes.
Top Tip
If you want to find out more information about the demand for your app, use Twitter Advanced Search see what's trending in your niche on social media. Use Twitter Advanced Search to find tweets containing an exact collection of words, exact phrases, inexact collections of words, and hashtags.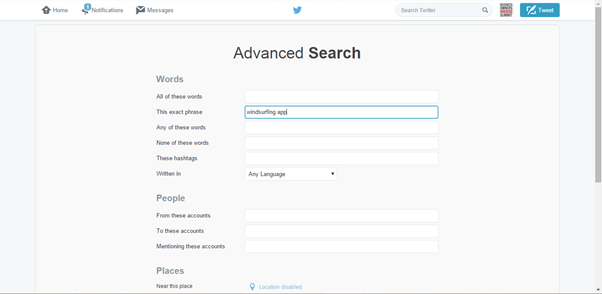 — App Store Presence
and Competitor Analysis —
To find out whether the market you're targeting has a presence on the app store you wish to distribute from, simply look up other apps targeting that demographic. How often are they downloaded? How much do people pay for them? Are they given away for free?

Searching for "windsurfing" in The Google Play Store delivers this result: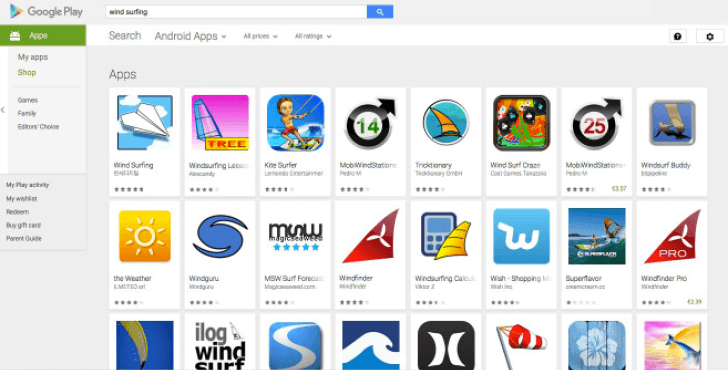 Image credit source: https://play.google.com/store/search?q=wind%20surfing&hl=en
We can see that the second app in the list, Windsurfing Lesson, is free – they've not been shy about highlighting this fact within their logo. This is a common and effective approach from many free app developers as they try to encourage clickthroughs (see next images) and, of course, downloads.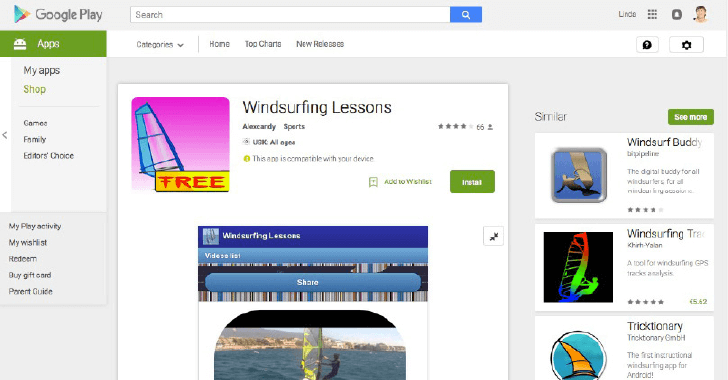 Image credit source: https://play.google.com/store/apps/details?id=nz.co.appli.windsurfing.lessons&hl=en
Here we can learn more about what the app does and also how it looks if you download it. Learn how the competition describe themselves and what tactics they use to demonstrate their USPs and key benefits.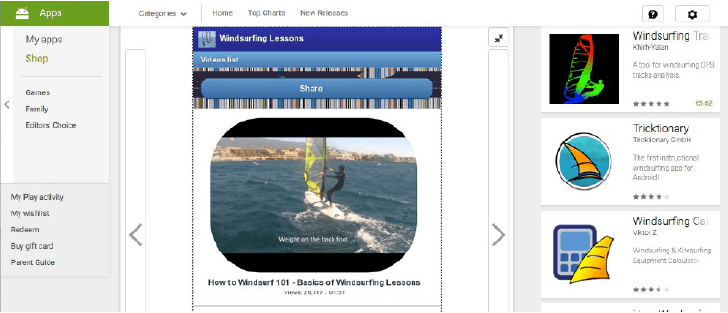 Image credit source: https://play.google.com/store/apps/details?id=nz.co.appli.windsurfing.lessons&hl=en
There will also be some invaluable feedback provided within the reviews posted by users too. See what they like and don't like, what common bugs there appear to be, what the users would like more of, and less of. This is an ideal way to get unsolicited and natural feedback from actual users – ignore these at your peril!

Image credit source: https://play.google.com/store/apps/details?id=nz.co.appli.windsurfing.lessons&hl=en
And additional useful information is also revealed for you to get a better understanding of the app. These include the app's size, the amount of installs it has received, the developer, and which version is currently available.

Image credit source: https://play.google.com/store/apps/details?id=nz.co.appli.windsurfing.lessons&hl=en
After repeating this process for all of the relevant results, including results on other app distribution platforms, we can determine whether windsurfers use the apps (they do!), whether there are any direct competitors, how the majority of windsurfing apps are distributed (free, freemium, paid), and what real windsurfers think of the apps available to them.

Entering a niche market may well cut competition. But if somebody's already filled that spot, you immediately put yourself on the back foot. So it's crucial that you know what you're up against.
For this reason, it's also worthwhile researching the big players in your niche even if they don't have a presence on the app store. Find out who they are, what they're about, and where their interests lay. You never know, they may be potential partners, sponsors, or about to release an app themselves. Confident you're
targeting a good niche? You now need to…
— understand your audience —
What does your audience like? What don't they like? What do they care about? How do they feel about the state of the industry?
How do they feel about competitors? How old are they? Where do they live? What gender are they?
What income bracket do they fall into? What are their values? What are their
buying patterns?
Learning about your audience is indispensable when it comes to both creating and developing your app as well as (later on) when it comes to marketing it. And the more you know, the more likely you are to make your app idea a success.
Databases and Reports
Various organisations create databases and reports pertaining to certain industries. These are often freely available (either online or through your local library or a similar body), though sometimes you may have to pay for access. Either way, the information they contain can be very helpful when it comes to learning about your audience. So get reading! For example, the developers of WindFinder may have found the British Library's Business and IP Centre helpful. It contains hundreds of freely available databases
and business related publications, market research materials. Similarly, they may have benefited from the Journal of Business Case Studies and Application's The Mobile Apps Industry: A Case Study, which is also available for free. More specifically, the Sports and Fitness Industry Association compiled the Boardsailing/Windsurfing Participation Report 2014. »

This gives participation data including gender, participation frequency, and cross-sport participation. It's available for $175.00, which would be money well spent for WindFinder.

Of course, the quality of the information such databases and reports provide varies considerably; but they're often a great starting place. The information and data can be critical for your app development – you just have to put in the leg-work (or finger-work!) to uncover them. You will have to find these resources on your own, since so many organisations publish them – but Google means that shouldn't be too difficult.
Use the information you source to find out facts and insights about
your target audience. For example, their: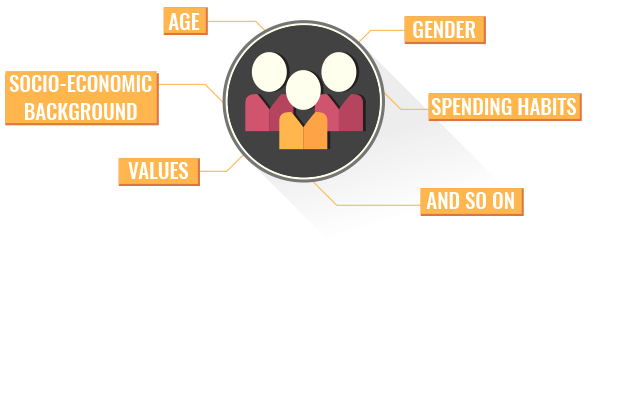 Focus Groups
If you have the resources, it may be also worth organising a focus group or, better yet, a series of them. Focus groups provide a way to get answers to very specific questions you may have that may not have been asked elsewhere.
You can do this yourself:
Find Facebook friends
or friends of friends who match your target demographic.
Send them a polite message
asking them to join an online (using, say, Google Hangouts) or offline discussion.
Organise the event
and give people plenty of notice – you may even want to send them a reminder an hour or so before it's due to go ahead.
A group of even five or six people will help you gain loads of useful information about your app. The information you will gather from focus groups will be qualitative rather than quantitative. So, rather than trying to find out hard facts about your audience, use these sessions to find out information pertaining to their emotions.
Ask them things such as:
What kinds of things do you see happening in the industry and how do they make you feel?
What features of my app idea do you like best?
How do you feel about my competitors?
How would you use my app?
What sort of app do you wish to see?
Focus groups are an opportune place to put forward the intricacies of your app idea and receive detailed feedback. Ask about the viability of features you're unsure of; the group's preference on names, slogans, and logos; and whether they would use the app at all.
You can also conduct research using online questionnaires (a great way to gather quantitative or qualitative data), setting up RSS feeds, Google Alerts, and
Google Trends (so that you can monitor any industry updates and your audience's reaction as and when they happen). Your app idea will probably (and probably should) change as you learn more about your audience. This is growth. And it's good.
Solving a specific or unique challenge with a simple solution, or tapping into the almost obsessive passion of enthusiasts, are perfect niche markets for you to target. The target audiences within these niche markets will determine whether your app succeeds or fails.

It is therefore imperative to learn everything you possibly can about them – what drives their purchasing behaviour, how great is the demand for your solution,
how vociferous are their complaints that you are seeking to resolve, why is there such a problem in the first place, and what is the demographic breakdown of your target audience in your particular niche.

And, of course, what competitors already exist that could be a threat to your idea. Use this knowledge to help shape and revise your app idea accordingly to give yourself the greatest possible chance of success.
Identify a substantial need for the solution you wish to provide, and remember that profitability is demand plus purchasing power.
Research should never be under-estimated. Use free online tools, such as Google Trends and Google Adwords, to gather the data and insights, and browse forums to identify emotional triggers and common issues that arise.
Develop a deep understanding of your niche market's presence on the app store to inform your roadmap and highlight opportunities.
Dig deep into your competitors; if there are any, whether they are direct or indirect. Use their apps, read their reviews, see what complaints they receive, and work out their monetisation models…arm yourself with knowledge.
If you are able to then set up a targeted focus group, or series of them, to solicit feedback on the challenge you're wishing to solve and to understand their needs, desires and dislikes.
take me to
chapter 2
take me to
chapter 4